A magical getaway hides behind the clean architectural lines and luminous white façade of the former summer residence of the Tiškeviciai family in Palanga.
Vila Komoda is a unique property that was never intended to be and goes beyond your typical hotel. Instead, it becomes your second home while you're on holiday, in every sense of the word.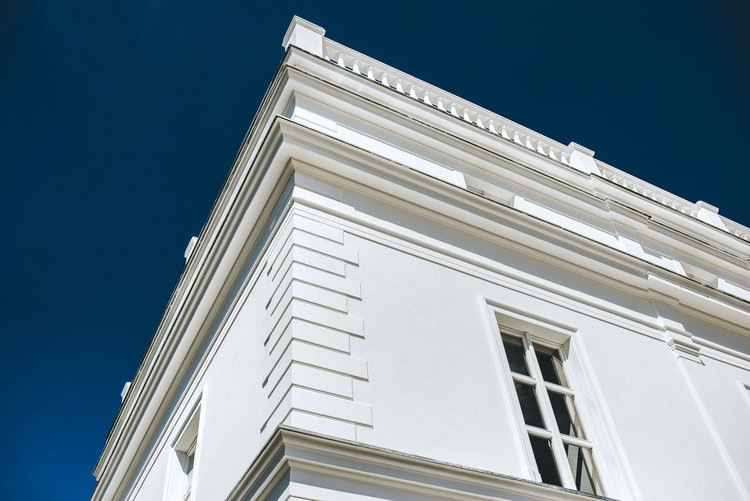 Everything slows down here, as staying at Komoda immerses you in the rich history of the building. It draws you into an unpretentious, yet exceptional, design and takes you on a gourmet journey like no other.
VP: What's the story behind Vila Komoda?
Karolina: Built at the end of the 19th century, Vila Komoda is a building with a grand history. Back in the day, it was used as a summer residence that was constructed by Feliksas Tiškevičius and then gifted to his brother Aleksandras Tiškevičius.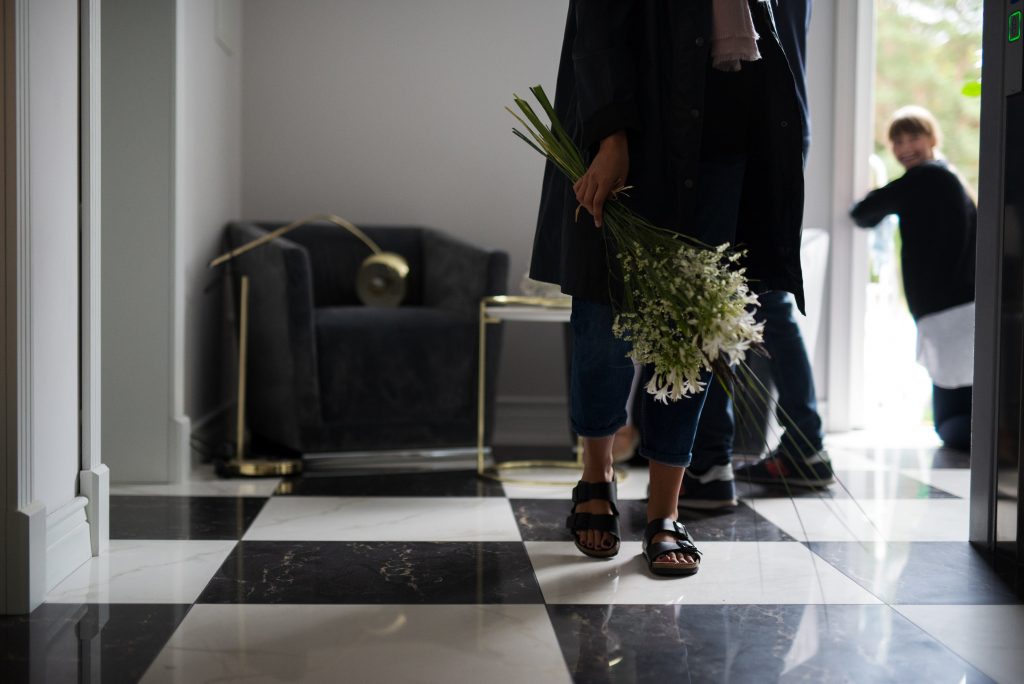 After the family passed, for a long time, the building was left untouched. Throughout the years, the residence withstood war bombings and underwent several fires. The final owner of the building, before it was purchased by a private owner, was the Ateitininkai organisation.
Fast forward to the present day, Martynas and I showed up at Vila Komoda very organically as the current owner of the building is my dad. Before moving to Palanga, we lived in the UK, so if you would sum up the time both of us spent in London, the years amount to 17.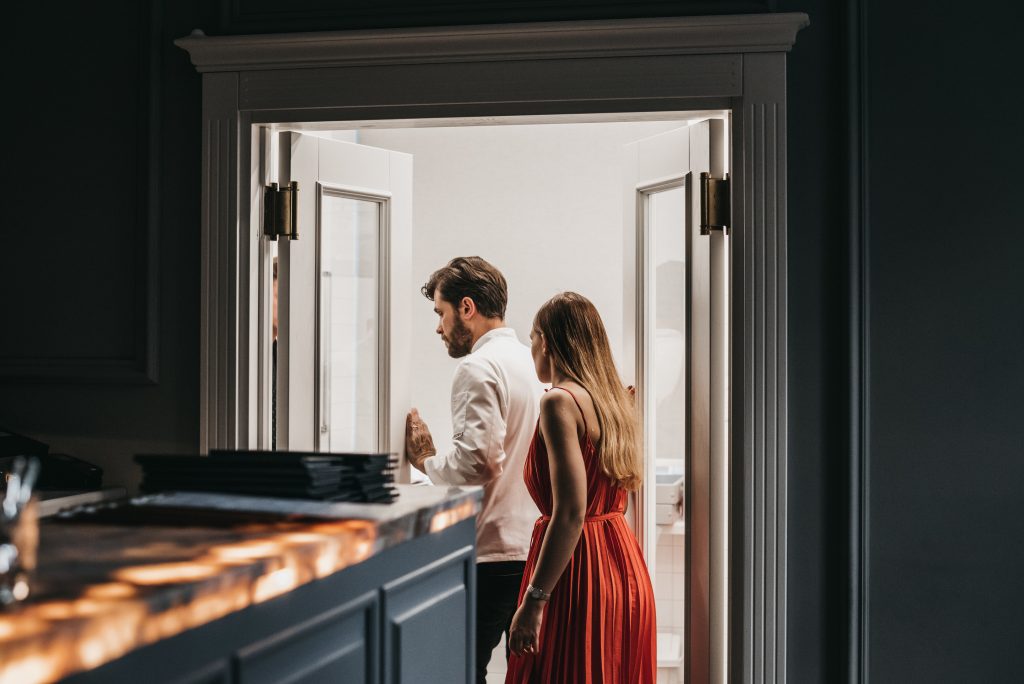 It's interesting how timing works sometimes—we were about to dive into our family's next project in London, and pretty much at the same time, we were planning our wedding, so we came to Lithuania to celebrate.
With a completely different purpose in mind, within a week of being in Palanga, we managed to fall in love with Vila Komoda. So much so, that right after the wedding during our supposed holiday, instead of laying on the beach, we were making decisions about where and what type of lighting should be installed at the property.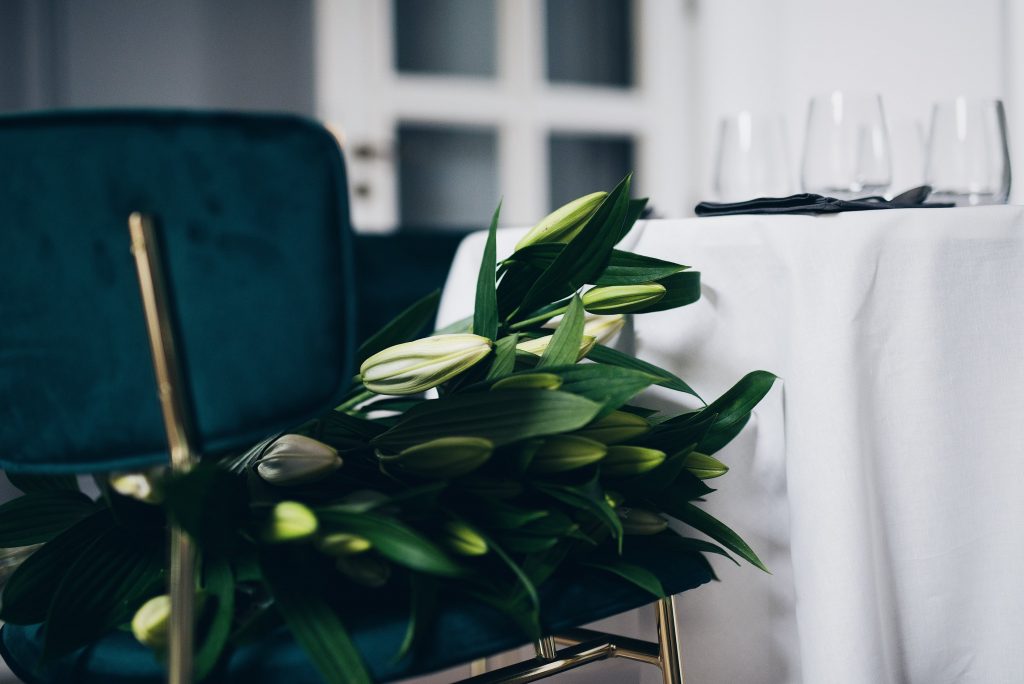 The name of the building also came naturally. In the 19th century, the building was called the "White Swan" because it was white and seen from the sea. But since the trees have grown, in the 20th century, this villa was renamed to a "Chest of Drawers" for its shape which is similar to drawers and shelves.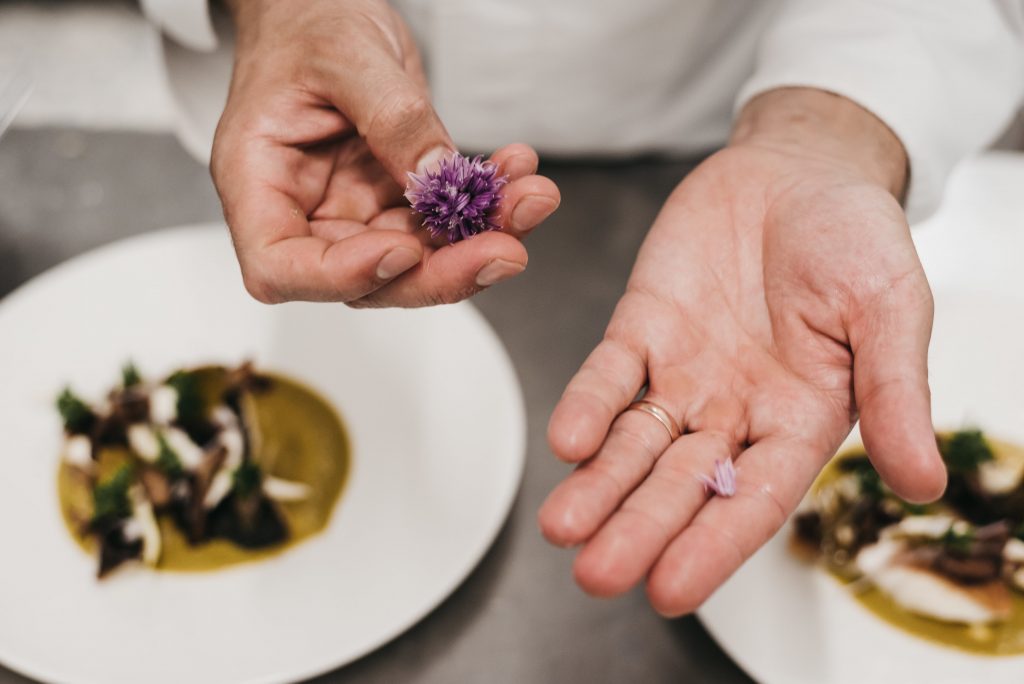 The concept of Komoda was not brainstormed or made up: it simply reflects us and our personalities, and the same goes for the restaurant. We strive to cook from fresh and high-quality products.
For example, we receive freshly-caught fish from France, so as soon as it's caught, it's delivered to us, meaning that sometimes we stay up all night waiting for it to arrive. We also take into account what's being offered seasonally.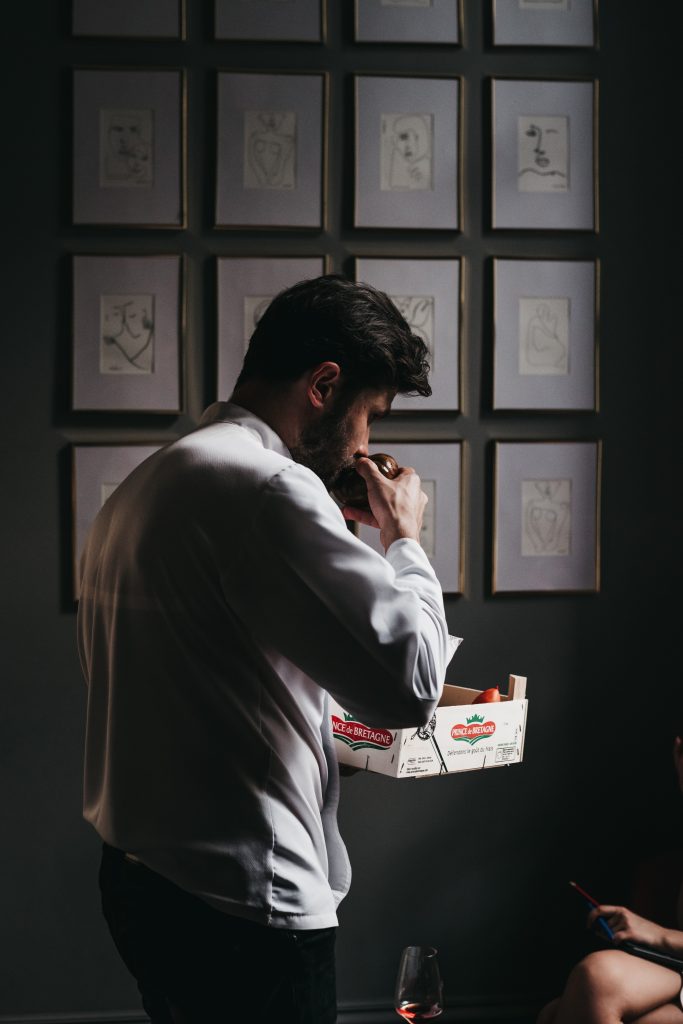 The overall ambience and decor show our fondness and respect for the history of the original founders. Even our logo is based on the Tiškeviciai coat of arms. All 10 rooms at Vila Komoda are named after Tiškevičiai family members, except one—which is called Paulina. She was the personal photographer of the family and also the first female photographer in Lithuania.
VP: What a first-time visitor can expect from staying at Vila Komoda?
Karolina: Those guests who come here for the first time and know the history of the building, tend to want to see how everything was restored. Because when the reconstruction started, the building had no ceiling, no floor, and there was only a skeleton remaining.
Our interior is a fusion of classic and modern; however, it's not luxurious. Perhaps it's worth repeating, that the interior really reflects our personalities.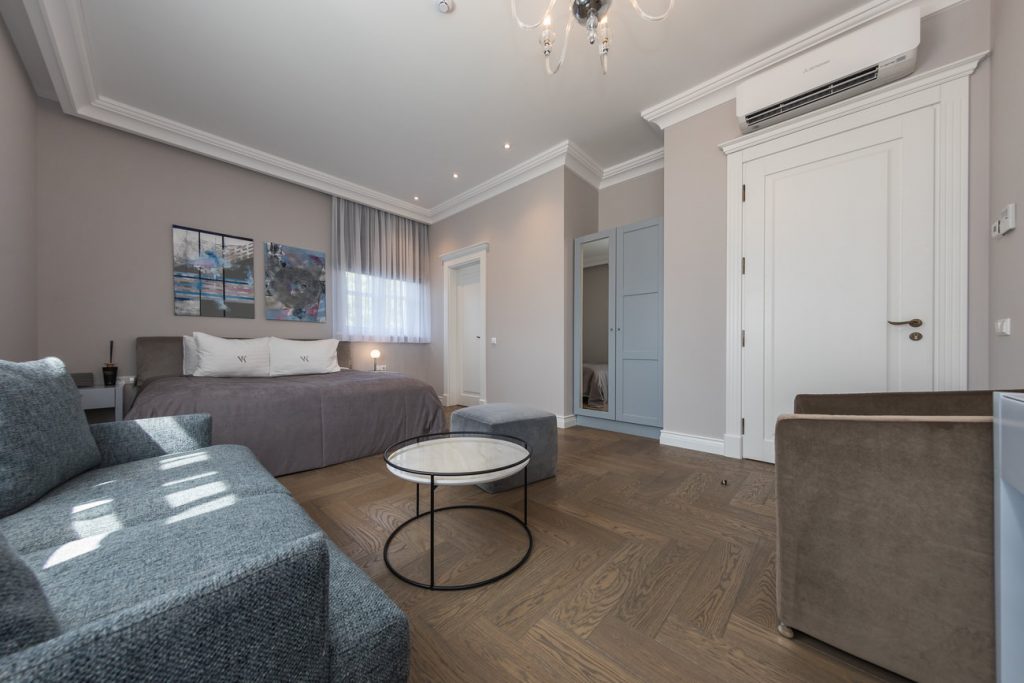 Every guest who stays at Vila Koma can expect that we'll whole-heartedly show them their room and its particularities, as well as the story behind the room and its historical occupant. Our regular guests know that the staff are happy to have long conversations. To us, our frequent guests, are like good old friends.
When talking about service, we're not trying to match a certain standard, but simply be consistent with the quality we provide. Cutlery, for example, we always carry wearing gloves, but only for the sake of our guests' hygiene.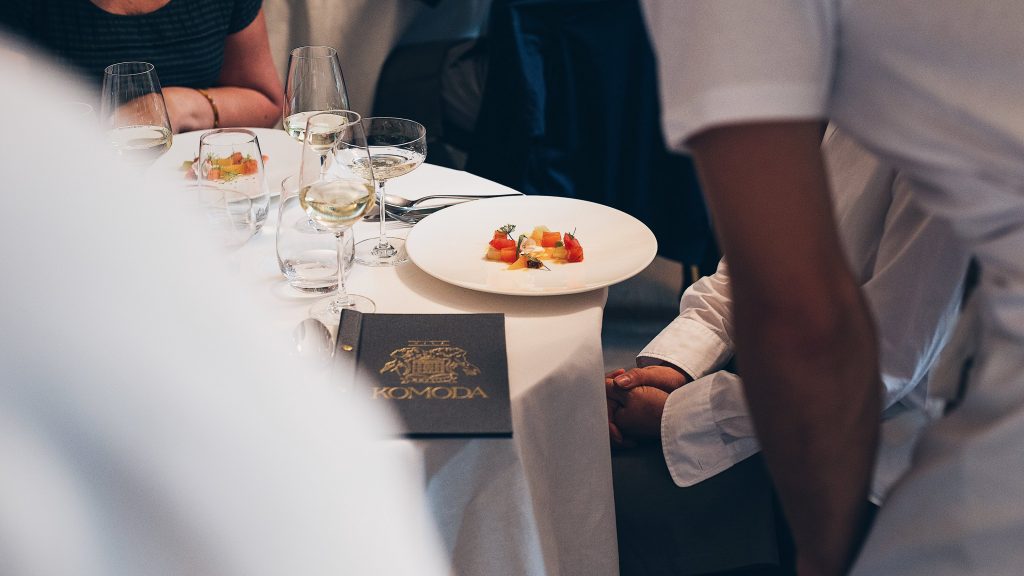 It's required that all our team members would be knowledgeable about the food and beverages we serve. But most importantly—we ask them to be themselves. With this authenticity, they bring a piece of themselves as well as interesting stories.
In a nutshell
Must-try: We'd recommend a tasting dinner, it's seasonal and composed of 6 elements. Each time it's different, with a dash of surprise. The price is 60 euro per person.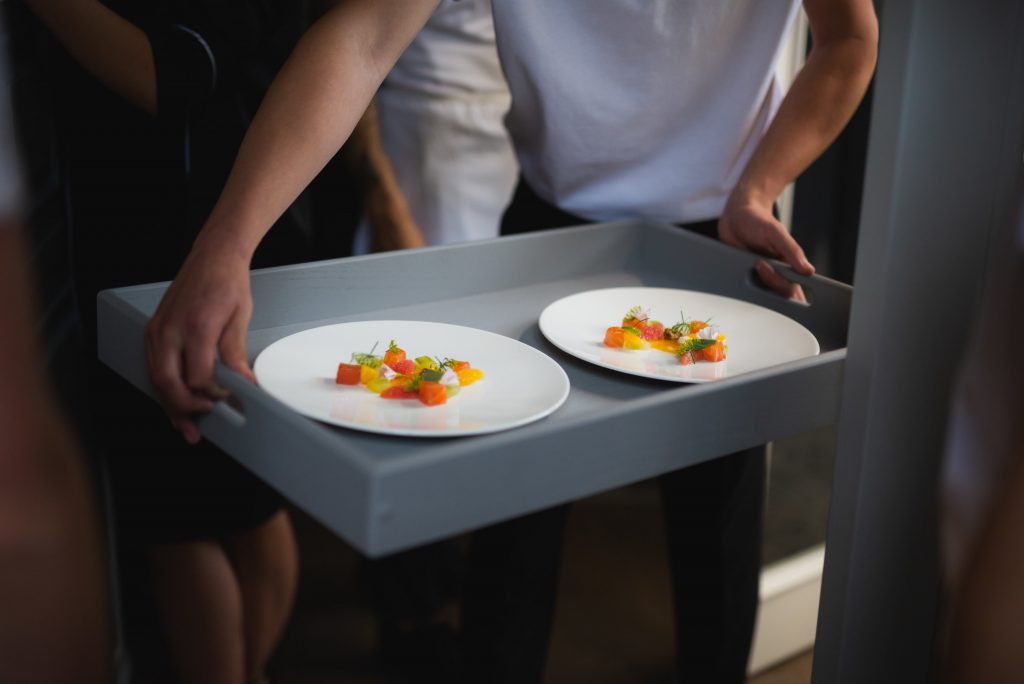 During this dinner, ingredients such as caviar and seafood delicacies, get a chance to truly stand out together with ingredients that are very familiar to locals, like turnips, that are being presented that are presented by our kitchen staff in unique ways.
To perfect your evening, you can choose to pair drinks with your meals, at 25 euros per person.
We also try to proactively surprise our guests with various events, so keep an eye on our social media channels, where these events will be announced.
Average price: Our rooms vary in price by season. During the winter time, the prices start at 90, and when it's summertime, they start from 140 euros.
Booking: As for bookings, it's best to get in touch with us at info@vilakomoda.lt and get a discount for longer stays. It's a great place to visit at any time of the year, as there are different types of leisure for every season.
For example, when the leaves fall in the autumn and the grass is dewy, it is lovely to take a cup of mulled wine and walk to the Palanga Amber Museum.
In winter, when you go for a walk with colour in your cheeks, you can return to enjoy warmth, food, drinks and quality conversations. During the summer, and the air smells like the sea and your shoes are full of sand, take a long walk on a beach and have some long conversations. Return to enjoy our light summer kitchen creations paired with refreshing cocktails. A must try experience!
Bonus tip
VP: What are your 3 beloved go-to spots in Palanga?
Karolina: Oldman, Pajūrio yoga studio and Nemirseta, a view from a cliff.
VP: Where can we find you in the digital sphere?
Karolina: We're pretty much always present on Instagram and Facebook.
VP: Thanks, Karolina, for sharing the magic of Vila Komoda with us!