My Vilnius is a series of interviews introducing you to people who call Vilnius their home. It's all about the ordinary lives of extraordinary people and vice versa. These stories cover their favourite hidden gems, sights, and life stories.
Meet Matteo Covacci, a well-renowned Italian chef who resides in Vilnius. From how merging his civil engineering degree and high-end gastronomy has contributed to where he is today to embracing Lithuanian exprience, in today's interview.
VP: What was your path to becoming a chef?
Matteo: I never thought of becoming a chef. My grandmas were excellent cooks, and even though they were cooking for two families, sometimes that looked a lot like running a small restaurant.
But I had no comparative example or a professional mentor to follow. I actually studied civil engineering and was close to becoming an engineer, but my passion for food and conviviality was stronger.
My previous studies helped me a lot to become a better chef. In modern gastronomy, there is a lot of chemistry and physics involved, so having an analytical mind was helpful.
After leaving the university, I entered a culinary school, which allowed me to do an internship in a Michelin-star restaurant, where I worked for a year. It was a tough and old-style kitchen, but in there, I fell in love with gastronomy and hospitality.
Once this experience was over, I started travelling. I had the chance to work with some of the best professionals in Europe, including the team at restaurant Geranium in Copenhagen. Now it is ranked #1 in the S.Pellegrino 50Best.
VP: How does your day look like?
Matteo: I don't have a set routine, and I love it! When I worked in the kitchen, every minute of my working life was programmed meticulously, and I reached a crazy efficiency level. Every chef that worked in fine dining can probably relate.
Now my days are different from one another. One day I might cook a romantic dinner for two, and the day after, I have to run a fun and engaging team building for 20. The energy is different, but the level of organization is the same.
I offer bespoke experiences to my clients, and most of the time, I start event planning from zero. More than a routine, I have a method that makes things simpler.
VP: Do you have a philosophy about food and cooking?
Matteo: Food has to be healthy and sustainable and must taste good. These are the basics for me, and I don't think there is much to discuss about it.
When we are talking about food (and cooking in general), there is, in my opinion, something more profound that is much more interesting to me, and it is human interaction.
In Italy, food is central in our life: we cook, eat together and invite each other out to eat very often. So, there is a powerful social experience built around food. You can almost say that society is built around food!
I organize many events where I involve guests in the cooking process. They explore their senses and share the joy of cooking with others. After cooking, everybody sits down and eats what we prepared together.
Perhaps the concept is simple but is so powerful that it is a success each time, and I have many returning guests coming back because they loved the energy they helped create.
VP: When it comes to Lithuanian cuisine, is there a dish or ingredient without which you couldn't imagine your meals?
Matteo: I love many things about Lithuanian cuisine. From smoking techniques to fermentation, there are many interesting dishes too. If I had to think of an ingredient I couldn't decide on, I would go for the combination of grietine (sour cream) and fresh dill. Even the smell reminds me of Lithuania, and I love it!
VP: For people who are yet to attend your workshops, what can they expect?
Matteo: People joining my workshops are looking for some exciting and interesting experiences involving great food and friendly people but never really know what to expect. I've heard too many stories about culinary classes where the guests end up cutting one carrot or whisking one egg for the whole evening, and I am sure this kind of experience is quite boring.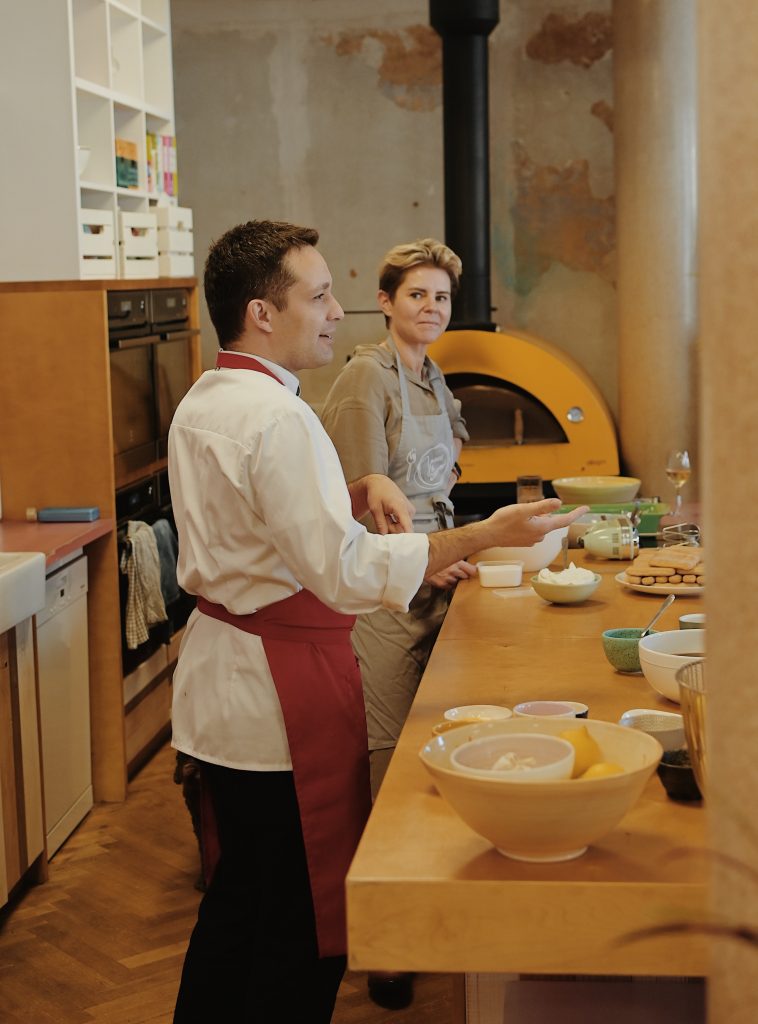 I design my classes so that every guest can participate in the cooking experience from beginning to end. I am there only to guide them in the process. I have to ensure that everything runs smoothly and, of course, that the food is tasty at the end of the evening.
My main goal is for the guests to have fun, develop a better relationship with the food as they are cooking it, and build stronger confidence in the kitchen. At the same time, I make sure all the guests interact with each other and that the mood is always up.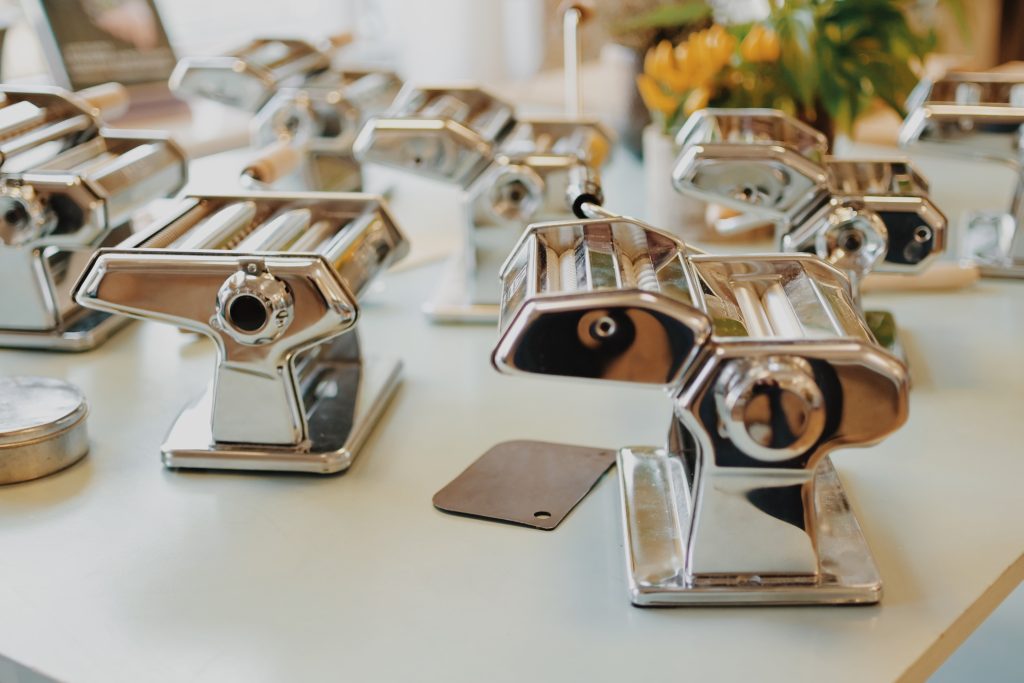 Basically, it feels like reading ten culinary books in three hours as you are cooking Italian food while sipping a glass of wine surrounded by a friendly group of people.
VP: What's your relationship like with Vilnius?
Matteo: I love it! I moved here three years ago and have no plans to leave anytime soon. I married a Lithuanian woman, and we also have a young kid now, so I'm here to stay.
When I first arrived in Vilnius, I didn't know anyone but working as a chef in a restaurant (Nineteen18) helped me build my first network of friends and that was important to feel more "local". It took some time for me to feel at home in Vilnius, but now I really feel welcome.
I would say everyone speaks quite good English, and when they don't, I don't mind showing off my little knowledge of Lithuanian. On the other hand, I speak such broken Lithuanian that for sure it is an ice-breaker!
VP: What are your go-to places in Vilnius and why?
Matteo: I like going to TasteMaps, like the one on Čiurlionio st. It is pretty close to the city centre where I live; they have amazing cakes (I love the pistachio and lemon ones!). And their coffee is really nice, and they are constantly pushing to improve and become better.
Matteo: Nomads in Didžioji gatvė is my favourite place to go when it comes to cocktails. I tried many bars, and there are many good ones, but the vibe here is unique.
The place is really cosy, the bartenders are excellent, and the menu follows the season and changes very often. I always try to sit at the bar and watch them work! It is absolutely beautiful.
Matteo: Gaspar's is, at the moment, my favourite place to eat in Vilnius. The Patron/Chef is very creative and uses fantastic quality ingredients. Rarely have I seen such high-quality products in other restaurants in the city.
Also, the service is very good, and the whole place has a great vibe. I would say the gastronomic scene in Vilnius is very much alive, and many new restaurants have opened or are about to open. I am really looking forward to trying them all.
VP: Where can we find you in the digital sphere?
Matteo: I have my website, the principal tool I use to share my work, and the latest project I am working on. On the website, I also have a mailing list that anyone can subscribe to, and it works well to always be aware of the next events, pop-ups and classes I organise.
I like to use my Instagram as a place where anyone can find helpful tutorials, recipes and ideas, mainly about fresh pasta. And I share a lot of what happens in my everyday life, which helps me keep constant contact with friends and guests. Alternatively, you can check out my Facebook.