My Vilnius introduces you to people for whom the city has become the place they call home. It's all about the ordinary lives of extraordinary people, and vice versa. These stories cover their favourite hidden gems and sights, as well as detours and discoveries in life.
A contemporary artist, Julija Jankelaitytė, introduces you to her take on Vilnius. As well as she unveils what ignites her inspiration and her beloved spots to indulge and dine.
VP: What was life like before moving back to Vilnius?
Julija: In my childhood, I lived in the Lithuanian countryside and then during my teen years, I moved to a small town. So my early day memories are all filled with nature, serenity and a sort of sacred isolation.
After high school, I challenged myself with a completely different lifestyle and moved to London to pursue a degree in Fine Art And Design. This six-year period was coloured with intense and chaotic metropolis experiences.
Later on, I lived and created between the artistic Berlin, charming Vienna and the scrupulous Zurich. All three cities with their own distinct characters left significant marks in my creativity and personality.
But neither resembled and fulfilled the nostalgic feeling of peace and bohemia found in Vilnius. In 2018, I came back and am still falling in love with this wonderful city each day.
VP: When did you know that art is what you wanted to do?

Julija: As far as I remember, it has always been a major part of my character development and surroundings. I can't remember a time when I had different plans for my career or future. My earliest memories, as abstract as they are all saturated with creativity.
I dabbled with music as a kid but it never satisfied me to the same extent as creating something visual. So I stuck with art in all of its forms. Probably, in my case the saying—either you were born an artist or you weren't—seems to be pretty accurate.
When it comes to inspiration, it mostly comes from intense experiences such as love, hate, anxiety, pleasure or pain. I tend to analyze and recycle them into images to preserve the moments, feelings and memories.
VP: What emotions would you like to evoke through your art?
Julija: It differs from artwork to artwork but generally my focus is the gut feeling of a viewer rather than communicating a clearly stated fact. I believe my work should be felt intuitively rather than understood, so everyone can relate and, hopefully, find a piece of their own being in each of my paintings. It's my way of giving back to the community and connecting with others.
VP: How does your creative process look like?
Julija: Discipline and impulsiveness take over each other periodically. Some works are built up almost architecturally, with a structured process, thought and care. Others are born viscerally from emotions, with sudden visions and an overwhelming urge to execute them. The key is to always have my workspace and tools ready for when the inspiration strikes.
When needed, I use music such as Tool or visit current exhibitions at the local galleries and the MO Museum (a must-visit) to get those creative juices flowing. A short time spent isolated in nature also helps to dissolve an occasional artistic block.
VP: In what ways do living in Vilnius and local culture influence your work?
Julija: Vilnius gives you a lot of space, freedom and time for the exploration of your own being. Not many commonly held standards or rules are being pushed upon, and this makes the city a wonderful environment for creativity and growth. The young people living here are open-minded and striving to effectively adapt anything new and positive.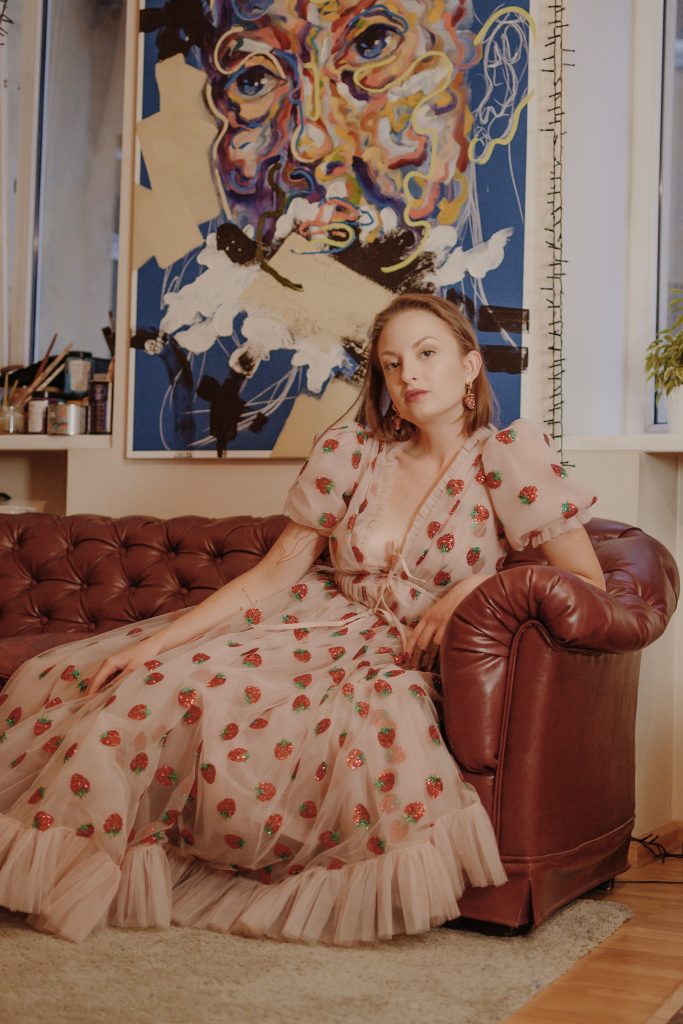 VP: What are your go-to places for an after-work drink, coffee and cake, and dinner with your friends?
Julija: Alchemikas is my favourite spot for a high-quality cocktail and a quiet getaway whenever needed. The team is outstandingly knowledgeable and creative with their drinks. This place has substance and many stories to tell as well as to create.
My caffeine and sweet tooth indulgences take place at StrangeLove. Their coffee is the absolute protagonist of the menu and the second-floor balcony ignites my poetic spirit on Sunday mornings. Be sure to visit this place for a brunch date followed by a walk in the beautiful Bernardinai garden for an extra pinch of romance.
La Boheme is not only how I strive to live my life but it's also one of my top picks for dinner in Vilnius. Their Beef Carpaccio is best in town, the wine list is extensive and high quality.
It has the architecture of an old monastery, which subtly merges with the modern but warm interior. It never fails to please my aesthetic tastes. They also host international artists to showcase their works periodically. Overall it's nothing less than perfect for my taste.
VP: Last but not least—what would you recommend for a first-time visitor in Vilnius?
Julija: It's extremely convenient to explore Vilnius on foot, get some comfortable shoes on. Have a tiny adventure visiting every little street and courtyard in the old town and pop into a local bakery. Make sure you visit the artist studios in the Užupis area and when night falls indulge in some social affairs on Vilniaus street!