My Vilnius introduces you to people for whom the city has become the place they call home. It's all about the ordinary lives of extraordinary people, and vice versa. These stories cover their favourite hidden gems and sights, as well as detours and discoveries in life.
Laurynas Žakevičius is a celebrated dancer, producer, choreographer and teacher. The person behind dance initiatives such as Low Air and Dance Colony. Today, Laurynas talks about his career beginning as a dancer and why he promotes Vilnius everywhere he goes.
VP: How did it all start? 
Laurynas: I remember, when growing up in the Justiniškės district in Vilnius, I was on the search for something interesting to do. I was a very sporty and active kid who could barely count the number of hobbies and activities I undertook.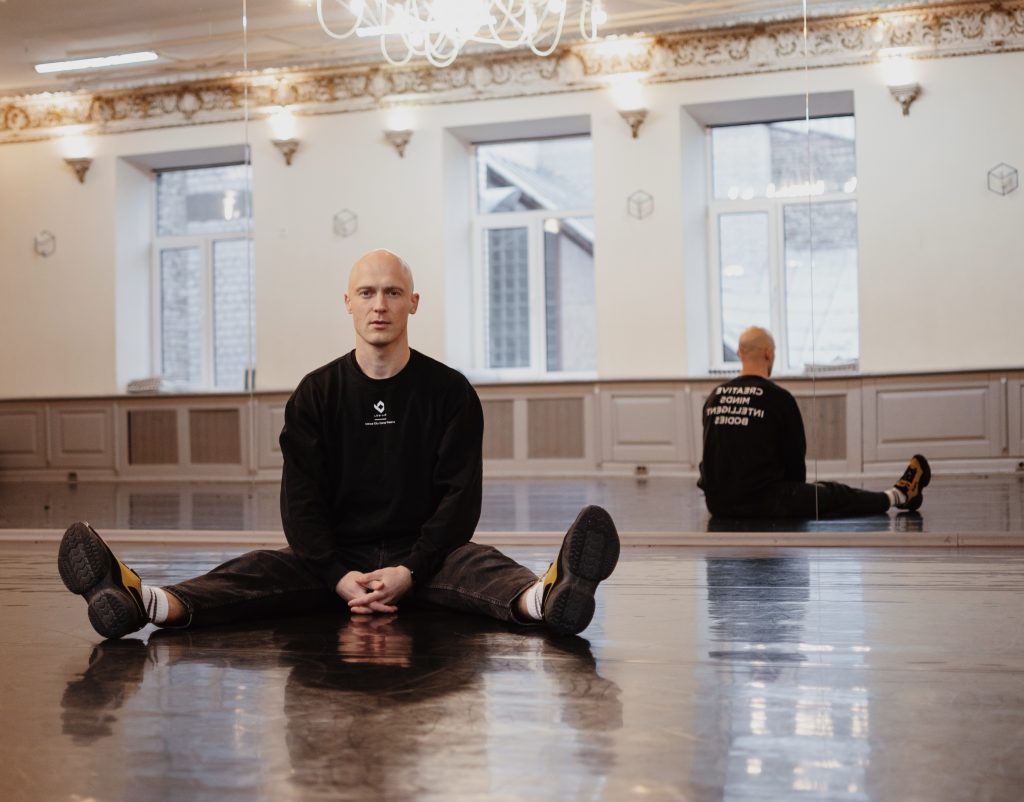 Everything changed when one day while watching the music channel VIVA, which aired on TV, my eye caught a man spinning on his head. That very moment, I knew that was it and I would pursue dancing from now on. Without any hesitation, I moved around the furniture at home to make some space and I started training. This is how my lessons and searches in breakdance narratives began.
Gradually, all previous and good, but more importantly, bad activities, disappeared from my radar. I fully immersed myself into urban dance. Later on, I got involved to the extent that dancing had become my second full-time job.
By education, I am a social pedagogue, and while I managed, I combined the two jobs: at school and on the dance floor. But in the long run, dancing took over. However, I have included the social aspect into dance projects and activities.
VP: How was Low Air born?
Laurynas: We consider the creation of my and Airida Gudaitė's first dance collaboration Feel-Link to be the beginning of the Low Air concept. This work was initially presented under a different name representing our duo, but even then, the current concept was already alive.
During one creative residency, a colleague asked why we had such a complicated name and, indeed, the name was pretty complicated, we were called A&L Urban Dance Theater. She spontaneously suggested we call ourselves Lau Air (Laurynas and Airida).
Both the idea and the sound merged into Low Air. The name united the qualities of our character and the dance we practised: breaking and hip hop. Lastly, all this was sealed into one by the element of nature—water, which lives in various shapes and forms.
Over time, Low Air has discovered two of its own directions: professional creation and education. In essence, it is the direction of urban dance theatre, partly focused on performance productions and partly, on dance education and social projects.
The Low Air team consists of 13 dancers, educators and creators. We strive for everyone to discover themselves through dance and art. The Low Air learning process is open and inclusive, so we try to help everyone who wants to learn to dance and love to dance.
VP: Your and Airida's performance Feel-Link is simply all-consuming and brilliant. What was the creative process behind it?
Laurynas: It's so nice to remember 2010-2011. Feel-link was a very good time because it also signified the start of our creative work together with Airida. In my 10 years of relationship and creation with Airida, the performance will soon be shown for the 100th time, which feels incredible to us.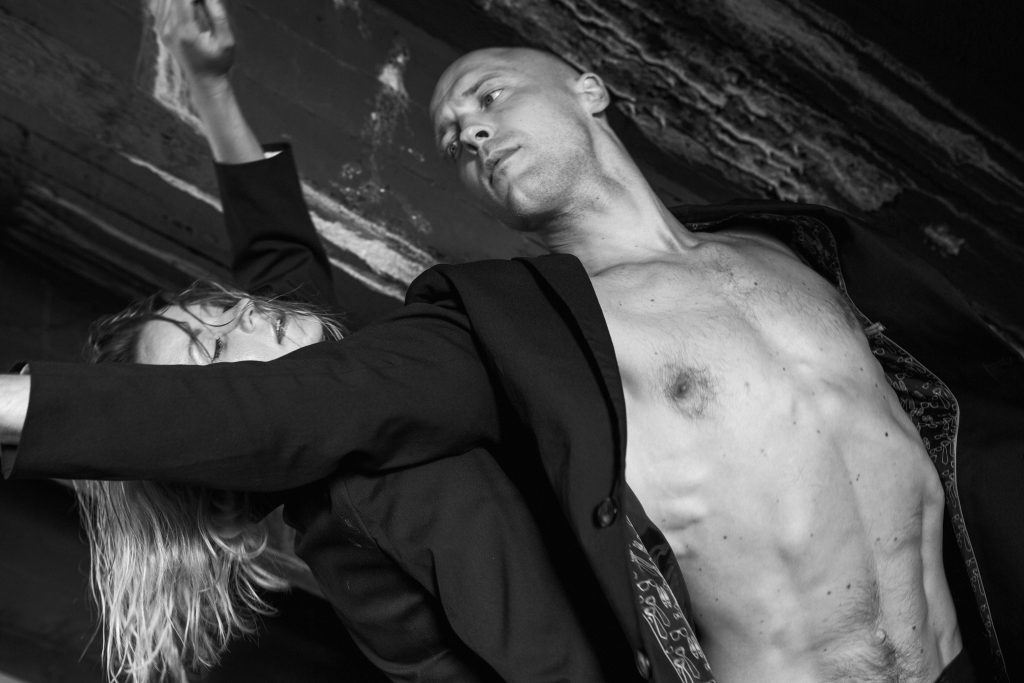 When creating this performance, we were very much looking for choreographic solutions. We thought about every micro movement. At the stage of creation, various things are important to us and each process is quite different.
Feel-Link started with Nina Simone's song Feelings, the performance of which (at the Montreux Jazz Festival in 1976) we discovered online and immediately stated that we wanted to create something based on it.
That particular video is a source of great inspiration for us—in terms of performance, in terms of performativity, in terms of minimalism, in terms of humanity, in terms of freedom to improvise, and the list goes on.
Usually, the focus is on why we are doing one thing or another and what we want to show or prove. I never do self-aimed things. I personally have to have a goal or meaning for myself.
I also believe that art cannot be an end in itself. When we lean on the goal, we then look for tools and narratives through which we try to reveal the topic and achieve the goal.
If you ask me, inspiration is everywhere. Vilnius and the city as a whole are very inspiring. Its architecture, the sights and views, the ongoing processes and the people are all very big sources of inspiration.
VP: What runs through your mind before going on stage? Do you have a ritual of any sort?
Laurynas: I've been going on stage for almost 20 years now—until Feel-Link, it was the street dance underground scene and various dance circles, once Feel-Link was created it then switched to the theatre scene.
And yet, every time I go on stage, I still feel this rush of adrenaline and excitement, and at the same time, I feel very grateful. Grateful for the opportunity to be on stage and be watched by people who are seeking their own meaning.
When you perform, the earlier-mentioned benefits of dance and art to an individual are revealed from a different perspective. When the creator climbs on stage, he or she becomes a "part of the mechanism" and a tool for influencing man through art, because a viewer is there, looking for happiness, calmness, or an answer.
So one of my rituals before going into the spotlight, whether it's a scene, a town square, or a lesson—is to give thanks to the current situation, the circumstances, and, of course, for the opportunity.
VP: How has the local dance scene evolved over the last 10-15 years?
Laurynas: The art scene and the dance scene are very living and ever-changing spheres that are dictated by the times, as what we live for is often questioned. For example, now creators from all over the world, including dancers, analyze the themes of resilience, distance, isolation, and survival.
On the one hand, the street dance scene has changed a lot in 15 years, falling asleep for a long time and without adequate pedagogy (which is very important) there is now very little going on in it.
On the other hand, during that same time, street dance (urban dance) became a professionally recognized form of dance art. Urban dance is now taught in almost all higher education art institutions, and here we are very happy to have been able to contribute to it for the most part.
Arida's analysed questions in the master's studies on the need for street dance competencies in higher education programs, and the dance performances we created and later got awarded for became precedents that made the term urban dance more widely used in terms of dance dissemination and project funding. With each new social and artistic endeavour, the approach to dance changes for the better.
Talking more broadly, the dance field has grown steadily throughout this time, with new creators emerging. Lithuanian dancers and their works increasingly tour the world, and world festivals and fairs include the works of Lithuanian creators in artistic programs. All this contributes to the formation of Lithuania's image.
Thanks to the dance festivals organized in Lithuania, we see more and more top-class dance work at home locally, and we have opportunities to learn from them. There is more and more talk in society about dance and its benefits, which is very gratifying.
VP: What's your relationship like with Vilnius?
Laurynas: I can confidently say that I feel at home and am secular when creating from Vilnius. We have a very good and wide environment for creativity, where so much more can be implemented and created. Vilnius is full of culture and art. It is small, beautiful and open.
I am always spreading the word about Vilnius while touring abroad and proving to everyone what a great place the city is. When I travelled, I realized that wherever you are, there are problems too. For many cities that I visited, there are even more of them.
So there is nowhere to run or emigrate to as everything can be created here in Vilnius and in Lithuania. You just have to use a little creativity.
VP: Do you have a favourite spot in town?
Laurynas: Being a lover of modern art, I feel refreshed every time I visit or when I'm simply next to MO Museum. I also really like to visit my newly-discovered Espressinė in Žvėrynas. With great responsibility and sincerity roasted and brewed coffee, for me, it serves as a great start to the day and a companion at work. Another spot to foster creativity is a store for books, stationery and coffee called Raštinė.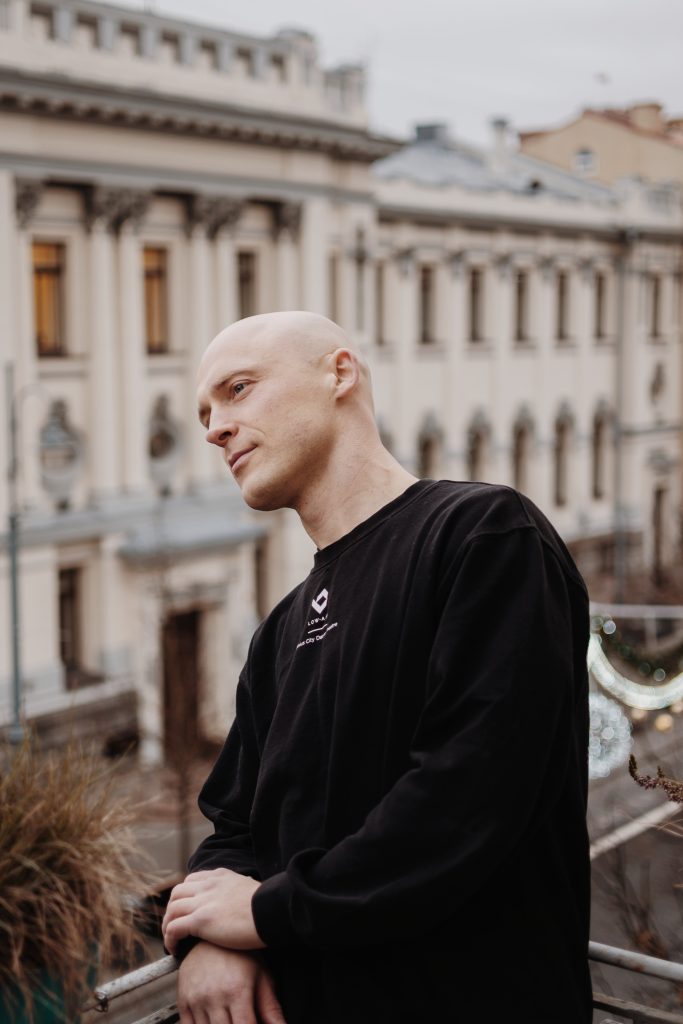 I like many places, especially where people showcase their efforts and love what they do. For example, a walk in my childhood neighbourhood Justiniškės brings back memories of how, as a child and a teenager, I dreamed of how everything would be, what I would do.
Of course, I didn't expect things to turn out the way they did, so well and so interestingly, and that just proves to me that you can never know. That's why I tell myself and others: just believe, be curious and be proactive everywhere and always—and you will definitely end up where you dreamed of.
VP: Where can we find you in the digital sphere?
Laurynas: All information about Low Air can be found on our website. The website also serves as an educational resource. To get in touch about dance education, you can do so on Facebook or Instagram. For theatre purposes, reach out here. And here's my personal Instagram account. Let's connect, and let's create together.