My Vilnius introduces you to people for whom the city has become the place they call home. It's all about the ordinary lives of extraordinary people, and vice versa. These stories cover their favourite hidden gems and sights, as well as detours and discoveries in life.
If you like to wine and dine, Deivydas Praspaliauskas is a name you're likely to know well. Throughout the years, the famous Lithuanian chef had ventured off onto the Vilnius restaurant scene by opening several well-known fine-dining establishments.
Today, Deivydas welcomes guests at Amandus, located in Užupis. The restaurant is an exquisite gem or more so — a creative culinary expression, alluring guests from all over the world for a transformative tasting experience one simply can't forget.
VP: How did you start working with food and where did you train to be a chef?
Deivydas: My journey into the world of the restaurant industry began rather early. At the age of 15, I started studying the profession of chef-bartender at Alanta Technology and Business Gymnasium with the aim of becoming the best waiter out there.
I also went to Cyprus to gain some practical experience, but it didn't last long, because my plans and fate aligned, and I was invited to Denmark. After I met there Lizzi and Knud Amandus (after whom I named the restaurant), I decided to stay and try my luck in Copenhagen, where already back then the restaurant scene was brimming. I had everything the job demanded: physical stamina, stubbornness and no ticket back home — all three made the right combination to help me get used to working very quickly.
I started off doing the dishes, then as an assistant, and eventually, I went onto study culinary arts. I got the chance to work in some of the most unreal restaurants in Copenhagen and see it all for myself: how meticulously some of the most iconic dishes are created; how the luxury wine is decanted and how the most loyal guests are greeted. I liked everything related to the sphere.
Shortly after, I started capturing all my experiences, dreams and ideas in the notes section titled: My Restaurant. And I directed all of my efforts towards that vision coming true.
VP: Do you have a philosophy about food and cooking?
Deivydas: It's quite difficult to say what my actual philosophy is. It doesn't revolve solely around food. Instead, it's about the entire restaurant and its balance. Everything starts with showing respect to your guest, colleague, food ingredient, and even a polished glass or plate. Every interaction or item matters.
All plates are served with carefully selected products matching the current season and geographical region. Only occasionally they would be topped with a so-called cherry on the top ingredient, such as truffles, Kamchatka caviar or Canadian Lobster.
My goal is that every workday for my colleagues and the dining experience for my guests is like a serene trip or a theatre performance that is incredibly well directed. So this time spent is completely stress-free, accompanied by a broad smile and love for the restaurant at which you either work or dine.
VP: If you would have to choose that one ingredient for every meal of the day, what would it be and why?
Deivydas: It would have to be buckwheat as the product can be prepared in a variety of ways. With buckwheat, you can make dishes that are diverse and not plain.
VP: For those who are yet to visit, how would you describe Amandus?
Deivydas: Amandus Restaurant is a place where guests are invited to enjoy the ever-changing menu of our tasting dinner served in the evenings. Each compliment, dish and paired drinks have their own stories that are being presented by dedicated team members.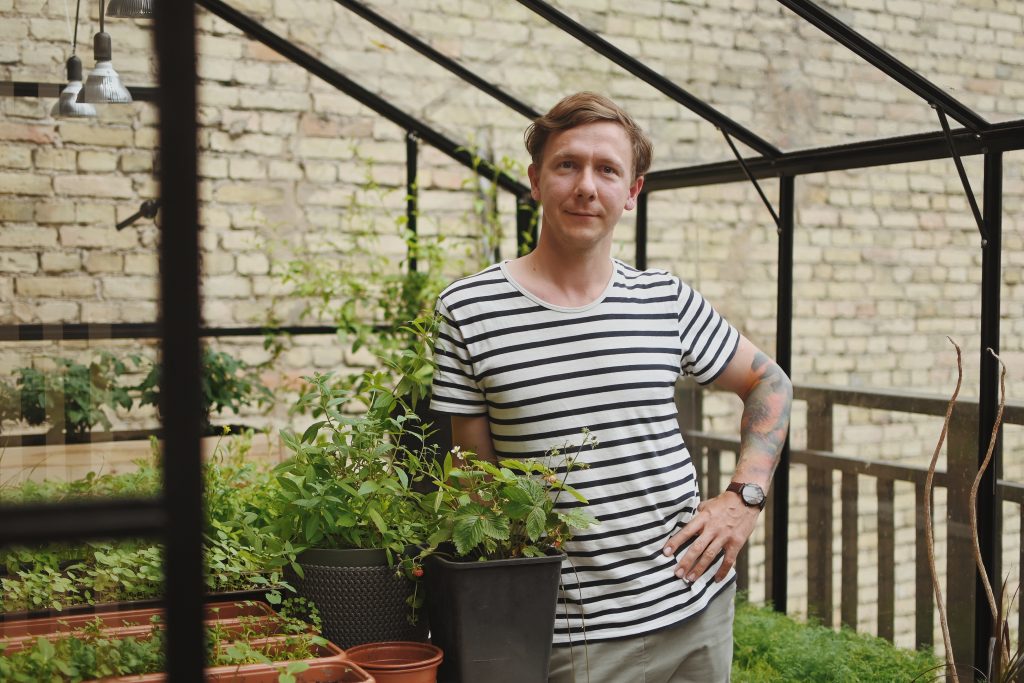 VP: How were your tasting menus born? What's the creative process behind them?
Deivydas: I came up with the idea of tasting menus while I was distilling the concept of my restaurant. The aim was to drastically minimize the stress at the restaurant and create such an atmosphere that whenever the guests are here, the relaxing environment becomes contagious.
In particular, I wanted to give each member of the team, who was preparing throughout the day, the space to embrace the evening service and serve the food for our guests, while being able to see what they've created, the gratitude on every guest's face.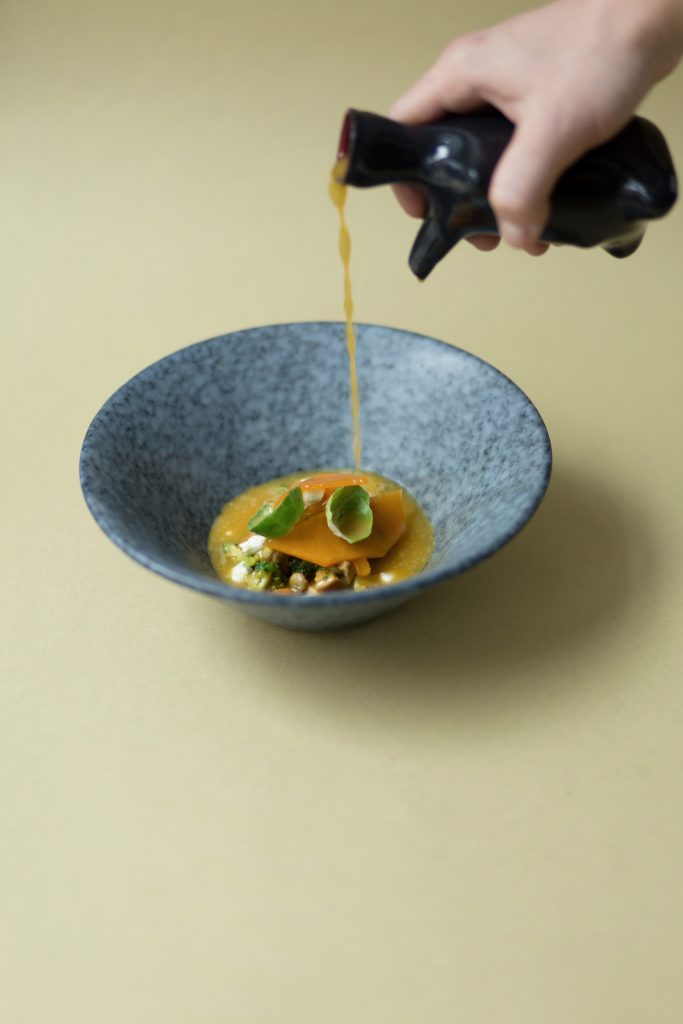 As for the creative part, it always starts from the current season and the availability of fresh produce. For the main dishes, I discover seasonal ingredients and then I add on details, which often are cornerstone elements, too. Occasionally, the menu is inspired by one of my trips: South America with its chilli peppers, the Middle East with an abundance of spices and their use.
Sometimes my dishes are born from history or even by feedback provided by our guests. This is especially so when they dream out loud — these are heard and realized — even if it's the dish of mashed potatoes with cracklings with an added modern twist.
VP: What's your most memorable or unexpected guest?
Deivydas: The most impressive and memorable dinner was hosted outside of our restaurant. Dalia Ibelhauptaitė and Dexter Fletcher invited me to prepare a private dinner during one of Dexter's last days of filming Eddie the Eagle. There weren't many guests but among them were Alan Rickman, Taron Egerton, Hugh Jackman, Christopher Walken, and Jamie Oliver.
Once, we also set up a dinner for which we were preparing in Lithuania, but it took place in Italy by Lake Como. The exact number of guests was two.
VP: The first time I had a taster of your culinary creation was years ago at Dublis located in New Town. What has changed since then?
Deivydas: On this point, I think I will stick to my opinion that only the location has changed and the restaurant has decreased in size. But we have moved to a way more lively and characterful space. Amandus is now located in an area famous for its versatility and it is full of interesting personalities.
I can safely say that until the restaurant is taken somewhere, say, into the suburban forest, I successfully find my place here. After moving to Užupis, we've positioned ourselves as a creative kitchen. I personally feel much freer and I allow myself to improvise in myriads of ways. So don't be surprised if the restaurant is filled with smoke, flames, smells and even secrets. 🙂
VP: What's your relationship like with Vilnius?
Deivydas: It might sound pompous, but for me, Vilnius is a city that gives you an opportunity to live a colourful life. I am content with its size, the number of people and the fact that when visitors come, they are pleasantly surprised that such a small capital has so much to offer.
I am happy to be a part of it, sharing with the locals and visitors of the city what I have created. Vilnius is a convenient size and so adaptable that when I really have creative ideas, I always find ways to bring them to life. I am happy to be a part of it, spreading to local people and guests what I know and have created.
VP: What are your go-to places for a drink, coffee and dinner?
Deivydas: I really like concept-driven spots, which I choose based on the mood, the weather and the famous product they offer. I drink coffee in Huracan. When it comes to drinks, the range is large, so it could be King and Mouse, Spiritus, or Nomads. For dinner, there are too many options. Vilnius is spoiled for choice and is full of interesting places with exclusive cuisines.
VP: Where can we find you in the digital sphere?
Deivydas: Get a glimpse of the restaurant experience and book a table at www.amandus.lt.