My Vilnius is a series of interviews introducing you to people who call Vilnius their home. It's all about the ordinary lives of extraordinary people and vice versa. This time, Aiste Rakauskaite, a well-known architecture photographer and architect, invites us to explore her version of Vilnius, treasured town spots, and a shared life between the two countries: Lithuania and the Netherlands.
VP: Tell us a ­bit about yourself—what's your background?
Aiste: I grew up in Jonava. With limited activities in such a small city, the camera became my escape, capturing everything I deemed interesting. I was lucky enough to cross paths with photographers Audrius Reipa, Deivydas Lekavičius, and Artiom Ištuganov in such a tiny place as Jonava, who taught me the technical side of photography and that, fundamentally, it's all about experimenting. Looking back, I think that I was fortunate to have three mentors as a beginner.
Despite my passion for photography at a young age, I took a daring detour into architecture studies, putting my camera on hold. Right after my bachelor studies and working at an architecture office in Lithuania, my best friend invited me to join her in the Netherlands. I still remember the moment so vividly when she sent me a text that said, "I'm planning to go to the Netherlands. Would you like to join me?" I replied with a resounding "Let's go!"
So without any hesitation, I embarked on this new adventure and found myself a job at a Dutch architecture office. And so, a new chapter of my life unfolded. The Netherlands became a new chapter in my career.
VP: How did you get into architecture photography?
Aiste: In the Netherlands, I started working at V8 Architects. My colleagues were aware of my photography skills, but what surprised them was that I had never tried my hand at photographing architecture, despite working as an architect.
Their response? A mix of excitement and other emotions. Instead of letting me off the hook, they saw it as an opportunity for me to explore a new, yet familiar, realm of photography. They encouraged me to capture their projects. I merged my two passions: architecture and photography.
It was an eye-opening experience, and my career took a dramatic turn. I shifted from being solely an architect to a full-fledged architecture photographer. And now, I'm fortunate to work with renowned architecture offices worldwide. One notable project I photographed was the Erasmus University Langeveld Building, designed by Paul de Ruiter Architects. It pushed the boundaries of sustainability, showcasing a new level of design powered by nature.

I also had the opportunity to document the award-winning Amsterdam Stationsplein Bicycle parking garage, a challenging project by Wurck Architecture. Its design earned it the prestigious 2023 Amsterdam Architecture Prize. Lastly, I was happy to capture the completed Cooltoren project by V8 Architects. Coincidentally, the construction of this project began around the same time I arrived in Rotterdam as an architect. Now, as an architecture photographer, I had the privilege of capturing its beauty after all these years.
VP: What was the most memorable photoshoot?

Aiste: Surprisingly, my most memorable architecture photoshoots revolve around the interactions I have with people. It's truly heartwarming when strangers trust me and welcome me into their homes. One particular shoot that stands out is when I was capturing the De Kleine Weelde project by NOAHH Architects.
Initially, I focused on photographing the communal spaces, and to my delight, a few residents happened to be sitting near a picnic table. I introduced myself, and they warmly welcomed me. They even expressed their willingness to act as models and invited neighbors to join. What started as a simple photo shoot quickly transformed into a neighborhood gathering. The photoshoot evolved into a lively community party!
To my surprise, I was later invited for dinner, where residents shared their appreciation for the project. It was a wonderful opportunity to hear their feedback firsthand. Architects often don't have the chance to visit their completed projects and engage directly with residents, so being able to pass along these positive reviews to the architects was truly rewarding. It added a special touch to the whole experience.
These unexpected connections and the genuine warmth of the people I meet during my photoshoots make them the most memorable. It's a reminder that architecture is not just about buildings but also about the impact it has on the lives of those who inhabit them.
VP: What's your relationship like with Vilnius?
Aiste: Vilnius holds a special place in my heart. I lived there during my bachelor studies, residing in the Naujamiestis district. Over the course of four years, I witnessed a remarkable transformation in the area. What was once an industrial and monotonous neighborhood blossomed into an innovative, green, and vibrant place. I hope that this positive evolution continues, bringing even more life to the city. After my studies, I moved to the Netherlands but found myself returning to Vilnius often. However, things changed last year when I decided to settle in the charming Old Town district.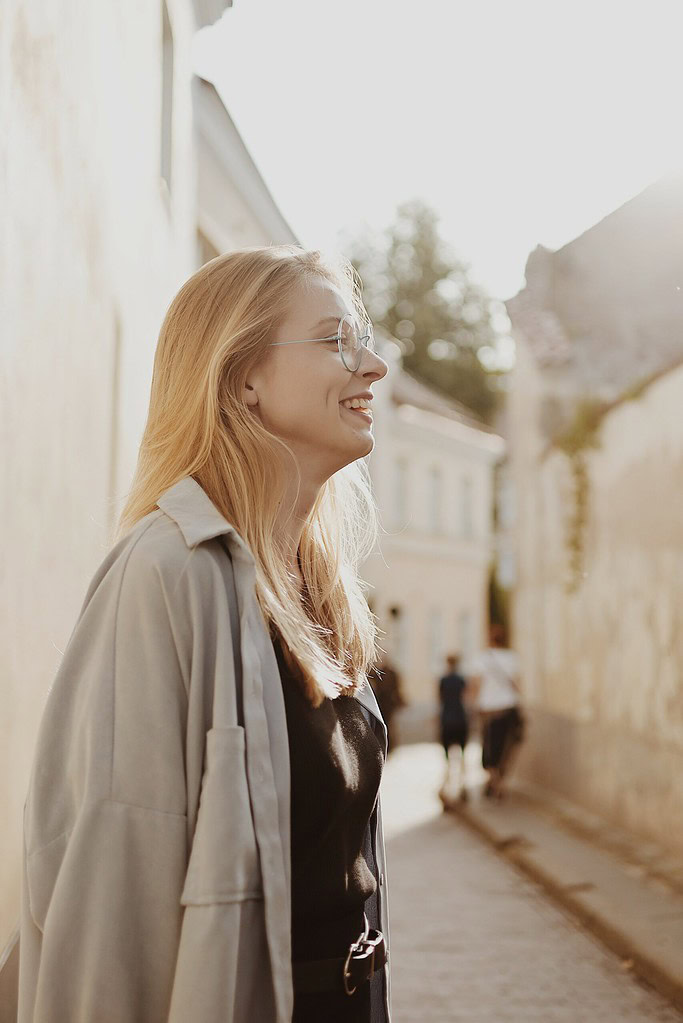 Now, I split my time between two countries, often commuting back to Vilnius from the Netherlands every two weeks for work. It's not uncommon for me to find myself working on trains or planes, but I'm grateful for the opportunity to live in the most vibrant part of the city. Being surrounded by the energy of people and the diverse array of activities in Vilnius brings me immense joy.
However, I also see vast untapped potential within the city. I envision Vilnius as a playground — a place where people can truly express themselves and explore their passions to the fullest. It has all the ingredients to become a thriving hub of creativity and self-expression.

VP: What are your go-to places for an after-work drink, coffee and cake, and dinner with your friends?
Aiste: When it comes to unwinding and meeting up with friends in Vilnius, I have a few top spots that I always enjoy.
One of my nostalgic traditions is visiting Elite Shawarma, where I feast on their delicious food. The place may have a slightly funky vibe, but that's part of its charm, and I have a soft spot for it. Middle Eastern cuisine is a personal favorite of mine, so it's a perfect match.
For a delightful coffee experience, BREW Cafe on Pylimo Street is my go-to destination. Their Orange Americano never fails to uplift me. It's a spot that holds cherished memories (it's next to the Architecture Faculty, that's why).
More recently, I discovered Kamikadze Japanese cuisine-based restaurant. I must say, it lives up to the hype. The food is simply outstanding, and I highly recommend trying their fresh tuna meals with a nice Japanese drink on the side.

VP: Where can we find you in the digital sphere?
Aiste: You can catch a glimpse behind the scenes of my photoshoots and stay updated on my recent works by following me on Instagram at @aiste.rakauskaite, where I share exciting moments and news related to my photography. Don't hesitate to follow up and reach out to me for a cup of coffee!