My Vilnius is a series of interviews introducing you to people who call Vilnius their home. It's all about the ordinary lives of extraordinary people and vice versa. This time, Vinh Dallemagne shares his experience of embracing the local culture after arriving in Vilnius for the first time over a decade ago and now living here permanently. 
VP: Tell us a bit about yourself — what's your background?
Vinh: I was born and raised in Paris, and my parents are originally from Vietnam, so I got to experience the best of both Vietnamese and French culture. I studied Business and Marketing in Paris and tried many jobs before finding my way — from tennis instructor, door-to-door salesman, sales assistant in luxury retail, animator in resorts, and even working with properties. For the last ten years, I have been primarily focusing on business growth, and I've also been working as a Country Manager for the past six years.
I was fortunate to work for two great Lithuanian companies, which helped me fully immerse myself in the local culture. Deeper was my first employment and almost like my second family as I discovered everything with them and kept many friends from there. Now, I am lucky to be part of Hostinger, one of the fastest-growing companies in Lithuania.
Living abroad has also been a big part of my life. I've spent time in the US, Vietnam, and nearly a decade in London before moving to Vilnius permanently five years ago. I have been visiting Lithuania since 2013, and once I had a family, Vilnius became the obvious place to move to for a better work-life balance.
VP: When was your first visit to Vilnius, and what was it like back then?
Vinh: Wow, looking back, this feels like ages ago, but as mentioned, my first time was about ten years ago. It's hard to remember the visit in much detail, but the city changed and evolved a lot. The first time I came was in winter for Christmas. It was quite cold and mainly felt really new and different from what I knew or visited previously. I only knew a little before visiting Vilnius, so it was full of discoveries, from the language to all the different names of people.
Lithuanians were also curious about me and whether I liked it, and I remember that most people around me tried to make a good impression of Lithuania. The service was rough and not always the most pleasant, but this also evolved as the country developed and tourism grew over the years.
I remember being impressed by the beauty of the old town and how much nature there was everywhere. I also remember eating a lot and trying my first cepelinai, which ended up not being just one but more than a few of them — I had to impress the in-laws.
VP: What are some of the local cultural attributes that, to this day, you find surprising?
Vinh: I always feel biased, as my experience as a foreigner coming to live in Vilnius has been nothing but amazing. Starting with local people is probably one of the most important things when adapting to a new culture. People have been so welcoming that it is always hard to hear when people say that Lithuanians can be cold. As they say, it takes two people to tango; the same goes for establishing friendships when moving somewhere new.
I will always remember this anecdote of my first day at work in Lithuania, when I was at my desk around lunchtime, still a bit shy as any new starter would be, and this guy came to me to ask if I wanted to go for lunch, pretty much leaving me with no choice and ordered for me my first Kugelis. We've since then been really close friends and to this day still speak almost every day. As a fun coincidence, today we work in the same building just two floors apart. So, I can definitely say I have been welcomed with open arms. A big shout out to my friend Ignas!
Whilst talking about food, I love potatoes, so although it's not the only food, it suits me well. Another important attribute is that the language is difficult, and it's wild that I still haven't wrapped my head around it. I could be a better student (ask my teacher as yes, I still have a Lithuanian teacher), but almost everyone speaks English, which doesn't increase the urgency to learn the language. To summarize, I still come back to people as the primary reason for how welcoming the place is, and it's because the people in Lithuania are awesome.
VP: What should someone who is considering moving to your city know?
Vinh: You will love it; it's so green, and the pace of life is just amazing. If you love nature, this is the place for you. The admin part can be difficult at times, but I was fortunate to have a Lithuanian wife and friends who could always help me. For me, Vilnius is really the perfect city, not too big with the benefit of being a capital. There's almost everything here, and at the same time, I'm happy as it remains an undiscovered gem, so it doesn't get overcrowded.
Vilnius is vibrant, with cool places to go out, especially in the summer. And at the same time, you can easily escape to nature. The old town is just beautiful, with an incredible amount of churches. The cost of living has increased but remains lower than in most Western countries. Overall, the quality of life and balance remain much better.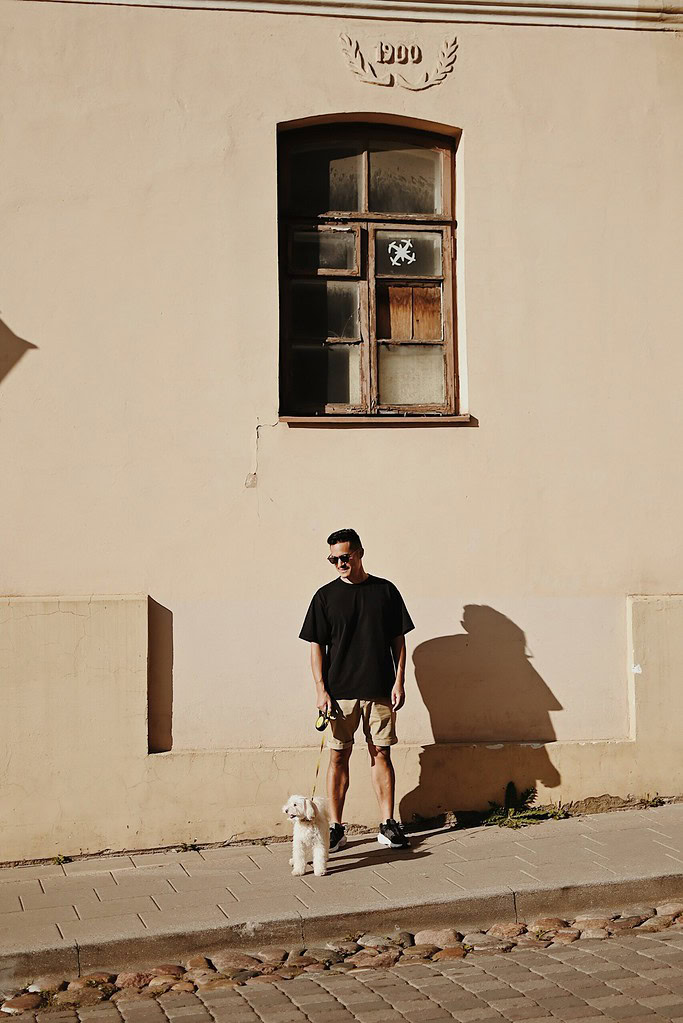 Some people may be aware of the weather and seasonality, but for me, it has not been an issue. I love having all four seasons, and winter is very beautiful, sometimes a bit long, but I'm fortunate to escape if needed easily. Another essential point for me, which my friends usually notice when they visit, is that Vilnius and Lithuania feel extremely safe. It's hard to describe, but when raised in Paris and lived ten years in London, Vilnius feels like a haven of peace.
VP: What are your go-to spots for dinner and drinks?
Vinh: There are too many places I like. This is a difficult question, and there could be many different categories. I love the intimacy and the food at Gaspar's, his passion for food, and that you can always exchange with him and try new things regularly yet with such consistency.
For a more casual evening, Kinza is one of my favorite spots. I enjoy the various mezze and the coziness of the no-shoes area at the back, and the idea of sharing food with your friends. Lastly, I would add Amandus simply because I recently went there and thoroughly loved the whole experience around the food, and I was delighted every single time.
For drinks, I would consider it more as a hangout place. I don't drink alcohol, but I like to meet up with friends. I like hanging out in Bernardinų Kiemas; it's just an easy and chilled atmosphere, as it's quite big, you often find a spot, and everyone can grab various snacks from various food trucks.
I also enjoy going to the Opera Social House rooftop; again really nice to spend a relaxing evening with some music and a cool vibe. Then, I would add Alchemikas for their nice cocktails and intimacy or Peronas for their unusual surroundings. Again, to prove my point, there are many places worth visiting.
VP: Where can we find you in the digital sphere?
Vinh: I have an Instagram profile where I share all things food and my travel experiences. I'm also happy to chat about work-like experiences here in Vilnius, and you can reach me via LinkedIn.