All the reasons why it's worth visiting even if you aren't staying overnight.
As soon as I finish the complimentary bubbles provided by the reception staff at Hotel PACAI, the sky pours. The city has blessed me with sunshine until now, and I am grateful. The timing can't be better because all hotel guests have access to the sauna and spa at this five-star hotel in the heart of Vilnius. 
Here's my review of Hotel PACAI — what you can expect and what might turn out to be a surprise.
The attention-seeking spa
There is no doubt that Hotel PACAI is harnessing two revenue streams — hotel and spa. Locals are welcome to book spa access and treatments. All information is on their website.
It might seem quite expensive at first (i.e., not Thailand prices), but coming from London — this five-star hotel offers massages and facials at the cost of a random parlour in the streets of London — and with the best products from professional dermatologists. The brand of choice is Biologique Recherche from France.
Located in the basement and away from the misty rain, I change into the lush bathing robe and enter the dark spa room. It's a simple set-up — 80 degrees sauna, 40 degrees hammam, a relaxation area with deck chairs, and a golden shower. Very on-brand indeed.
I am a self-identified spa veteran spending too much time in a steam room. But the hammam room surprises me nicely. After hosing the tiled platform, humidity increases, but it isn't overly steamy. This results in a very relaxing climate — just about perfect if you use it after a cold shower or a hot sauna.
The relaxation area serves tasty hot herbal teas and cooling water, and non-hotel guests will even get a glass of bubbles and a superfood snack. The staff draws the curtain for privacy, and I fall into complete bliss with the dark room, illuminated with a little sky window. It is details like this that make you appreciate how much thought was put into the design of this spa.
The superior room
I am upgraded to the 'superior room,' which overlooks the quiet courtyard and has bigger square footage. My favourite thing in the room is the carpet. The bold gold accents throughout the hotel accentuate how chic Vilnius has secretly become. 
If you're lucky, you might get a room with the original, slightly dilapidated walls. After all, the building has been around since 1677. You can watch a full review of what my room looked like here.
The concierge confirms that they are working on adding Netflix to the television. I look forward to putting my feet up with a movie after walking twenty/thirty-thousand steps (easy!) around the city for their impressive sights.
Breakfast of the Champions
I wouldn't lie to you. I have no expectations for Hotel PACAI's breakfasts. I have a lot of hotel breakfasts throughout my leisure and business travels, and they always make me shrug my shoulders and say 'meh.'
So I am really happy when they have prosecco cooling in the silver bucket for making mimosas, exotic fruits such as my favourite dragon fruit, buffet breakfast, actually tasty filter coffee, and cooked breakfast.
The rain continues to pour today, so I take my time to work through the dishes whilst reading the Financial Times lying around. Whispers of British English guests echo throughout the chic dining room. It is so familiar that I start to wonder if this is where all the British hide in Vilnius.
It may as well be. The waffles are banging, and the pastries are spot on. I refrain from the English breakfast or Earl Grey tea out of principle, but not chia seed pudding — which is quintessentially London at the moment.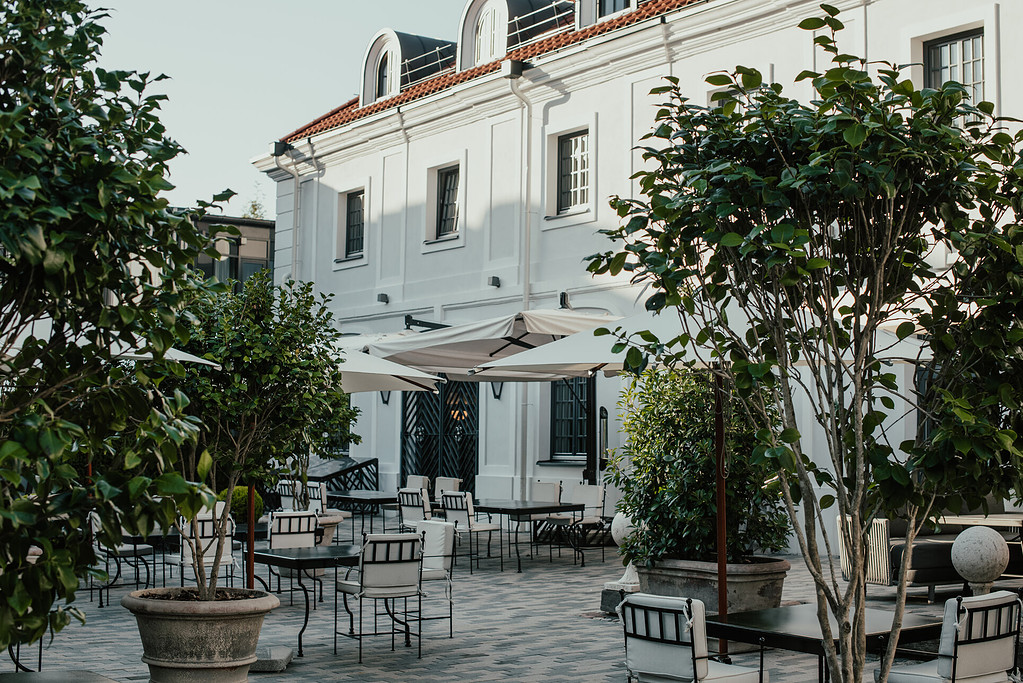 A few other pointers 
Their checkout time is 12 pm  —  later than most, giving you plenty of time to use the spa again after breakfast. 
When you walk through the grand entrance to the courtyard, there'll be a surprise on the nose. I will leave this as a mystery for you to find out yourself. 
The pillows are intriguingly small, but you may request a couple more if you're spoiled like me. 
If you're flying with a low-fare brand Ryanair, I'd suggest staying at Hotel PACAI on the first night or just before you fly. You'll need that spa. 
The tap water in Vilnius is safe to drink and extremely tasty as they are unpolluted underground water. Although Hotel PACAI will shower you with bottled water, don't forget to try some. 
The concierge will tell you everywhere you can go to indulge yourself, but if you need proof of how exquisite Lithuanian cuisine is, here's my video with everything I've eaten during this trip.
A special thanks to the staff at the spa for the helpful conversation about the hotel and tips on making Lithuanian Šaltibarščiai. The service throughout my stay has been impeccable.
Guest blogger:
Hey, my name is Priscilla, and I am a travel writer focusing on stylish and slightly luxurious trips around the world, especially for fierce solo female adventurers. Watch my vlogs here, or read my blogs here. From Hong Kong, based in London, and a sucker for chic city living. Let's connect @priscilla.writing.