Everyone knows a girl whose hair always looks as if it's straight off a magazine cover. To unravel what magic spell lies behind the perfect looking hair, I invited a professional hairstylist based in Vilnius, Goda Isajevaite, to share her tips.
Searching for an elegant and fuss-free hairstyle for an occasion? Goda's speciality is hairstyles of all kinds, from braiding to waves, you name it. Her current daily routine involves visiting private clients and working at various photoshoots.
Now let's explore what recommendations Goda has for us, shall we?
Daily hair care routine
VP: What are some of the essential steps to look after your hair on a daily basis?
Goda: The most important part is to use quality hair care products, selected for your individual use. The choice should be based on the skin of your head and your hair type. Among some of the essential products, you want to have a shampoo, conditioner and hair mask.
A few tips: rub the shampoo into your head's skin, instead of applying it on the full length of your hair. Otherwise, your hair might look dry and frizzy. When it comes to using a conditioner, the application is only on washed and towel-dried hair. In this case, the product doesn't flow down together with the water.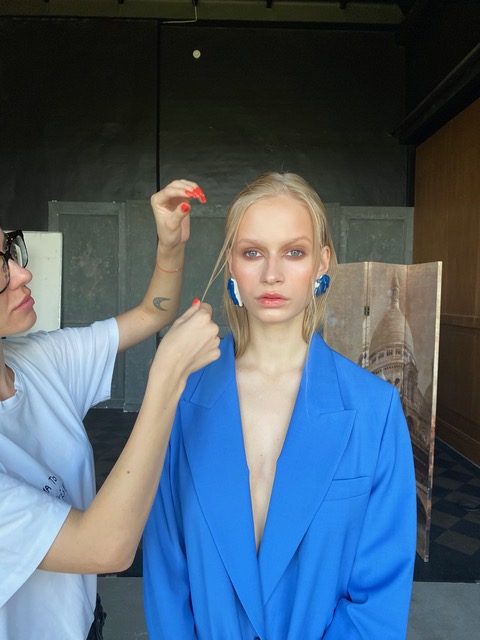 Make sure you also apply the conditioner on your hair and not on your scalp. This way, you avoid that greasy and heavy-looking sensation. Remember always to wash your hair under lukewarm water so that they don't dry out.
VP: What are your favourite products at the moment?
Goda: My everyday routine is unimaginable without Goldwell Dualsenses Color spray serum. As the name indicates, the serum is used for dyed hair to help retain the colour longer. This product also intensifies the brightness of the colours, nourishes and protects hair from the heat damage.
A recent discovery is Ellips vitamins for hair lubrication. I use vitamins that are intended for dark-coloured hair care. They not only help to maintain the intensive care of dark hair but also facilitates brushing and protects from harmful sunlight.
Hairstyle trends
VP: What are some of the hairstyles that are trending among your clients?
Goda: Hair accessories remain in trend this autumn. We are talking about headscarves, embellished headbands, sheer, structured bows, barrettes, clips, giant hair scrunchies, and of course, pins. Don't be afraid to be playful and experiment with various accessories to compliment your everyday looks.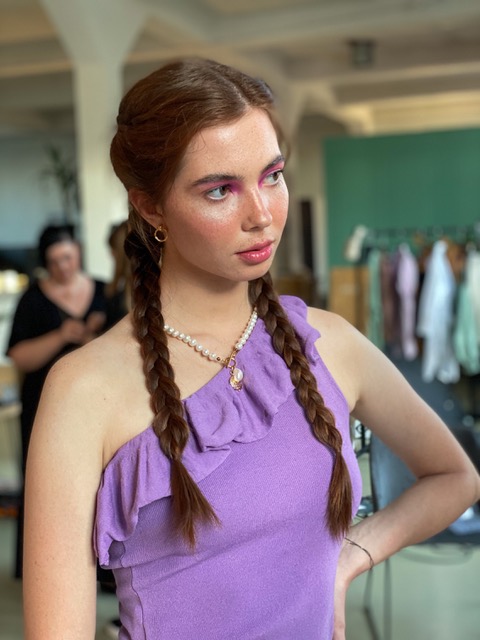 During this season, we're also going to see more baby braids, which remain fashionable. Barely-there-waves are popular too when a very light and subtle feel is wanted. Another trend this autumn is incredibly gentle and pinned curls, effortlessly creating a romantic image.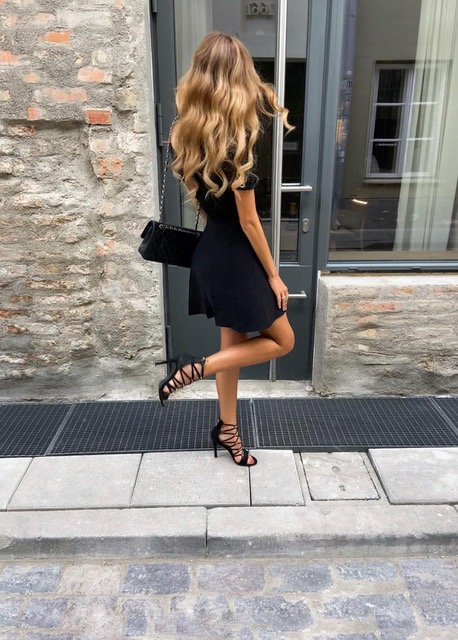 Among my clients, one of the most popular hairstyles is curls. Most often, these curls are adorned with various glitter, making in yet another trending choice.
Tips and tricks
VP: What's the secret to great-looking waves?
Goda: There's no one effective recipe because the final result depends on the hair type. The desired style, hair condition and structure—all of them are contributing factors. I always recommend to my clients to prepare and wash their hair a day before the occasion.
One more critical element here is to avoid using a mask and conditioner so that your hair would not be saturated with various hair products. This also includes hair oils and serums. You don't want your hair to either be overheated or insufficiently dried. If you follow these recommendations, I can assure you that your curls will last longer than they typically do.
VP: Can you share with us a quick hack that can be easily done during a busy morning?
Goda: For your hair to look polished, no matter what style you're after, I recommend using Kevin Murphy Body on your wet hair, right before drying. With this volume-giving mousse, you can increase its volume, give your hair some fluff and strengthen fixation.
VP: Where can we find you in the digital sphere?
Goda: You can reach me on Instagram, for bookings or other queries, as well as see most of my works there.
VP: Thank you, Goda, for sharing your advice on hair matters!