My Vilnius is a series of interviews introducing you to people who call Vilnius their home. It's all about the ordinary lives of extraordinary people and vice versa. Simonas Phan is a Lithuanian model, the face of some of the biggest world-renowned fashion brands. Today, he talks about how his professional modelling journey began, his daily routine and the current perceptions of Vilnius.
VP: Tell us a bit about yourself—what's your background?
Simonas: So, my dad is Vietnamese, and my mom is Lithuanian. I was born and raised in Grigiškės, a town in the Vilnius city municipality. Academically, I pursued a law degree and graduated from Mykolas Riomeris University.
Modelling as a career path started when I was 19 years old. Since then, I have been travelling all around the world. Even during the Covid pandemic, that did not impact my work much as I was working across Europe and was living in Berlin most of the time.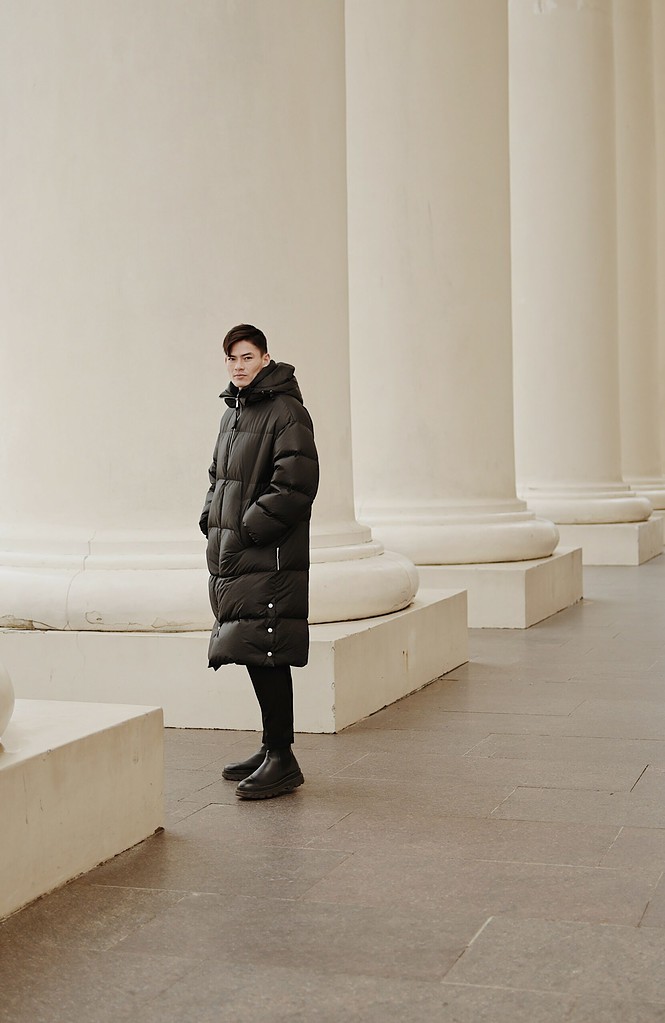 Some of my career highlights were photoshoots for brands like Versace, Chanel, Fred, Shiseido, Adidas, Puma, Gutteridge, L'oréal and many other notable brands. I'm grateful to be chosen as their face. On top of that, I recently started acting and have a movie that just came out. In my spare time, I like to do Muay Thai and kickboxing, play volleyball and spend my time in a very active manner. 
VP: How did your career start?
Simonas: I had a friend that insisted I should try out a casting at the Lithuanian fashion week. The first time I went, I had to leave to pay a parking ticket—when I came back, the casting was over. So I tried again and was lucky that time around.
After all the shows, a Lithuanian model agency approached me, and in two months, I was in NYC, where my career started. As for acting, I always wanted to try it, but somehow there were no opportunities, and I needed to figure out where or how to start. So I was thrilled when a director invited me to try out and chose me.
VP: Do you have a daily routine? If yes, what's it like?
Simonas: Besides the days when I am shooting, my daily routine is very simple: I wake up, read some news, and eat my breakfast, if I am not fasting. Then, I go to the gym. Depending on the day, on some, I train in Muay Thai; on others, I'm just at the gym and work with weights.
After that, I enjoy and prioritise healthy cooking. If there are castings, I am likely to do them online, and if not, then I am basically free. But right now, I am working on some projects, so my usual free time is occupied.
VP: How often do you travel these days? And what was your most memorable trip?
Simonas: I travel very often. Actually, I should be in Germany or Milan now, but I took a break just to enjoy the last two weeks before I go to NYC. Honestly, it's a pretty difficult question as I have had many trips with some fun or once-in-a-lifetime moments. But the one that has stuck with me the most is my first trip to NYC. It is the most memorable one as it was insane to go from Vilnius to New York and see all those skyscrapers and feel that big-city buzz.
VP: After travelling for extended periods of time, has it changed your outlook on the local culture and Lithuania in general?
Simonas: Without a doubt, yes. I think Lithuanian people are very conservative and often come across as not happy. Yet, I think the weather primarily impacts this. As for habits, Lithuanians like partying a little too much for my taste.
VP: Where do you go for a morning coffee, after-work drink and Sunday brunch?
Simonas: So, if I am in Vilnius, I like to go to Druska Miltai Vanduo or Pachamama Dinner Club. But, due to spending so much time abroad, I feel like I know more places in Berlin now than I used to in Vilnius. 
VP: For someone who hasn't been to Vilnius yet, how would you describe it?
Simonas: First, I suggest people come in the summer, as the weather is key to how you will mould your perception of Vilnius. The capital certainly has its own charm and beauty, especially because of the old town, but to manage expectations, it's quite small compared to other European capitals.
VP: Where can we find you in the digital sphere?
Simonas: I'm the most active on Instagram, so you can follow me there.