When strolling through the streets of Vilnius, it's hard not to notice street art soaring almost everywhere you go, especially in urban locations. I couldn't help myself and wondered—what are the stories behind them?
Luckily, I got introduced to someone who knows this craft very well. To satisfy mine and your curiosity about the world of street art, I interviewed muralist Linas Kazulionis.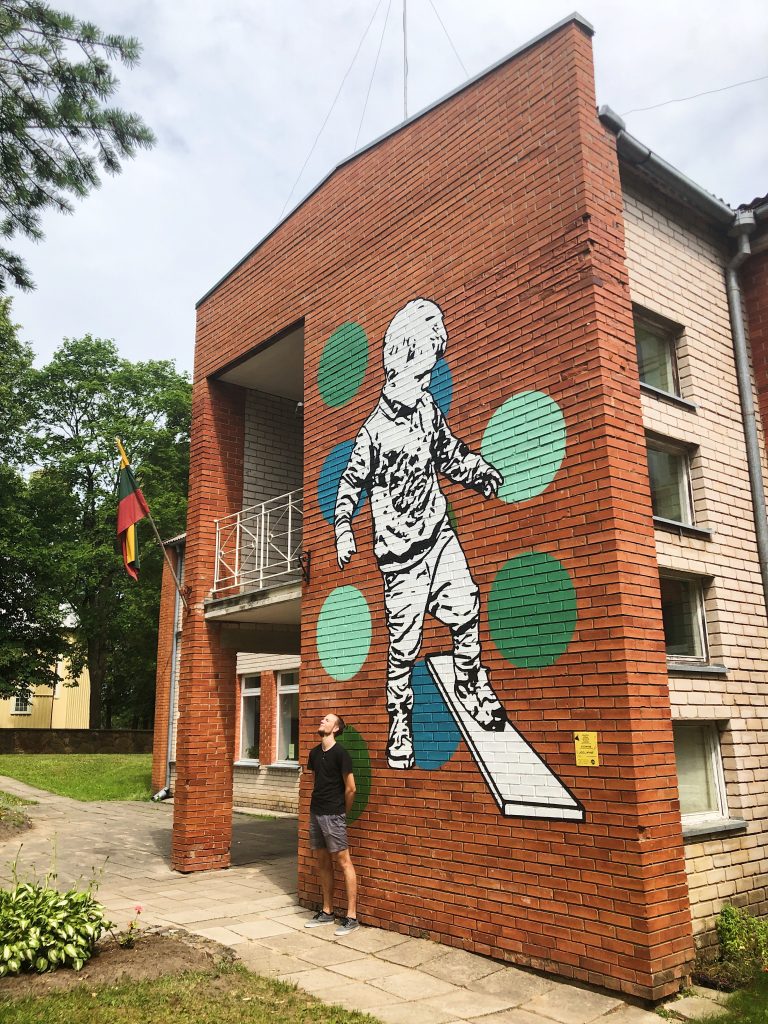 Read on to get to know more about his jaw-dropping artwork, learn about the differences between graffiti and mural art and find out where lies some of the best street artwork in Vilnius.
Tell us a bit about yourself
VP: What's your name, where are you based now, and what are you currently working on?
Linas: I'm a painter Linas Kaziulionis, also known as K ART 7, which is a professional pseudonym. To be honest, at the moment, it would be pretty hard to say where exactly I live. Summer is peak season for me and so I'm often on the road.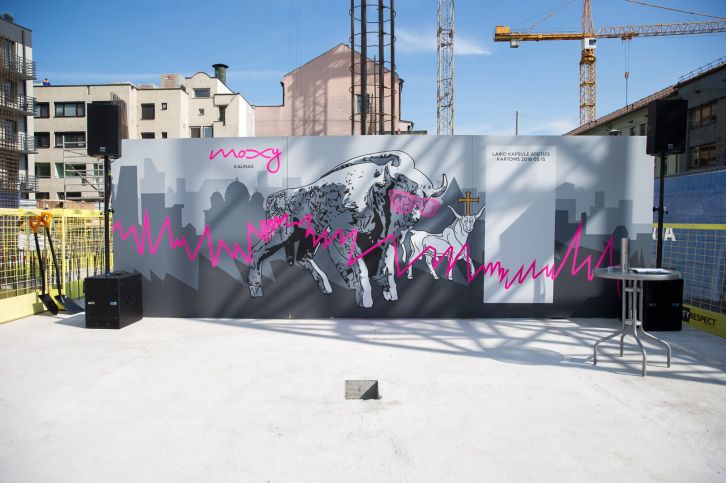 One day I'm painting in Vilnius and in a few days I have to be in Klaipėda, while simultaneously also developing my project—"Atvira Lietuvos Paroda" (Open Lithuanian Exhibition). 
Afterwards, I'm heading to paint across the entire country (from Veisiejai to Mosėdis). This summer, trips abroad are pretty frequent too. I already painted in Thailand at an international street art festival and July has been dedicated to visiting Sweden, Denmark and Kosovo. In September, I'm going on a more extended trip to the US.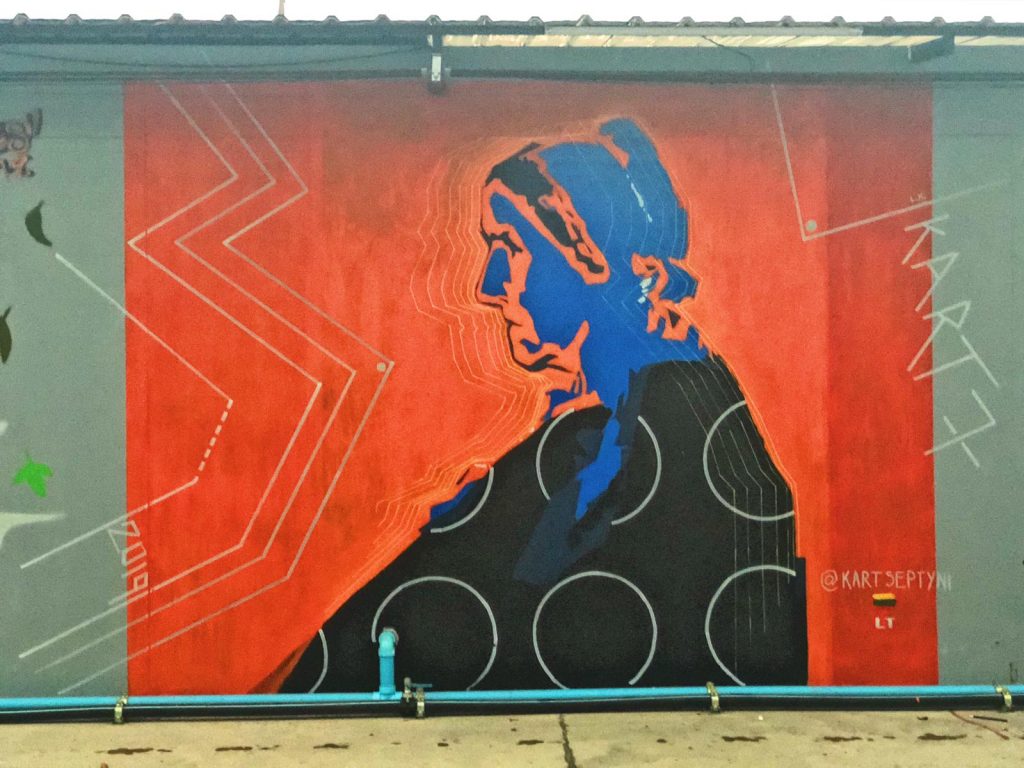 VP: When did you first become interested in the craft of street art? Were you ever professionally trained in painting?
Linas: Art got my curiosity in early childhood. Later, I started painting graffiti on the streets—I used to sneak out with my friends at night to carry out my ideas and turn them into paintings on the walls. I even used to hide my spray paints behind my bed.
But I was quick to realise that art can be more than just a hobby. I felt driven to dig deeper and learn more about this branch of art. After all, my parents were professional painters and I saw that there was a lot to learn, from anatomy and academic paintings to art history. For this reason, already since elementary school, I was focusing on the visual arts.
As a result, I graduated from the art gymnasium of Kaunas, and later on, I acquired a BA in painting at Vilnius Academy of Arts. At my core, I've always been a painter; however, soon I understood that the size of the canvas just wasn't enough for me. I wanted a larger space for my creations, so I naturally diverted towards street art, which I prefer calling mural art.
VP: What is your style, and how would someone recognise your pieces on the street?
Linas: The leitmotif of my style––adding a modern twist to classic art—in other words, it's an appropriation (a deliberate act of acquisition of something) for which I choose depending on an object and adequate stylistics.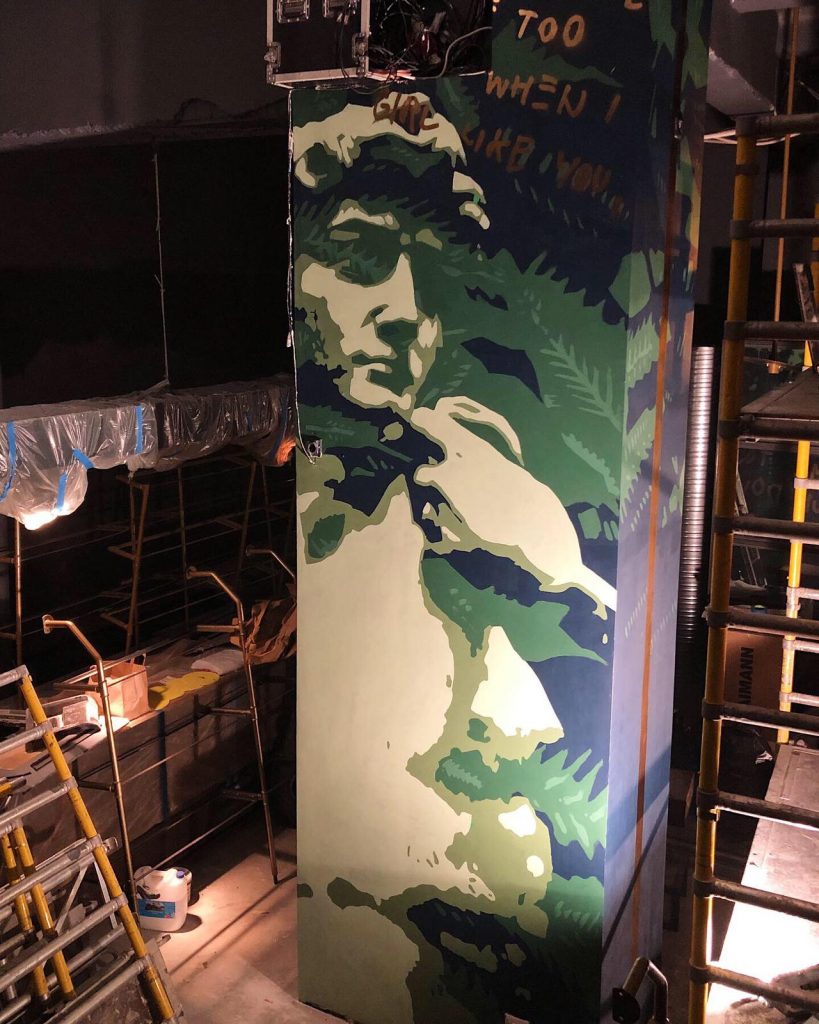 When creating, I use the knowledge I gained throughout the years of studying, such as art history. At the end of the day, I don't want to distance myself from the academic approach so when I create mural art, I merge academic science with street art. Due to this fusion, people tend to recognise my work.
Some of my more popular pieces are "Mona Lisa XXIc.": I made a contemporary interpretation of Leonardo da Vinci's famous piece. When creating it, I combined technologies such as LED lighting, installations, and interactivity. There was a painted formula and when you solved it and pieced together the correct answer—the lights would change.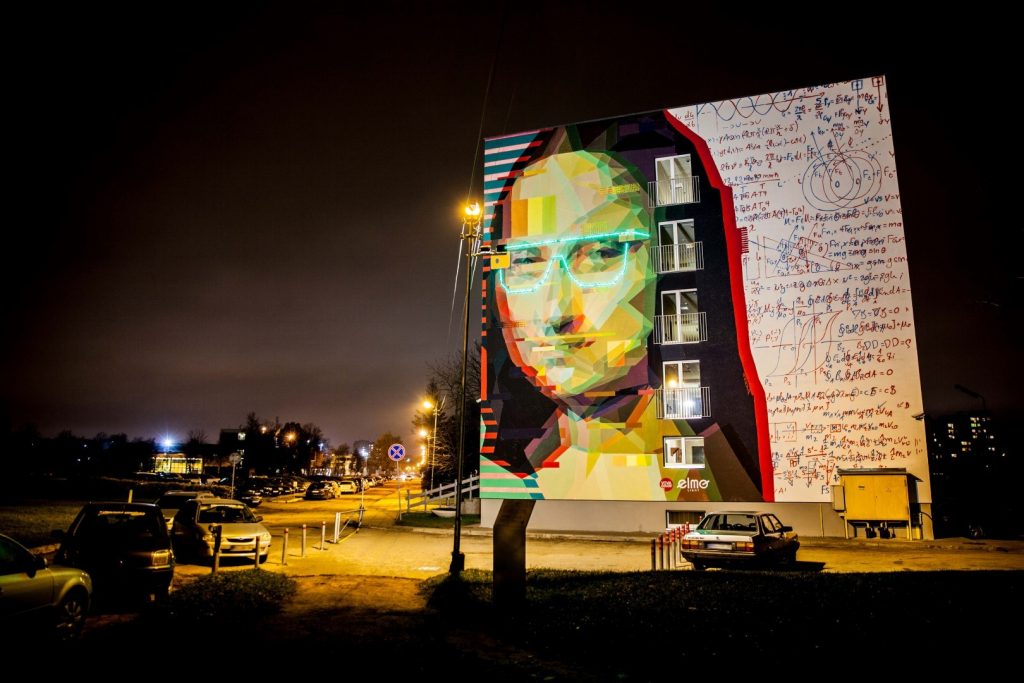 In my other piece called "Šiuolaikinės damos" (Modern ladies), I depict paintings by the same author. However, in my work, the heroines play chess and listen to music with their headsets on. You can also find "Whistler's Mother" in Vilnius, she is wearing a bright and dotted dress while watching various events take place—this way she becomes "Festivalio motina" (Festival mother).
VP: When you paint in public spaces, do you use sketches or you just let it flow?
Linas: I always prepare sketches in advance. Components such as scale, proportions, dialogue with art history, locations, and the context of a particular space as well as the symbolism of colours, are all significant to me. To successfully portray every idea, it's also crucial to engage in analytical work during the preparation stages.
This process is essential for both myself and customers, primarily because of respect and legal matters. It is necessary to obtain permits from the municipalities or property owners, so I have to prepare projects and visualizations beforehand.
Art festivals are a different scenario. I prepare a sketch as well; however, I don't necessarily follow it precisely. I allow myself to be more present and improvise by conveying what's on my mind.
VP: How do you choose a location?
Linas: Interestingly, I don't choose places—they choose me. Usually, I don't have specific criteria, I'm simply happy when I get a chance to actualise my ideas. I'm very interested in creating artwork that would be the right match for every location (in terms of content and visuals).
VP: What's the inspiration behind all these murals?
Linas: My biggest support and the muse behind my work is my wife Evelina.
Street art in Vilnius
VP: First off, let's start with some correct terminology—shall we use urban art, street art, or graffiti? Can all of these terms be used interchangeably, or is there some other term that would better describe this type of art?
Linas: In my opinion, all terms can be used as long as we understand what's on someone's mind. But to be more precise, street art may not necessarily be a drawing, it can also be an installation or a sticker.
Street art pieces tend to be more ideological, so they can be, for example, street decorations, or something that portrays a social or current issue. It can also be created with the intention to just uplift one's mood. I think that some of the best street art examples are made by Banksy, Mentalgassi, SkY and others. There are so many of them.
When it comes to graffiti, to me, it's an underground art that's more of a movement, popularising your name among other graffiti painters. I could say it's an adrenaline-driven artwork. Graffiti is the type of activity that if you do once, it's tough to stop afterwards.
My works are more like mural art. It's somewhat similar to graffiti but legal. Some see similarities to a fresco as drawings are often more academic but the term is more popular abroad: muralist, mural art and so on.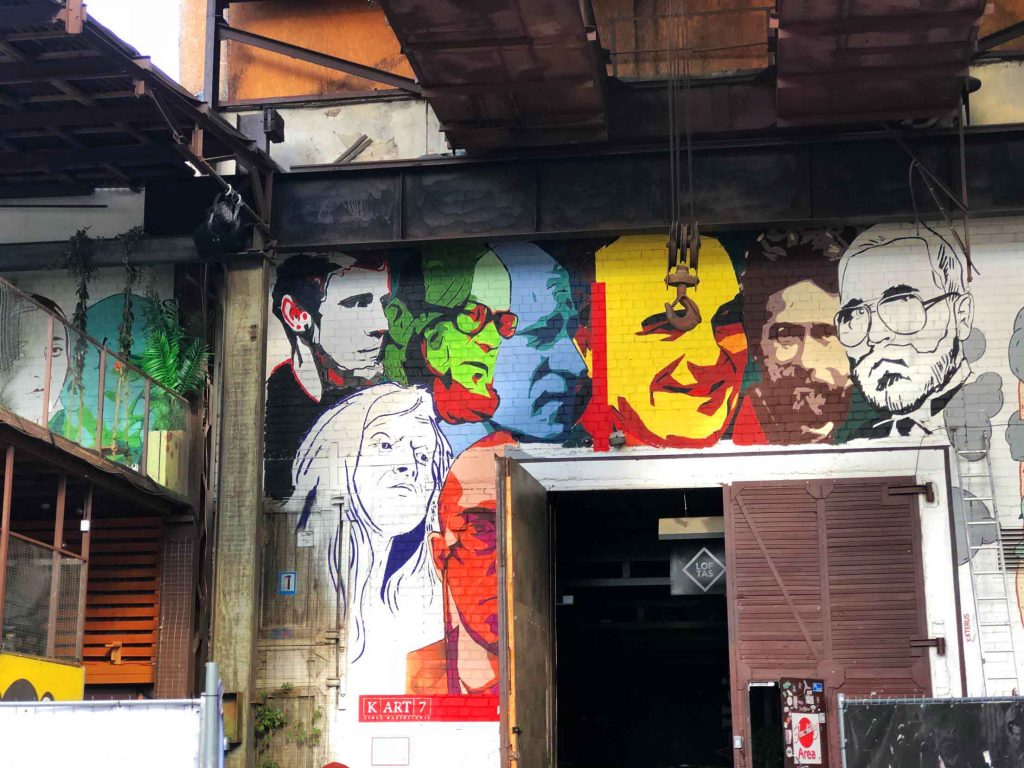 I would just like to emphasise that each person understands and interprets this type of art in their own way. That's why others will not necessarily agree with my explanation. To my knowledge, there are no academic theories accurately standardising or backing any of this yet.
VP: When it comes to Vilnius and its street art origins, do any particular street art events, or happenings stand out?
Linas: There was "Vilnius Street Art Festival" but for me personally, the most memorable event was "The Open Gallery" organised by Loftas. The event was an open-air street art gallery that included street art paintings, installations, sculptures and other types of artwork all in one place. You can also find my creations here: "Festival Mother" (2018) and "Portraits" (2019).
VP: In a few sentences, how would you describe the street art scene in Vilnius?
Linas: Throughout Lithuania, mural art as a form of street art is rapidly gaining popularity. In my view, street art in Vilnius is exceptional and different in comparison to other cities in the country. In Vilnius, all street art seems to seamlessly blend into the environment.
Sometimes, after walking down the street like the hundredth time, only then you notice a particular mural. It's as if these drawings were meant to merge with specific sites. What I could not necessarily say about, for example, street art in Kaunas.
VP: Who are your favourite local street artists, and why?
Linas: In Lithuania, I like the individual artists' ideas but not necessarily all their work. Maybe that's why I wouldn't want to exclude a particular artist but I could mention quite a few foreign names: INTI, 1010, Shepard Ferry, Aryz and the list goes on.
VP: Where can we discover the city's best artwork?
Linas: These are some of the spaces and street artworks worth checking out: "Open Gallery" by Loftas on Vytenio 50; "SEPE & CHAZME" on Kauno 1; "Millo" on Pylimo 56, "Os Gemeos" on Pylimo 60, and the underground passage of Panorama on Saltoniškių 9.
Let's connect
VP: Where can we find you in the digital sphere?
Linas: My personal website is www.kaziulionis.com and I also have a page dedicated to my newest project that's being developed across small towns in Lithuania www.lietuvosparoda.com. Otherwise, you can follow my footsteps via Instagram or Facebook. 
VP: Thank you Linas, for satisfying our curiosity about your artwork and sharing your thoughts on street art in Vilnius.