When wandering along Pylimo or Bazilijonu streets, you can't miss the façade of Halė. Recognised by locals instantaneously, in Lithuanian, the place is known as Halės turgus. For those who have been to Berlin or Copenhagen and enjoyed exploring their Meat Packing districts, here you can expect a somewhat similar atmosphere. Yet, a smaller indoor version.
For years, Halės market had the sole purpose of being the most popular market for fresh and locally-grown produce. The renovation was completed in 2006, and with time, many new places started to pop up, transforming the original concept along the way. Turning it into the urban, multipurpose and vibrant get-together spot the market is today, combining food, drinks and shops under one roof.
History
Before we jump into everything one has to taste and visit, here's a little pre-history about the market. Located at the intersection, Halės market dates back all the way to XVc. Already back then, people sold and bought things, from horses and furniture to daily groceries; you could purchase all essentials there. 
In 1906, the architect V. Michnevičius created the project for Halė, making it now the oldest operating market in Vilnius. Over more than a hundred years, the place served as a strategically important and convenient location for the city, which hasn't changed that much. 
Once you step inside, look up — the ceiling construction has its original structure, prevalent among famous buildings at the time, like the Eiffel tower. Also, the main entrance, stairs and original decorations have all been preserved for the most part.
Morning & Day Time
Grocery shopping and brunch are the two simple pleasures of any weekend. At the 8400 square-meter Halė, you can find a selection of Lithuanian products, including cured meats, cheeses, beverages, and much more.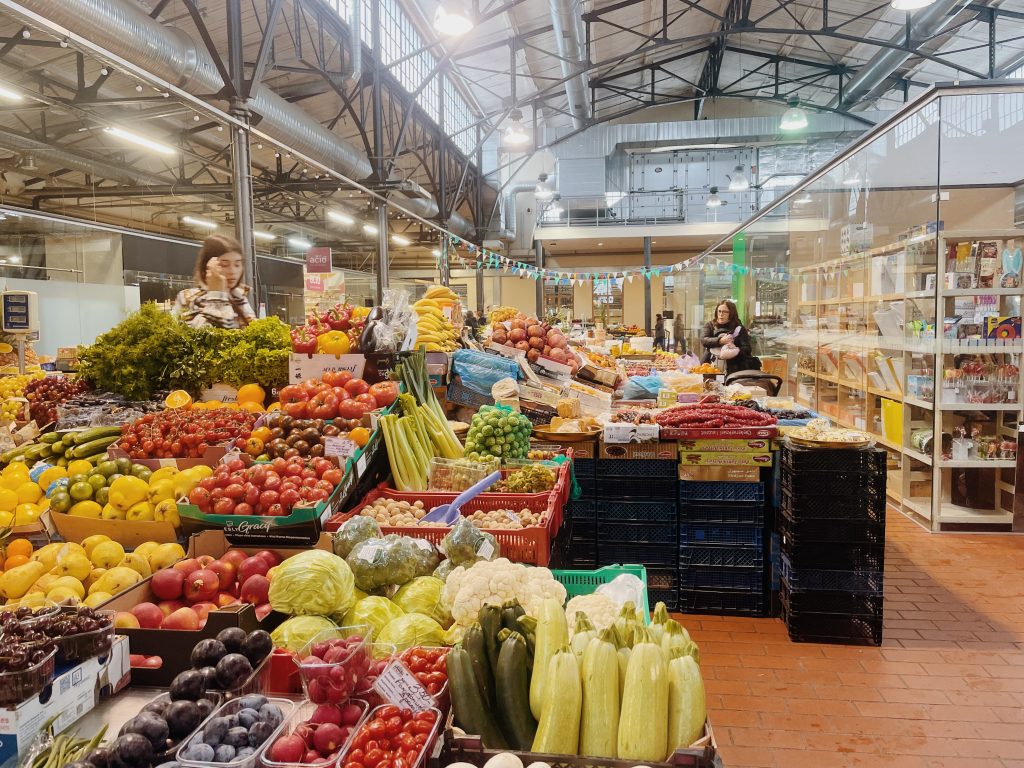 If you come in hungry, grab the legendary freshly squeezed juice, followed by a burger or onigiri. Sweet tooth? Say no more. Head to the bakery and ask for an eclair or a slice of the Pavlova roll.
But these are just some of the choices. You must take the time and see the selection yourself to discover your taste preferences and favourite spots at Halė.
Evening & Night time
Now, if you're a night owl, you can explore Naktine Hale. This is the name of the period when all the merchants lock their pavilion shops, and then the time for the evening buzz begins. In other words, the venue revives, but in a totally different way.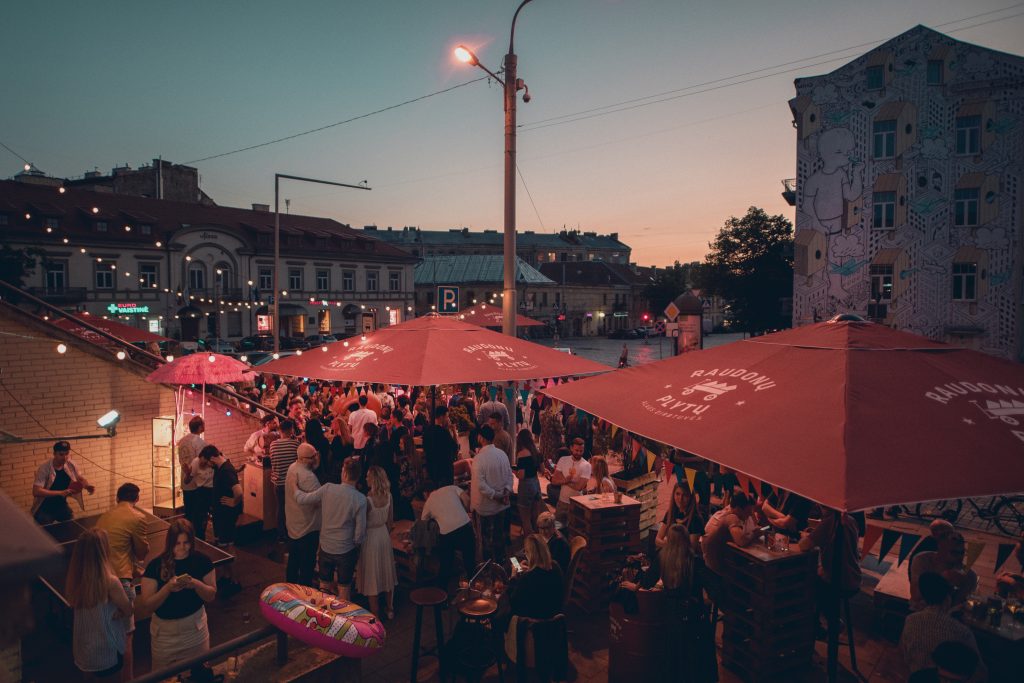 Halės Mėsainis, Aštriai Aštru, Chaosai, WINGIS and Youngs Club are the places taking part in it and cultivating the spirit. We had the pleasure of visiting some of them and hearing their story from up close.
Aštriai Aštru
If you think you love spicy things, Aštriai Aštru is a must-visit since the store that combines both the shop and bar takes it to the next level. But one thing is sure — your taste buds will be challenged like nowhere else.
While you are there, flip through the succinct drink menu that has some unique twists, from a tequila-based Čimi-YAY shot to Ancho Pancho. A cocktail that, yes, includes not only Campari but some Ancho peppers, too.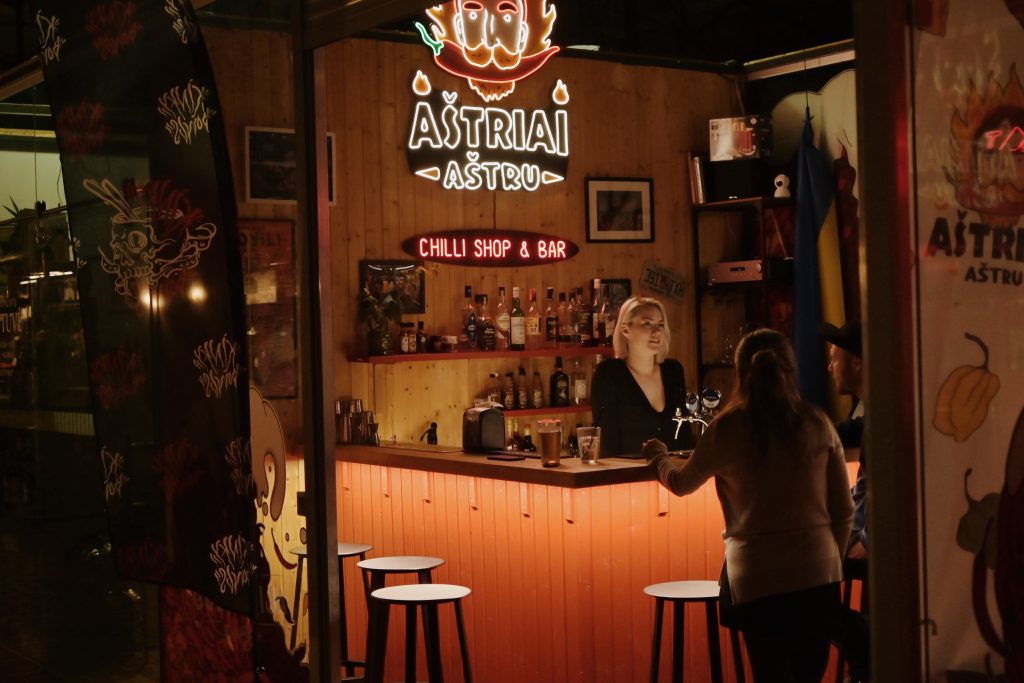 On the shelves, you can find some famous names, but your eye quickly catches rows of distinctly colour-coded sauces produced by the team behind Aštriai Aštru. From growing their peppers locally to creating spicy sauce recipes, the founder and often called pioneer of local spice culture, Liudas Pranskevičius, stands at the forefront of it all.
Most weekends, you can also find him working as a chef behind the counter at Halės Mesainis. The eatery puts together some of the best and one-of-its-kind Smash burgers in town. In short, these are thin-seared burgers cooked on a grill, all made from scratch, including the buns. They use fresh Lithuanian Angus meat and vegetables bought from nearby counters.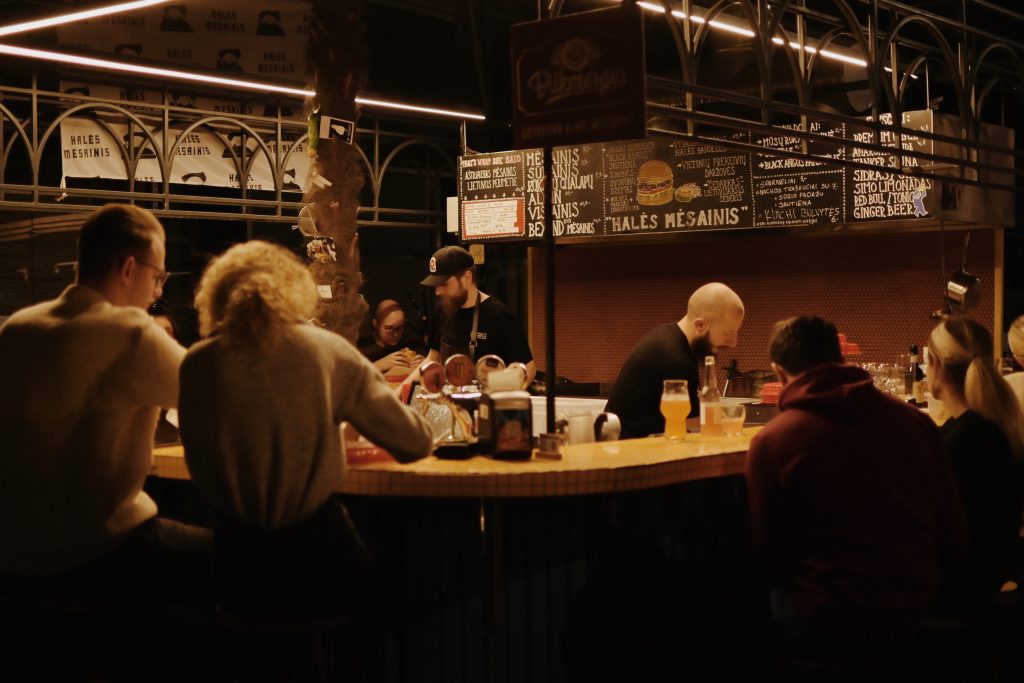 Though all dishes are not spicy and suitable for all, for the daredevils of you, there's an exclusive burger called "That's what she said". It is titled the hottest and spiciest in Lithuania. But don't be surprised if you're asked to legally sign a form before you can get your hands on one!
Youngs' Club
Youngs' is a bar that, if you've been to once, you'll surely remember its unique atmosphere and cocktails. A husband and wife duo, Edgaras Pranskevičius and Rūta Kyguolytė, created a concept that's unpolished and original, inspired by years of travelling. In particular, after visiting some of the largest European capitals, which influences you can sense in every detail, from a well-crafted drink list to their bartender outfits.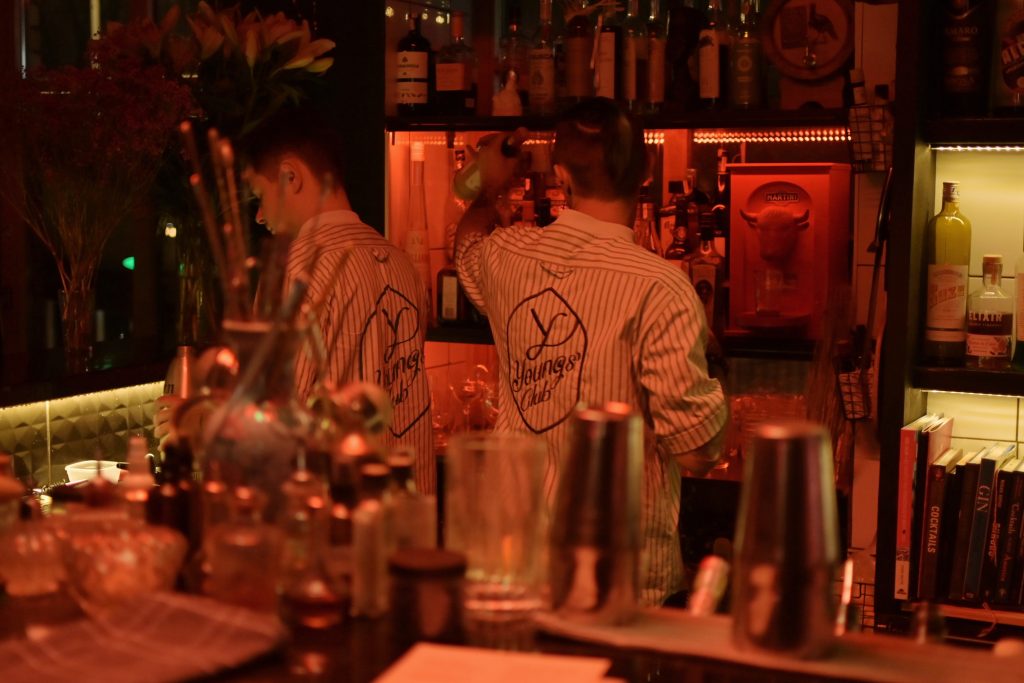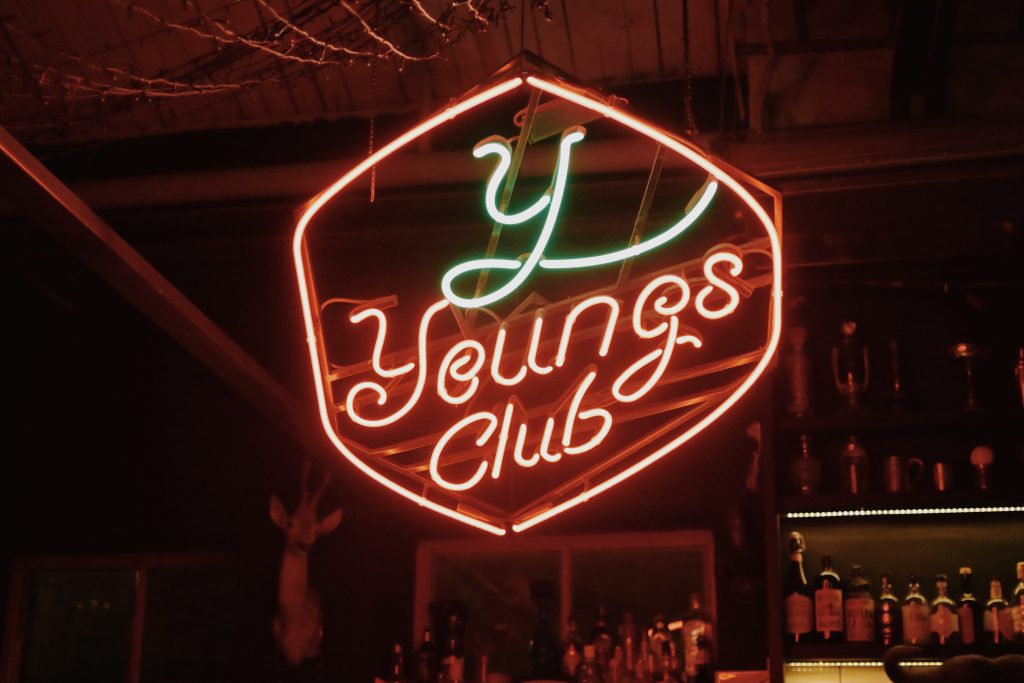 With Edgaras leading the bar, he shares a passion for Italian culture, cuisine and drinks, especially for Amaro liqueur. As a result, Youngs' Club is known for its broad selection. And in case you're unfamiliar with it, ask the bartender to introduce you and select a cocktail according to your preferences. You won't be disappointed.
"When we opened Youngs' Club, we wanted to unite lovers of cocktails and electronic music. I think we managed to do this well as we have quite a few known DJs who don't usually play in bars. But they fell in love with our place. So, we have a vast array of people who not only play but also come to listen to others", said Edgaras.
When speaking with Edgaras, one of my main questions was: "Why Halė?" He firmly answered that ever since he stepped into the market, he had a clear vision to merge all past travel experiences and best-quality hospitality practices into one. Though it took longer than anticipated, over 4,5 years to be precise, until Youngs' could open their doors at Halė, but it was worth it. Today it has surpassed all initial expectations.