My Vilnius introduces you to people for whom the city has become the place they call home. It's all about the ordinary lives of extraordinary people, and vice versa. These stories cover their favourite hidden gems and sights, as well as detours and discoveries in life.
I remember the last few times I heard Daiva Starinskaitė on stage, she was as soulful and as raw as Lauryn Hill, and no less edgy. You could recognize her captivating voice at bands like Saulės Kliošas and Keymono, or during her solo endeavours. And if you did, you would have remembered because her lyrics and voice are hard to forget.
For the past years, Daiva spent the majority of her time in London, navigating the big city life and her musical creations. But during the lockdown, she stayed in Vilnius. Today, she shares what it was like to grow up here and her local discoveries after living abroad.
VP: What was your life like before a professional career in music?
Daiva: I grew up in Naujininkai and spent my childhood in a pretty poor neighbourhood. Back then, it was considered a dangerous part of town. But I loved it. There were so many kids in my street, so it was never boring.
Since I was a kid, I was obsessed with music. I was singing all the time from my fourth-floor balcony. We used to do many "talent shows" with other kids, pretending we're on stage. And so, for as long as I remember — I wanted to be a singer.
VP: What music did you listen to when growing up?
Daiva: When I was a kid, I listened to mainstream music, like other kids: Spice Girls, Mariah Carey, Ace of Base, etc. Then, around 12 years old, I went to jazz singing classes, and my teacher introduced me to the world of Jazz and Soul music.
I started listening to a lot of Stevie Wonder, Ella Fitzgerald, Nina Simone. In my teens, I got obsessed with Hip-hop, nu-metal, and rock music. All of these diverse genres have been shaping my musical taste.
VP: When did you know that singing and being on stage was something you wanted to do?
Daiva: At the age of seven, my dad bought me a "Bodyguard" soundtrack, and I heard Whitney Houston's voice for the first time. I felt mesmerized and couldn't stop listening and singing along. She was my Icon (and still is).
VP: Do you have any rituals or mantras before you go on stage?
Daiva: I might do a little meditation, warm-up exercises for my voice. Also, just before going on stage, I listen to songs that boost my confidence and put me in an entertaining mindset.
VP: Where do you draw your inspiration from?
Daiva: Books, people, other forms of art, food, nature and, of course, travelling.
VP: What are your latest musical endeavours?
Daiva: I've just independently released my first album as a solo artist, and I'm still trying to find my feet doing things all by myself. I've also been working with my band Keymono on our latest music. We're going to release our new Ep "Tekmėje" shortly. And we're about to shoot a music video for one of the songs. So we'll share it very soon.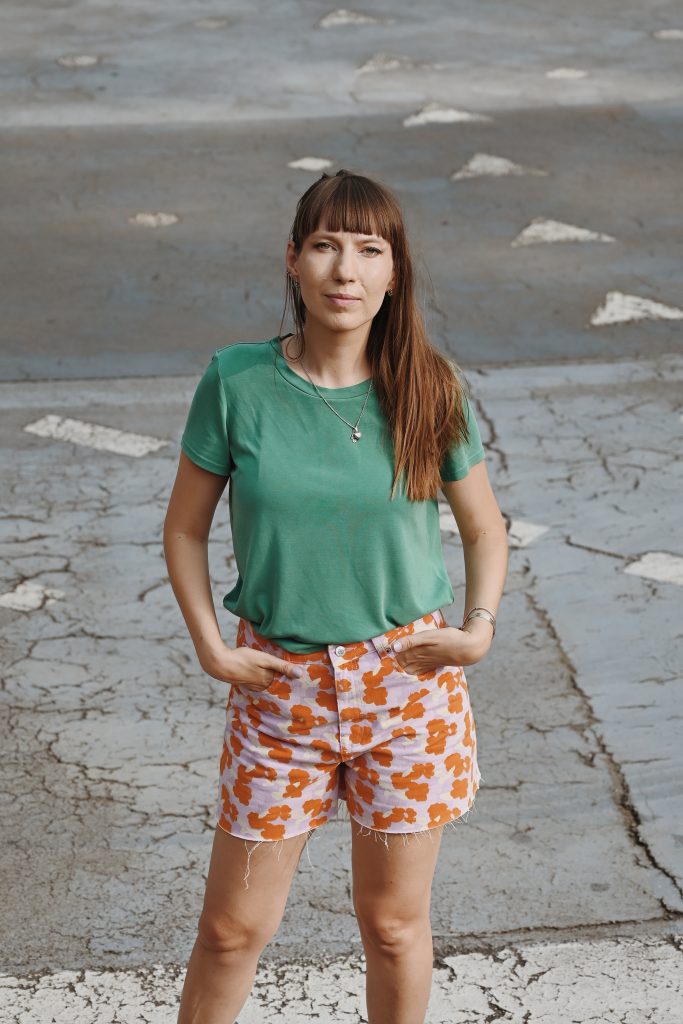 VP: Since you live in London as well, what's your relationship like with Vilnius now?
Daiva: I've been living in Vilnius since the first quarantine. That's over a year now and I'm actually really enjoying it. It's constantly changing; there are so many cool venues, restaurants, bars and culture hubs now.
I love that Vilnius is becoming a really artistic and exciting city to live in. Also, I love its old streets and history behind every corner. To be honest, I'm enjoying it more than ever before.
When I left Vilnius, I thought I knew all there is to it. But now I feel like there's so much to learn. It's like I'm rediscovering anew.
VP: Do you have a favourite spot in town?
Daiva: I love the outlook on one of the hills in Kalnų parkas. You can see the entire city. All of the beautiful churches and the views of the old town are visible from up there.
Not too many people know about this spot, so it's usually nice and quiet there. It's a beautiful spot for watching the sunset.
Also, I love nature around Vilnius. Žalieji Ežerai is an excellent place for a picnic or riding my bike on the side of Neris.
There are dozens of great cafés and bars too. Unfortunately, I haven't picked my favourite ones just yet, as I didn't get to explore all of them due to the lockdown.  Well, expect my new discovery — Apoteka, a cocktail bar. Their cocktails are next level.
VP: Where can we find you in the digital sphere? 
Daiva: You can see my latest personal and musical adventures on either Facebook or Instagram. Those who are curious and want to listen to my latest album, you can hear it here. All things Keymono can be found on our official website.