My Vilnius is a series of interviews introducing you to people who call Vilnius their home. It's all about the ordinary lives of extraordinary people and vice versa. These stories cover their favourite hidden gems and sights, as well as detours and life discoveries.
A professional photographer, Andrej Vasilenko, shares his career path and introduces you to his take on Vilnius. From his earlier works to some of the favourite spots for a photoshoot in Vilnius, all in the interview below.
VP: Tell us a bit about yourself—what's your background?
Andrej: I was born in Vilnius in 85. Until the age of 18, I grew up in the new town or so-called Krasnucha. After that, I started studying, and during that time, I lived in many places, including Karoliniškės, Antakalnis and the city centre.
I studied at the Vilnius Academy of Arts, Department of Photography and Media. In my last years, I started thinking about Vilnius' identity and how my diploma work was related to it. Once my studies finished, I moved to London, where initially, I had to work simple jobs until I got a job in a commercial photo studio. In parallel, I participated in several exhibitions and showed one of my videos at the Whitechapel gallery screening.
My last year there, I started capturing the city of London, and when I returned to Vilnius, I started photographing a version of the capital that seemed new to me after five years spent abroad. And then, in 2018, I was invited to organise a personal exhibition at the Martynas Mažvydas National Library of Lithuania, and in 2019, I published This is Vilnius book.
VP: At what point in your life did you know that you wanted to be a photographer?
Andrej: While still in school, after lessons, I attended J. Vienožinskis Art School. I preferred painting, but I always had a question about what I wanted to paint. I wasn't interested in abstract painting, and I didn't have the needed talent to pursue realism. And yet, after graduating, I still tried to get into studying painting at VDA (Vilnius Academy of Arts), but I didn't get accepted.
It was at that time that digital photography began to emerge, and a friend had a digital "muilinė" (i.e. slang for mirrorless cameras) with which I started taking a lot of pictures. Then I got a Zenith, a film camera.
With that in my hands, I started to think about how it worked, and so naturally, I took a lot of pictures during this period. To be honest, I shot everything and anything, and among what I captured were the many elements you can find in a city.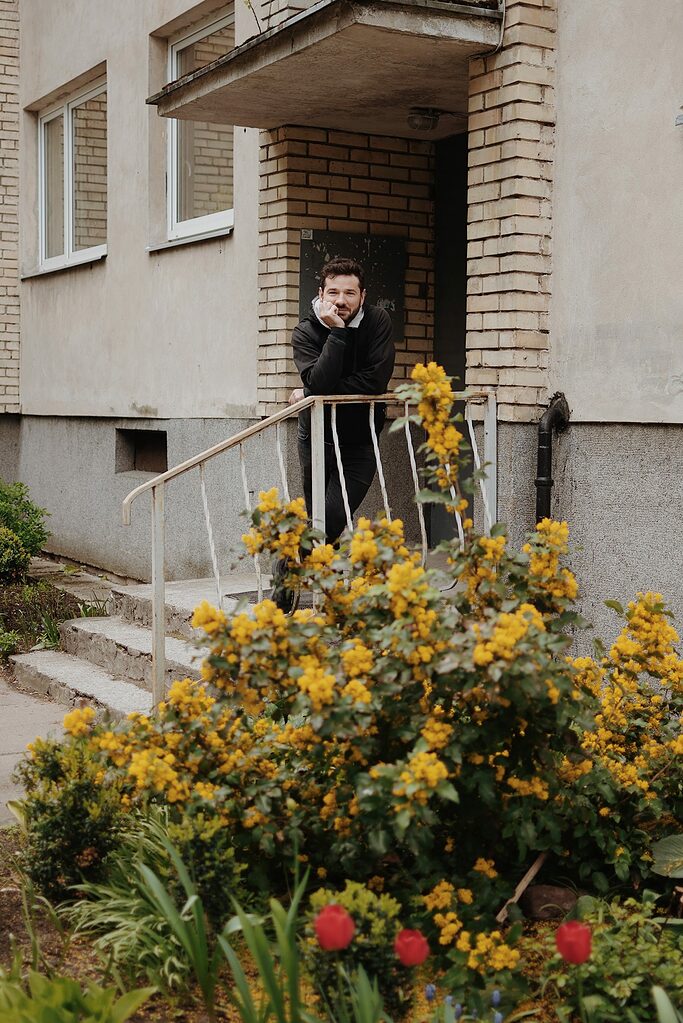 Then I decided to try to apply for photography. To prepare, I attended courses led by Gintautas Trimakas, who would bring us to some of the least interesting places and give us a task: to do a series about them.
Though it was difficult, the process also cultivated creativity. To my surprise, I got accepted to study photography, and I believe I was placed in the top 4 on the applicants' list. This is how my photography journey began, during which, especially in my study years, I did countless experiments.
VP: How the idea behind "This is Vilnius" was born? And which one is the most memorable photo you took for the series?
Andrej: This is Vilnius was born spontaneously, upon my return, after living in London for over 5 years. Although I was already interested in the city's identity while studying at Vilnius Academy of Arts, at the time, it had not yet flowed into some clear project.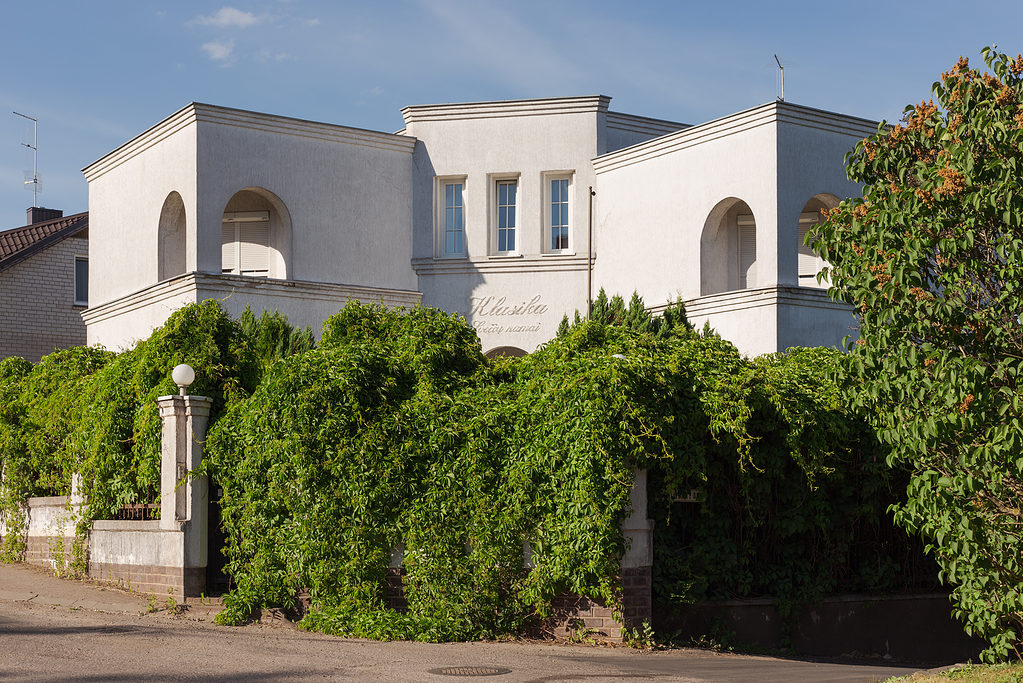 So, I started to photograph the city while I was studying, and then I extended this practice to London. When I returned to Vilnius, it was as if the city had opened up new spaces for photography.
The name itself was born on the spur of the moment while taking a walk along the Neris. There was a kayak pier at the Lithuanian Olympic Committee, which is currently being reconstructed. It was like an unofficial beach in the city centre, and probably after London, it was unexpected and fun to see people just bathing in the city centre and sunbathing on the concrete.
I remember taking that shot with the phone and coming up with an Instagram caption saying: "This is Vilnius". For me, similar surprises and contrasts define Vilnius.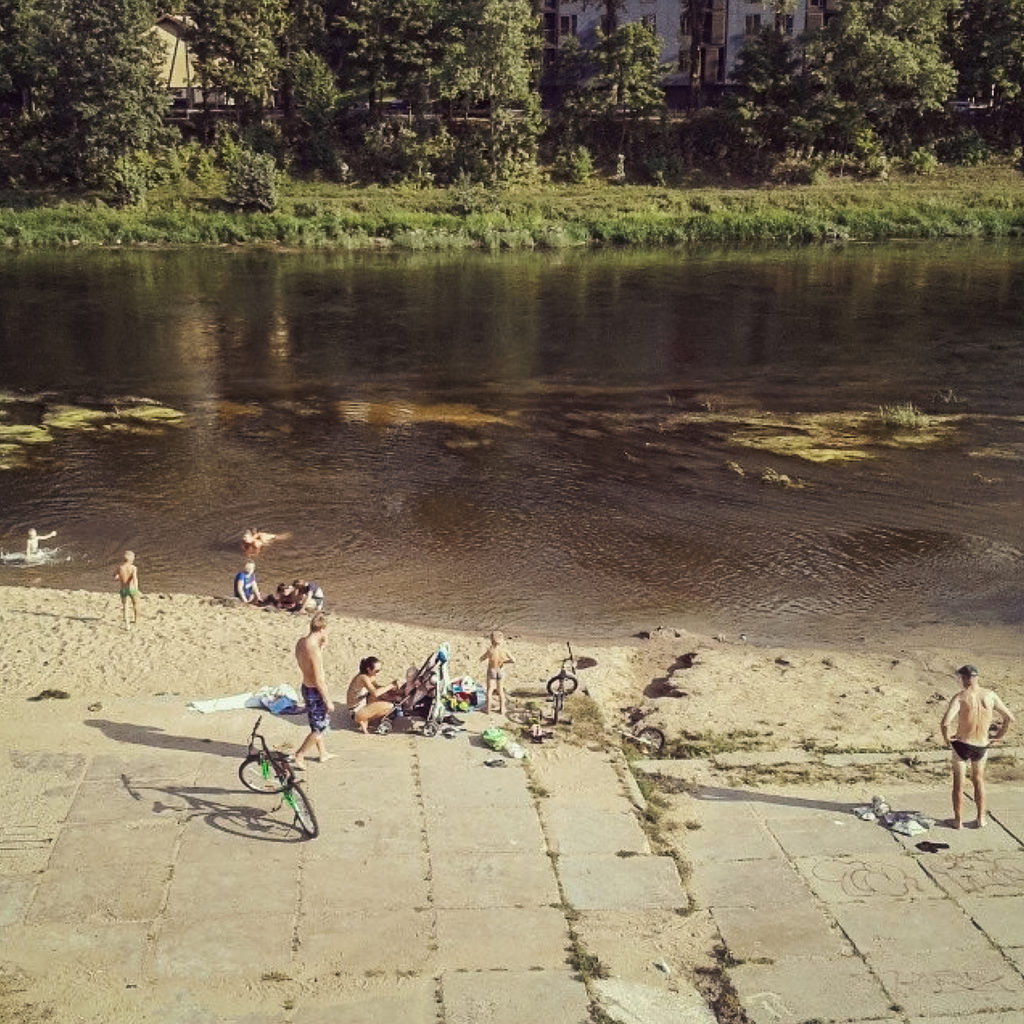 VP: Can you share more about your style of photography?
Andrej: I call myself a documentary photographer. The moment is significant to me. Although such a description would be more suitable for street photography, the moment is no less important in urban photography. The moment accommodates both light and time of day and year and the relationship between the photographed things and their relevance in our time.
The technique is not as important to me because I think you can turn any technique into your own tool. So, I tend to take photos with my camera and phone. I'm more of a digital photographer, but sometimes I also photograph with a film. I edit photos with Photoshop, but I don't make drastic changes. I usually slightly adjust the light and colours to match the image I see.
VP: What are the top three spots in Vilnius worthy of a camera shot?
Andrej: Places are constantly changing, and they are not universal. But probably in the city centre, then it's the Vilnius Palace of Concerts and Sports. Also, Markučiai is a fascinating place, and for now, it still has a lot of captivating and undiscovered places there.
The New Town is quite large and has a lot of unchanged and layered spaces. But all spaces depend on what the field of human interest is. So, it is tough to single out only three.
VP: How would you describe Vilnius to someone visiting the city for the first time?
Andrej: Vilnius is a multicultural and multi-layered city. It's unpredictable, and that's what makes it interesting. However, many things are not going as well as I would like, like the planning and reconstruction of the city or the new constructions taking place.
But I look at it as the psychological and mental state of the city. It still leaves me room for creation and observation. I have never called myself a photographer of the city's representation but more so a documentalist asking questions about the city's development.
VP: Where can we find you in the digital sphere?
Andrej: For my work, you can visit my Instagram account, and for all things This is Vilnius, check out the website, Facebook, and a dedicated Instagram profile.