Am I the only one who starts her Sunday with a question in mind — what are the best spots for brunch near me? I hope not. And with that in mind, I've compiled a list of the 20 best brunch places in Vilnius for like-minded fellow foodies.
From eggs benedict cooked to perfection and countless mimosas to freshly roasted coffee and endless conversations with your loved ones, no weekend is complete without a delicious brunch session.
To make sure you end up eating somewhere tasty while you're in town, here's a collection of my top 20 spots.
Panama Garden
This restaurant in Žvėrynas serves an epic Sunday feast; with a special menu for breakfast and brunch, its must-try item is glorious sweet potato waffles. And the food is only a part of the appeal as the eatery is located in a venue like no other — a greenhouse.
A fireplace, string lights, and green plants make up the cosy atmosphere. Oh, and you can also sit outside or at the indoor venue, so it gives you plenty of options to choose from. You'll probably have to queue for a table on the weekend, but it'll be well worth it.
Backstage Café
Trendy loft-type interior? Check. Amicable staff? Check. An overall don't want to leave vibe? Check. The only way to up their game was to start offering food. So they did. The coffee here is roasted in-house, so a cup of java with your meal is a must.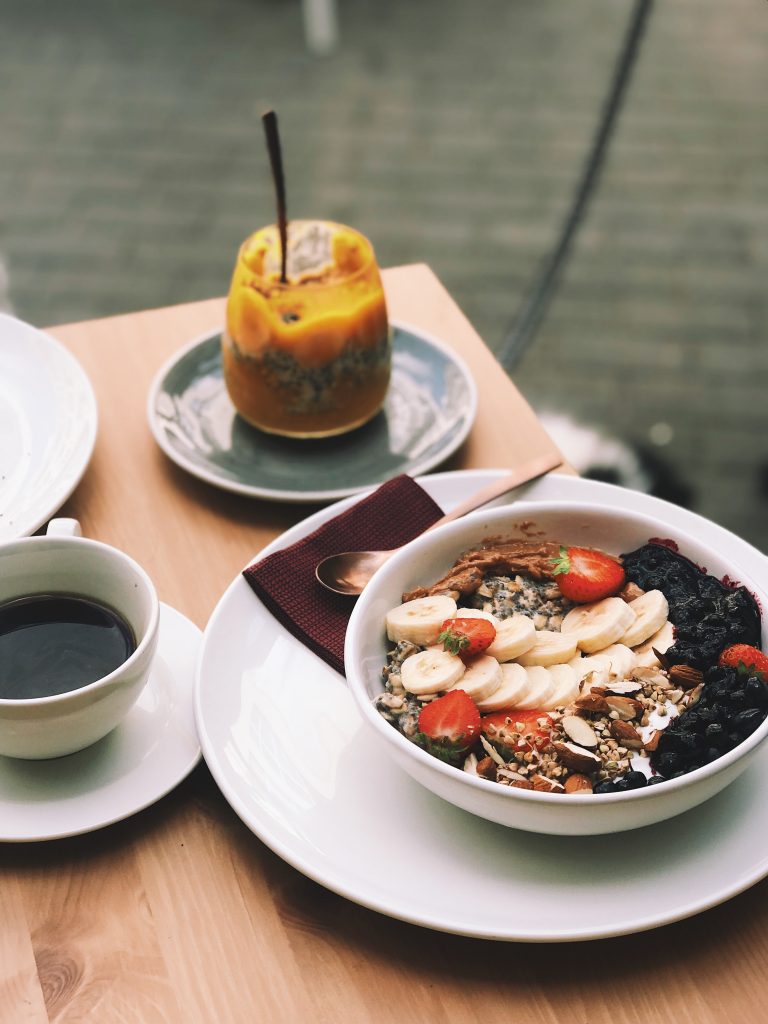 What you eat at Backstage Café will depend on how gluttonous you're feeling. Be aware, the food not only looks good — trust me when I say that it tastes even better. Check out their Facebook for updates on brunch offers and menu updates.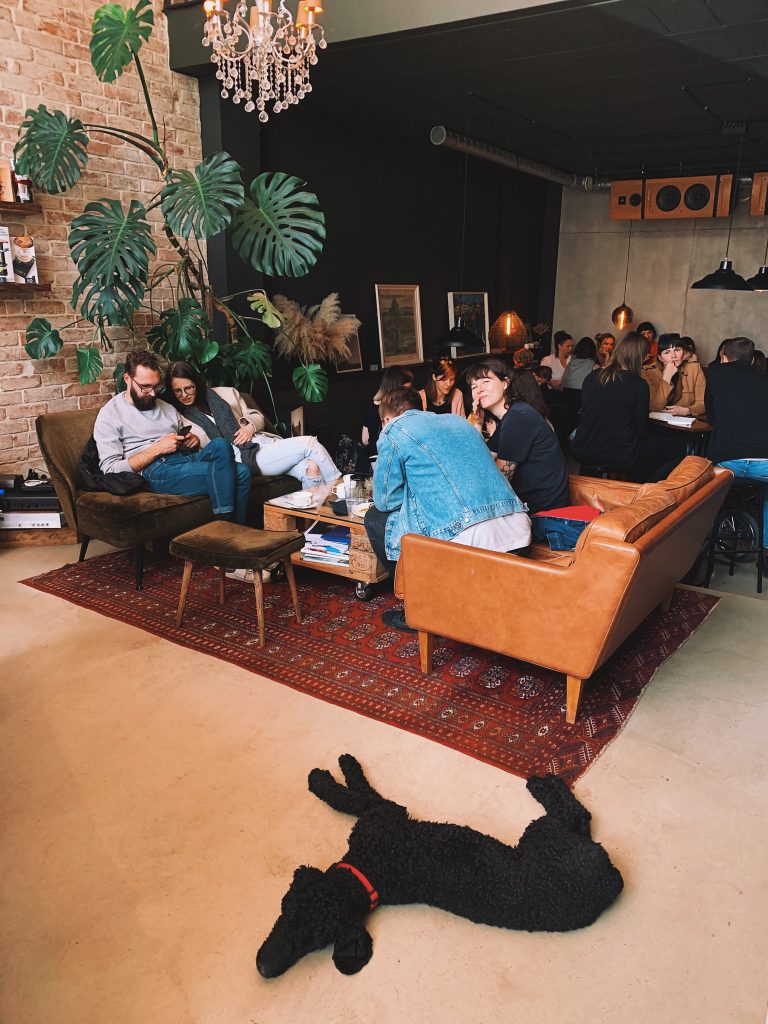 Moss
Beautifully-designed and newly-opened, Moss pleasantly surprises me every single time. Their menu includes a variety of egg-based options and other dishes, such as these tiny cottage cheese pancakes that are oh-my-oh-my tasty!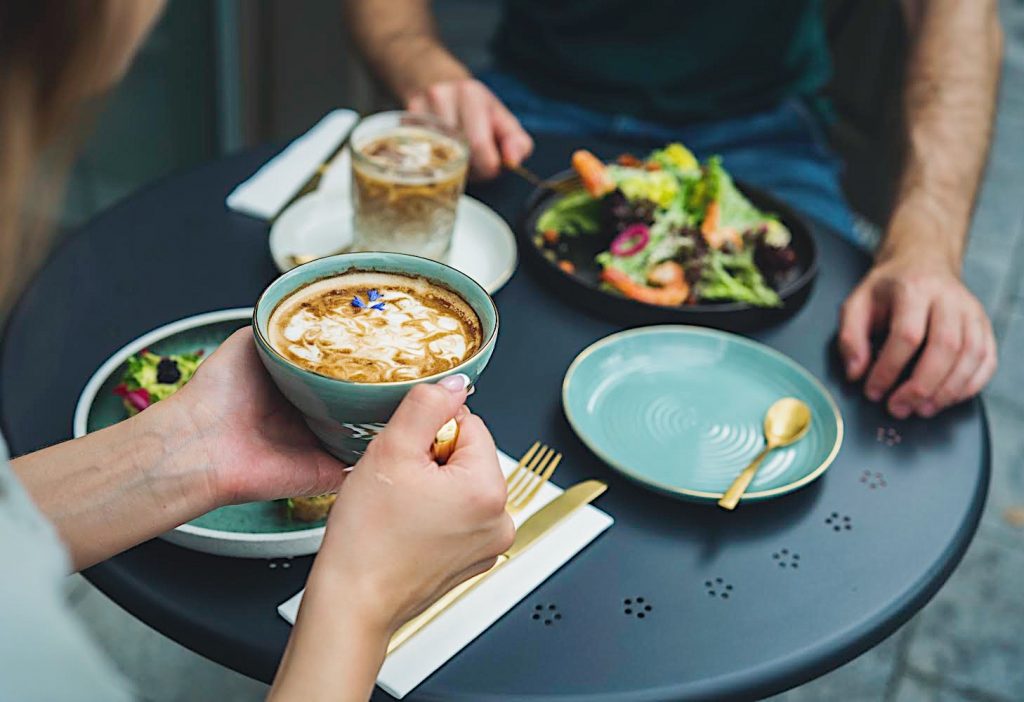 Like that wouldn't be enough, their staff is beyond welcoming, friendly and knowledgeable, which makes it a great combination. For those who are staying at Somnia apartments, you'll be spoiled each morning as the restaurant is located in the same building.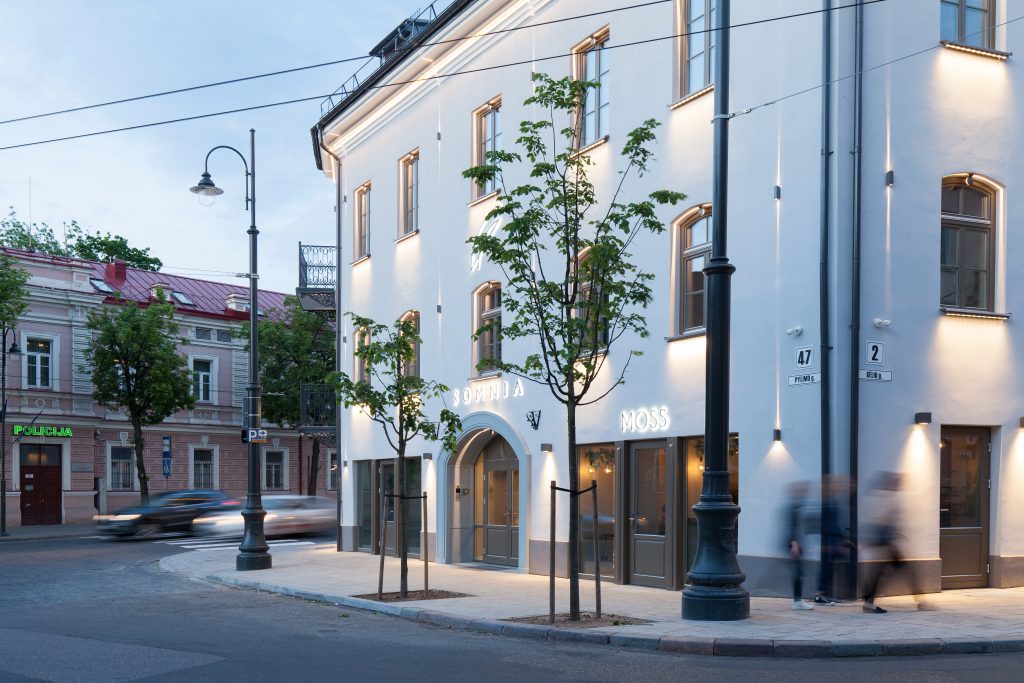 Druska Miltai Vanduo
Sourdough is something you can't easily part ways with after you've tried some. Druska Miltai Vanduo does exactly that — bakes sourdough to perfection. The bakery cultivates slow and traditional processes, where everything is handmade and from high-quality ingredients.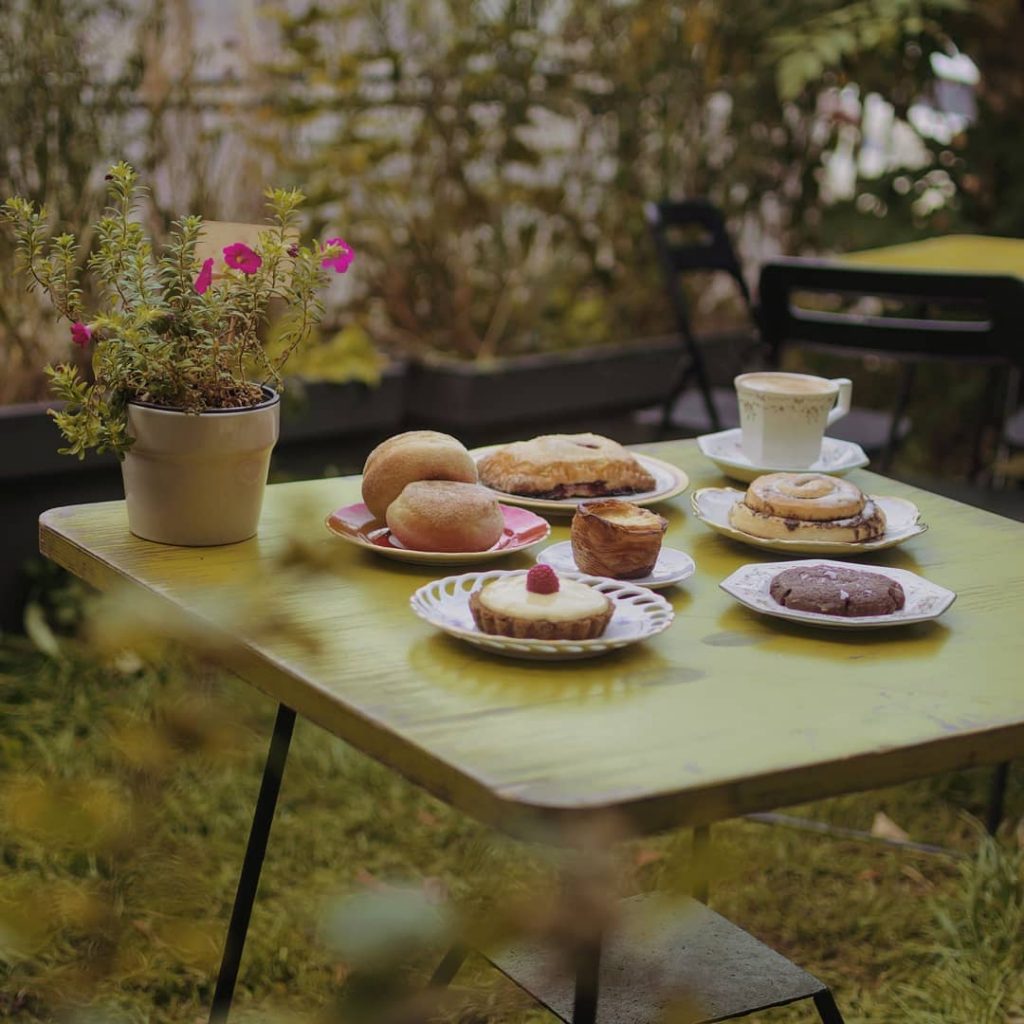 Does avocado and salmon toast make your tummy growl? At Druska Miltai Vanduo, you can settle your hunger with a variety of delicious dishes, including savoury and sweet options. Expect also to discover cinnamon buns, Pastel de Nata, and other baked goods galore.
Holy Donut
Breakfast and brunch all day long ⁠— what can be better than this? Originally launched in 2015 in Kaunas, as a tiny café, yet mighty when it comes to doughnuts. Within a few years, Holy Donut has become a chain operating across four locations in Vilnius and Kaunas. Any location you choose, it spoils you for choice.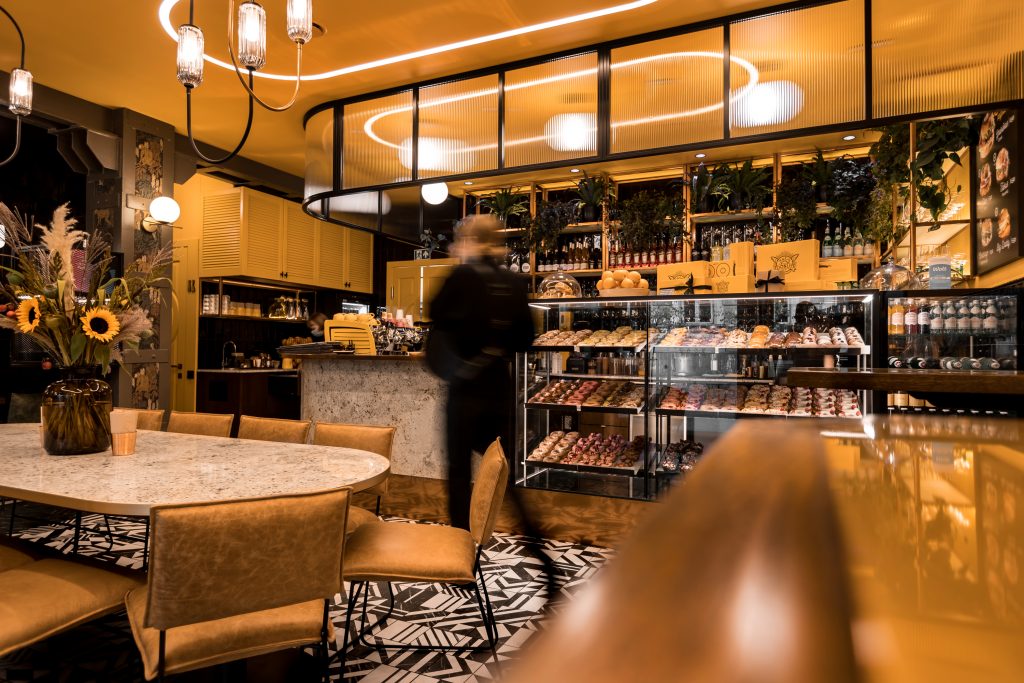 Even though Holy Donut is known for its doughnuts, most folks come to satisfy their brunch cravings. From fluffy American pancakes to their perfectly mashed avocado toast, there's a good balance between sweet and savoury dishes. You can find vegan alternatives, too. Make sure you come in hungry because portions are pretty filling. Also, give them a call before you visit. It gets busy rather quickly on all days of the week.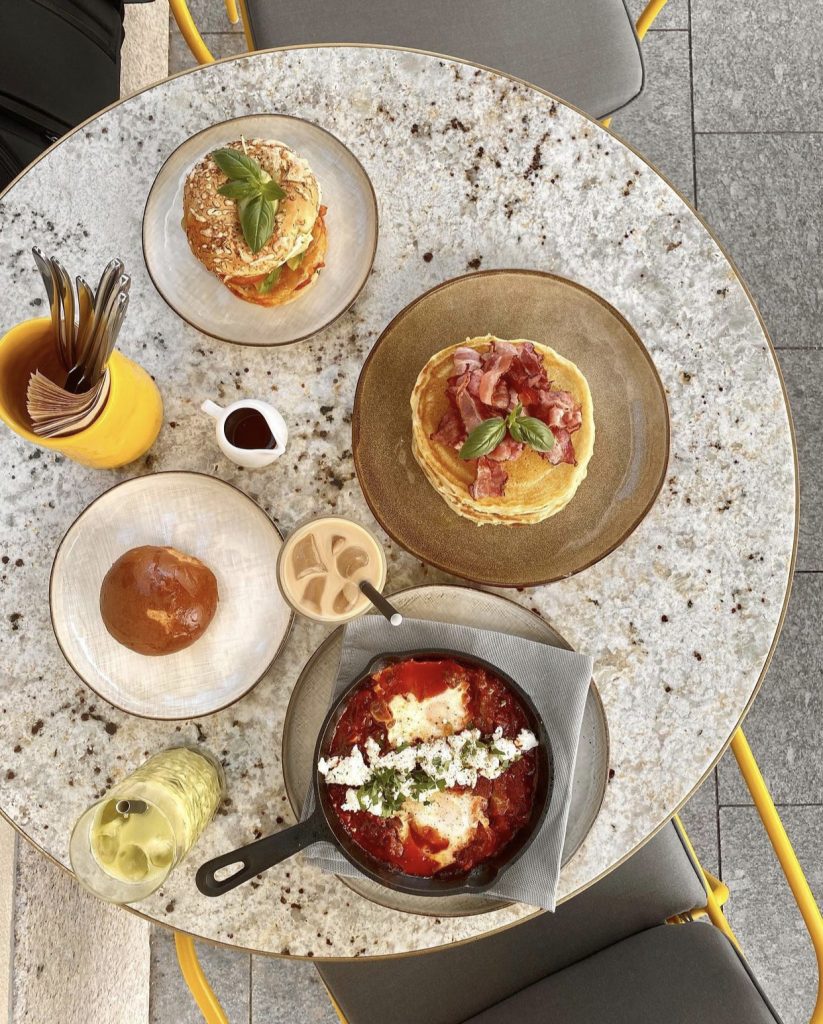 Sugamour
If we'd have to rank the most Instagrammed venue, Sugamour has to be it. Located centrally, right on Vokiečių street, the eatery seasonally decorates its front façade, which makes it a nice pitstop to take a stunning snap or two.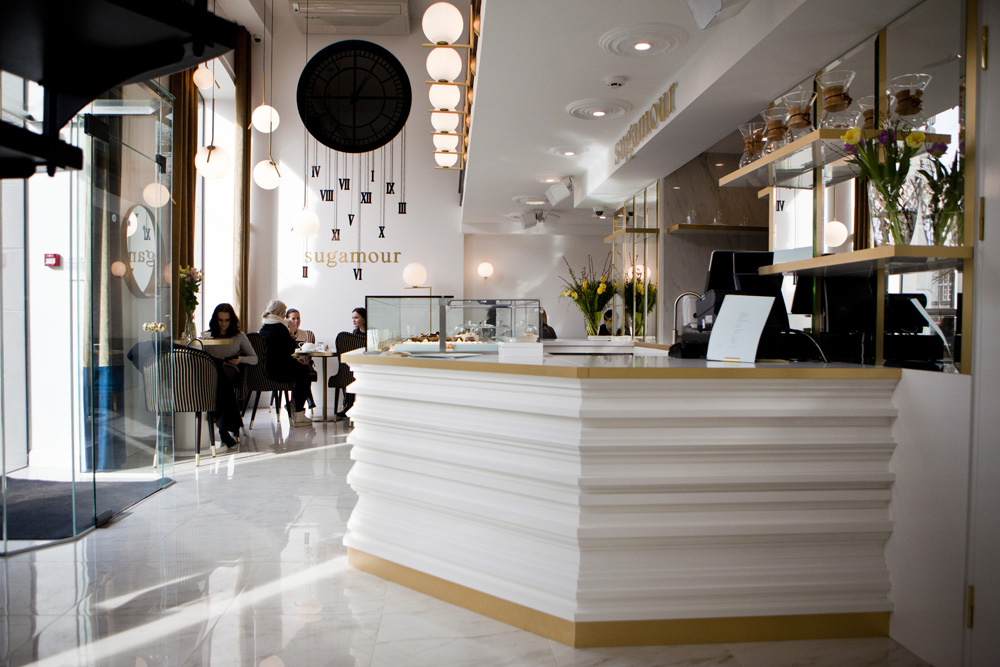 Of course, that's not the only reason why Sugamour has become so popular among locals. Originally known for its polished deserts, the place serves a comprehensive brunch menu, and the best part — it's open and available until late.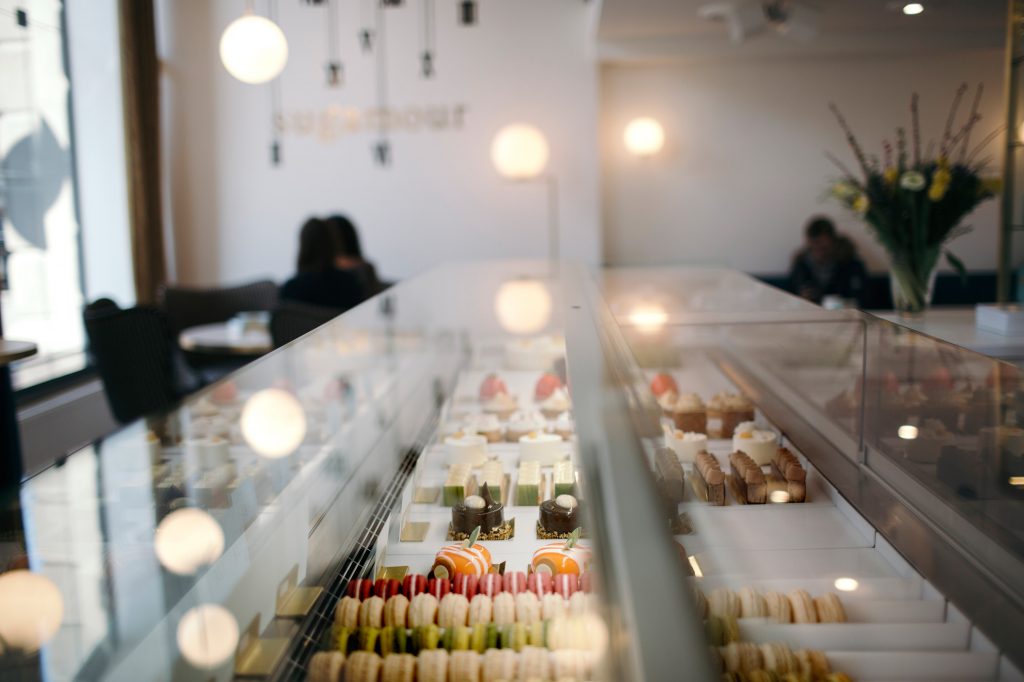 Gaspar's
Gaspar's has firmly withstood its ground among my all-time favourite restaurants in Vilnius. They have managed to remain original, and all their dishes are with a twist, so it turns out to be a celebration of unpredictable flavours.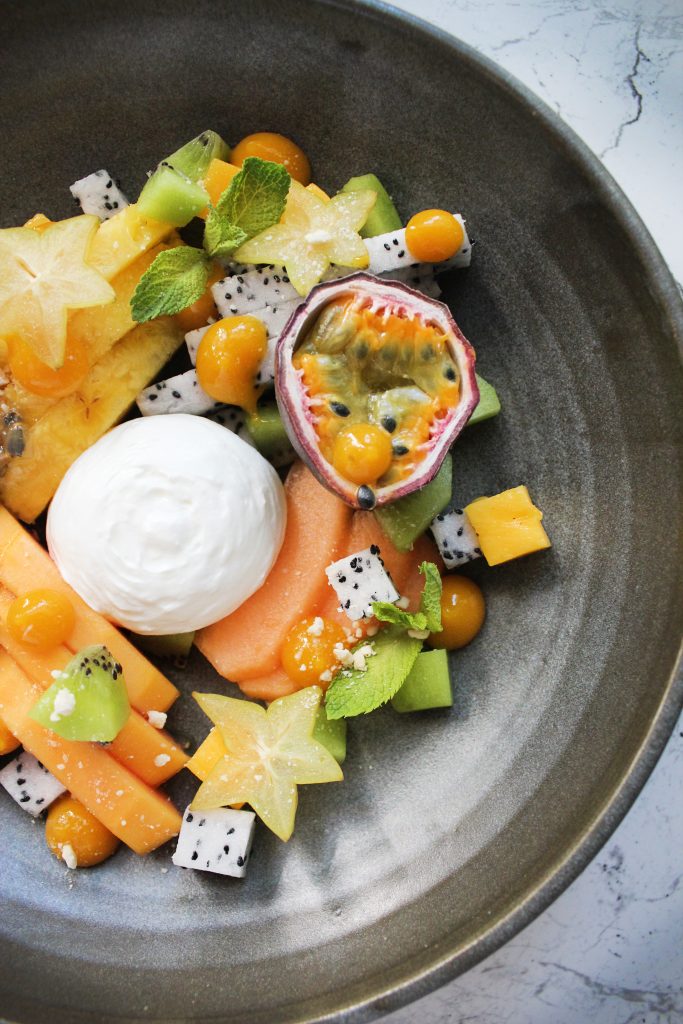 And brunch dishes are no exception. Forget traditional English breakfast; you have to try it the Gaspar's way. The meal is served with confit tomatoes, mushrooms, green beans and homemade spicy Goan sausage.
Café Montmartre
This place has such a charming French-vibe to it, and like that wouldn't be enough, they make legendary mimosas as well. Whenever the weather gets slightly warmer, the seating outside is great for people watching and admiring the stunning old town architecture.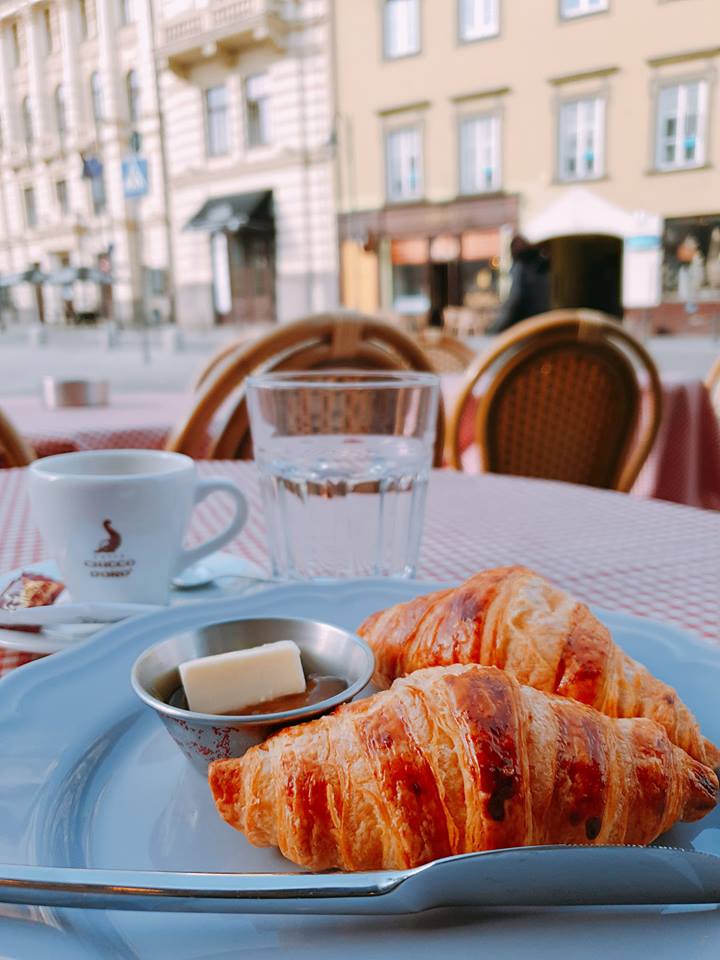 When you're there, you have to try the French breakfast. There's simply no other way about it. Or give a try to my personal favourite — Oeufs Bénédicte.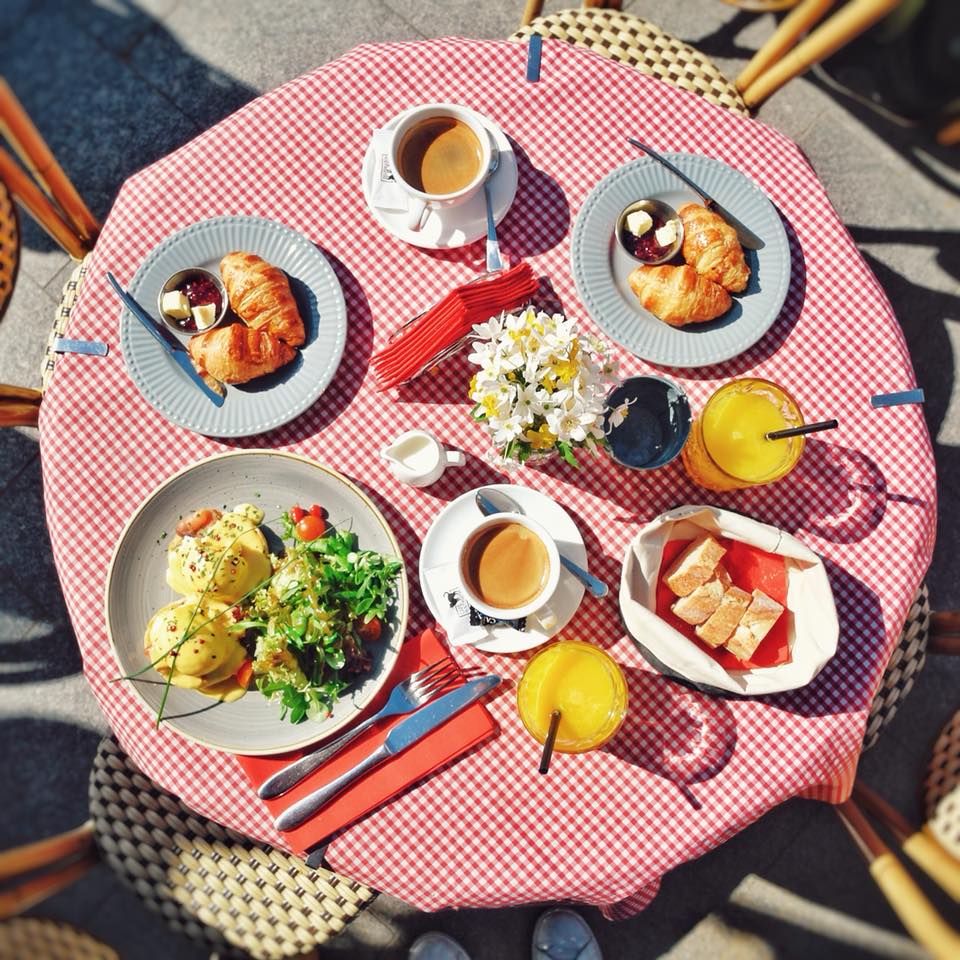 Senatorių Pasažas
Senatorių Pasažas is a hub for all sorts of appetizing goodness. The historical food passage brings in strong values when it comes to local and organic produce. Hosting restaurants and shops, here you can find all your heart desires, particularly so, if you're into wines, pastries, and products delivered right from local farmers.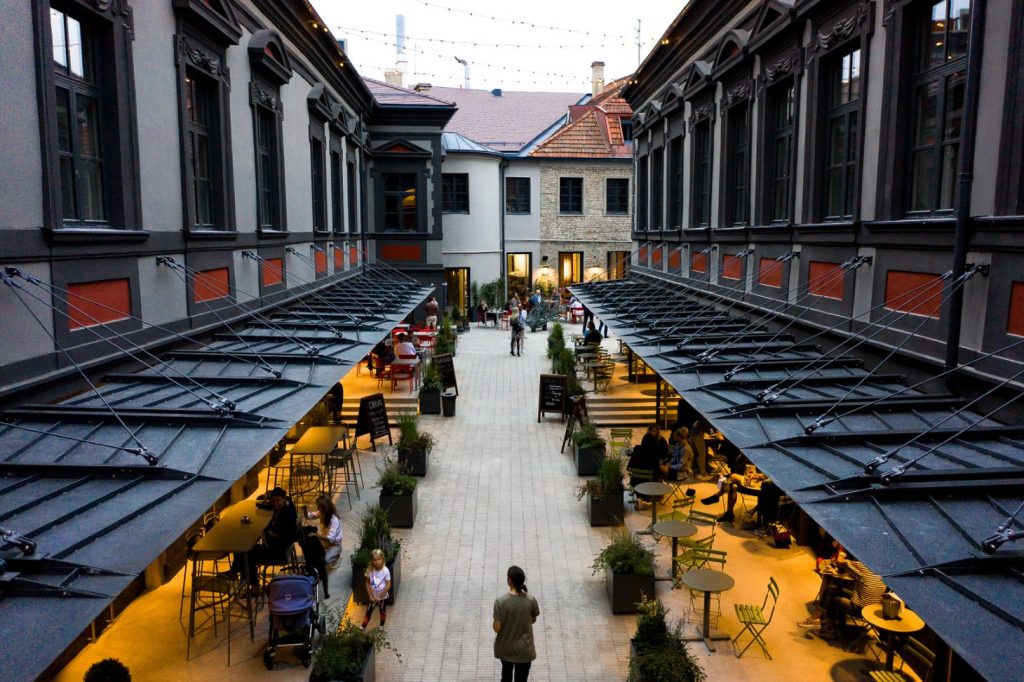 The passage draws in crowds with its carefree and lively atmosphere and a notable Scandinavian influence. But that's not all. Senatorių Pasažas also hosts two restaurants: Nineteen18 and 14Horses, making the place ideal for any occasion.
The Urban Garden
I've always been leaning towards plant-based eating, so the Urban Garden is certainly worth a visit if you prefer vegetarian or vegan dishes. But, of course, other options are available as well.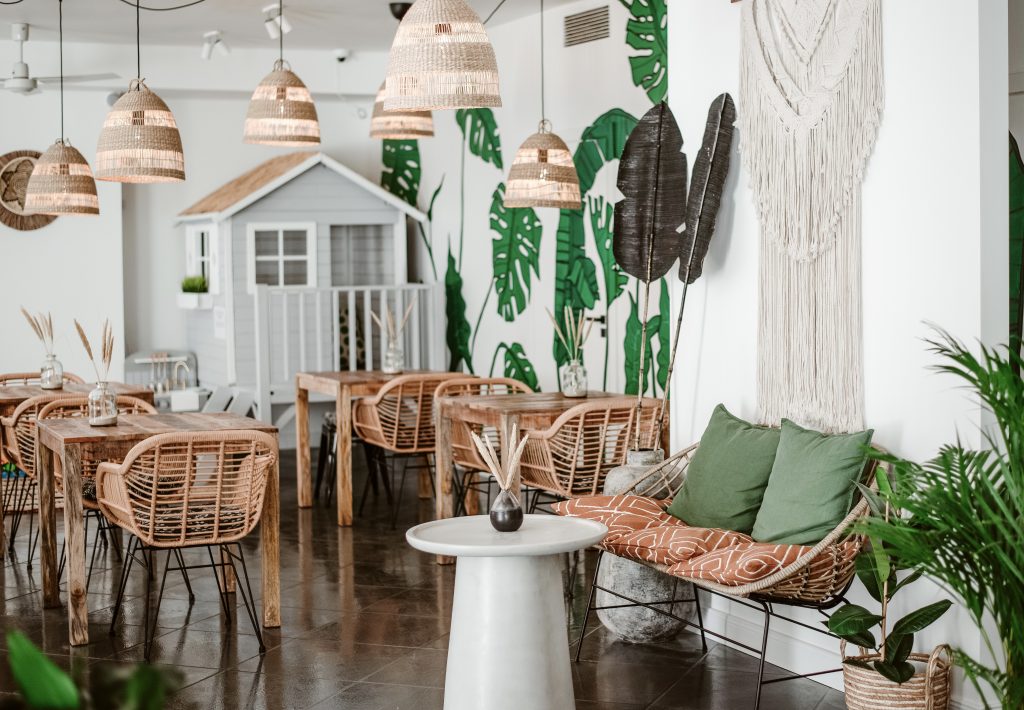 With its easy-to-reach location on J. Basanavičius street, this makes it the perfect spot for a weekday lunch on the go. Try out their glorious smoothie bowls or yummy toasts, or both. The best part — they don't use unnatural additives or semi-finished products, so everything's fresh and healthy.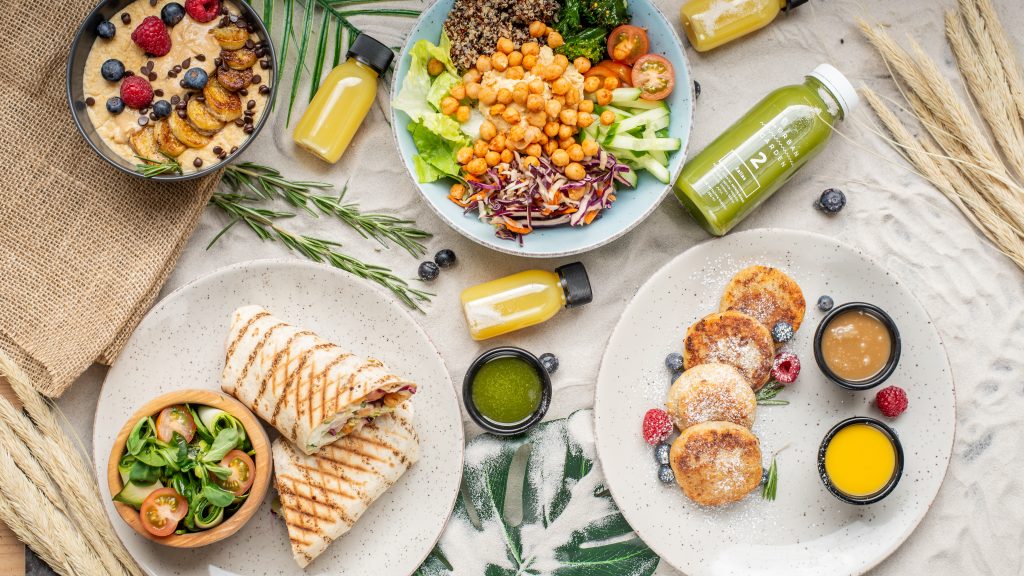 Stebuklai
With its modern and polished looks, Stebuklai is a hangout for A-listers. So head over to this eatery, where they'll be serving up a phenomenal brunch every single weekend, without exception.
If I feel like a glass of champagne and indulging in ricotta cheese pancakes, this is where you can find me. If you have room for pudding, their pistachio cheesecake is always a good choice. Since last year, Stebuklai has moved to a new location, so now you can enjoy the iconic view of the Cathedral during your brunch.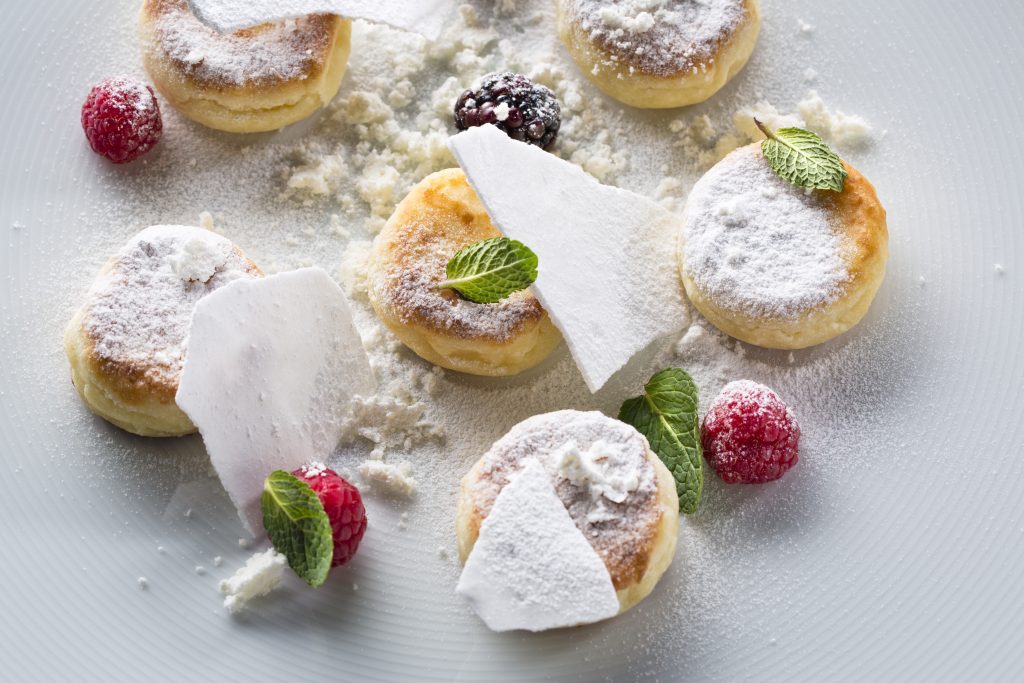 The Town Steakhouse
Are you a meat lover? Then look no further. Another mandatory prerequisite — come hungry. With dishes such as Town Steak Benedict consisting of beef medallions on toast, poached eggs, bacon and more, it is worth the wait.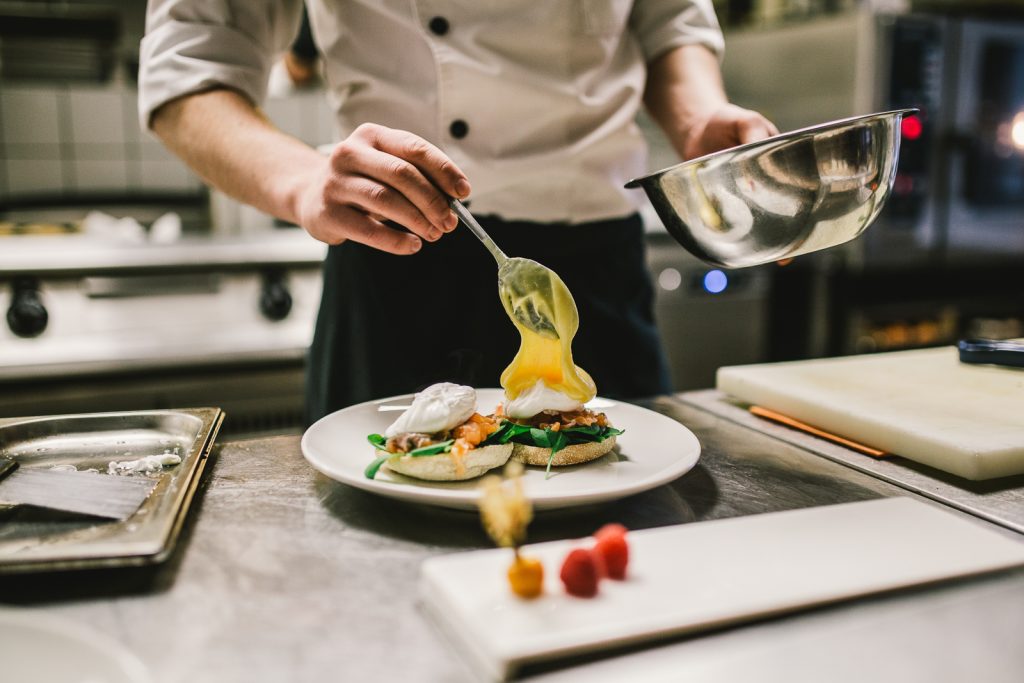 It's not all eggs and meat, though: you can also find hot buckwheat cereal and layered locally made granola. Don't forget to make a reservation at the Town Steakhouse as the place is often packed on a weekend.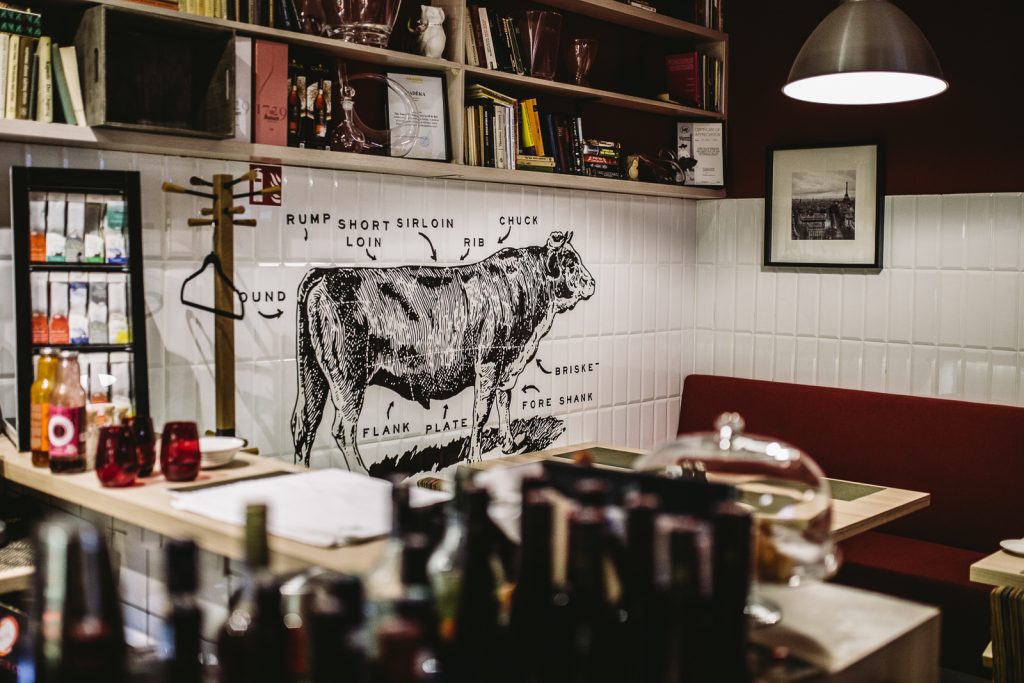 St. Germain
Only minutes away from St. Ann's Church, St. Germain invites you for a classy breakfast. When sitting outdoors, hidden away in the backstreets of the old town and away from the crowded city, creates a more private and exquisite experience for your brunch session.
Even though St. Germain is a laidback spot, its service, décor, food and beverage selection effortlessly lean towards the finer and fancier places on this list. You feel like you could stay there all day. If you do, finish your brunch with a melt-in-your-mouth version of the popular chilled Italian-style Tiramisu.
It's no surprise that Pinavija has made it to the list. From being a child-friendly place to having some of the best bakes and pastries in town, the café also consistently attracts brunch fans.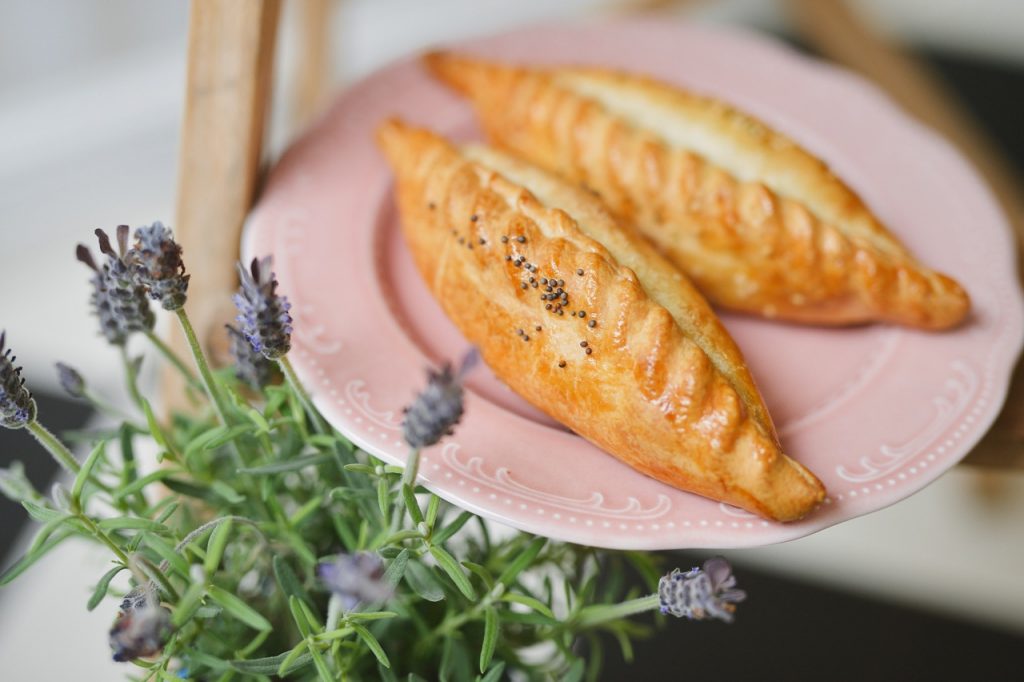 Whenever I go there, I find it difficult to decide what I want to eat as the menu includes options such as pancakes with spread duck, cheese and caramelised onions, and Croque madame with yummy filling and free-range organic eggs.
DLYPSN
Another visually-appealing and popular brunch hub among Instagrammers is DLYPSN. This quaint haven is a bit further out of the city centre, and that's why it has become my escape from the bustling city centre of Vilnius.
It's no secret that the real attraction at this breakfast club is the simple yet carefully crafted brunch menu. In need of a recommendation? Go for an avocado toast accompanied by salmon and scrambled eggs or a spirulina bowl topped up with peanut butter. One word: yum!
Rosehip
The vegan revolution hasn't overpassed Vilnius, and Rosehip is an obvious proof. Whatever you're searching for, this vegan restaurant delivers. Think pulled jackfruit and tofu burgers, sweet potato fries and pink hummus — is your tummy rumbling yet?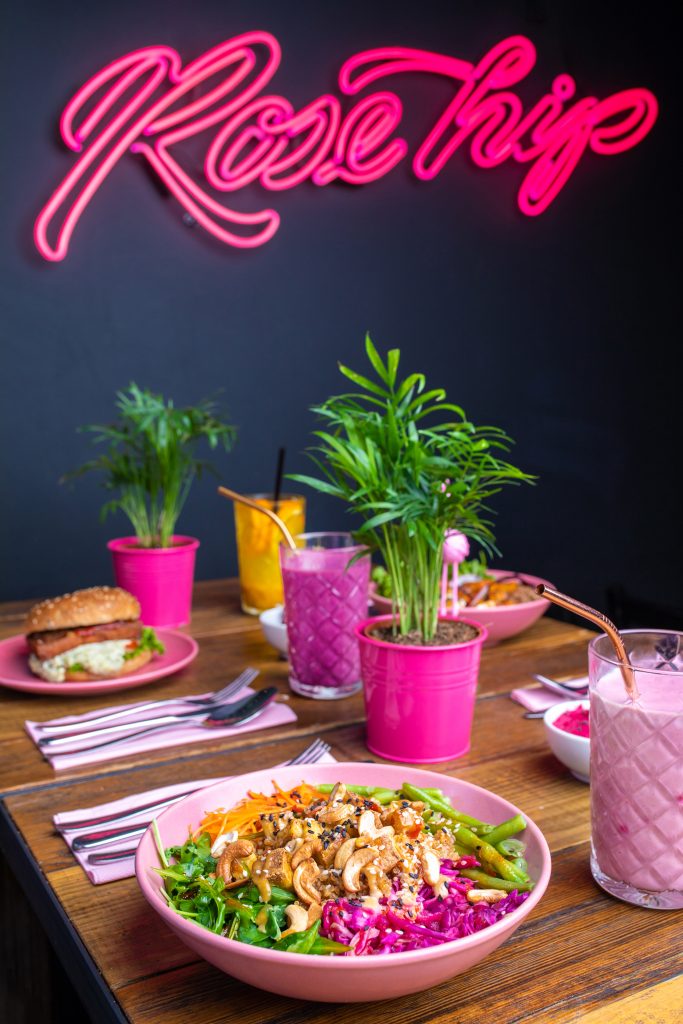 All the delicious plant-based food is made from scratch and served at a cute, hip and pink-coloured setting. So while sipping on your beetroot latte, you'll probably take at least a snap or two.
Kavos Era
People come here for the coffee and stay for the brunch menu. Personally, workdays are my favourite time to visit this brunchery. With several other locations scattered across the city, Kavos Era on Savanorių street is my typical choice.
There's something for everyone on the menu: a tempting array of salads, baked goods, toasts, pastries and egg variations. For something sweeter, Belgian waffles with maple syrup come highly recommended.
Kablys
When someone mentions Kablys, also known as Saulės Jegainė, right away I think of cultural events, underground parties and, of course, late and appetizing brunch. Those who start their Sundays late will appreciate the eatery being opened until late afternoon most weekends. The menu features a mixture.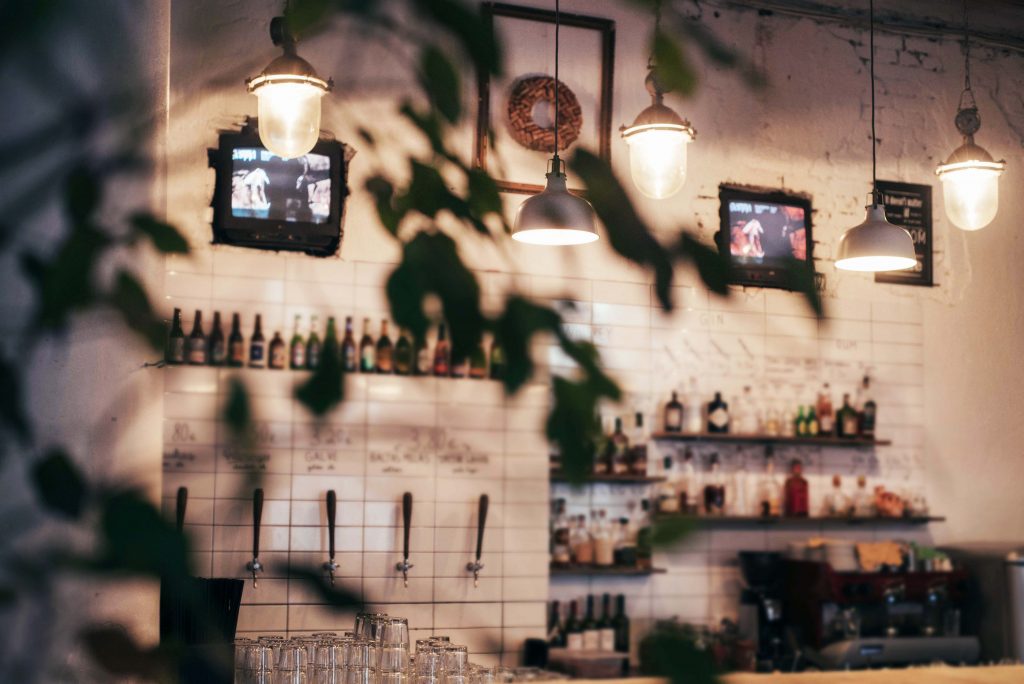 Step into this resto-bar, and you'll immediately get a feel of its urban energy. If you don't feel like dressing up and ironing your dress, but you still want some quality food, the location provides you exactly with that. Friendly prices and staff come as a substantial bonus.
Beigelistai
Taking a stroll through one of the artsiest and charming streets in Vilnius — Literatų — then getting a fresh bagel, what else could one want on a slow-paced weekend afternoon? As a dedicated carb lover, I'm always on the hunt for the tastiest sandwich alternatives, so there was no way I could avoid Beigelistai.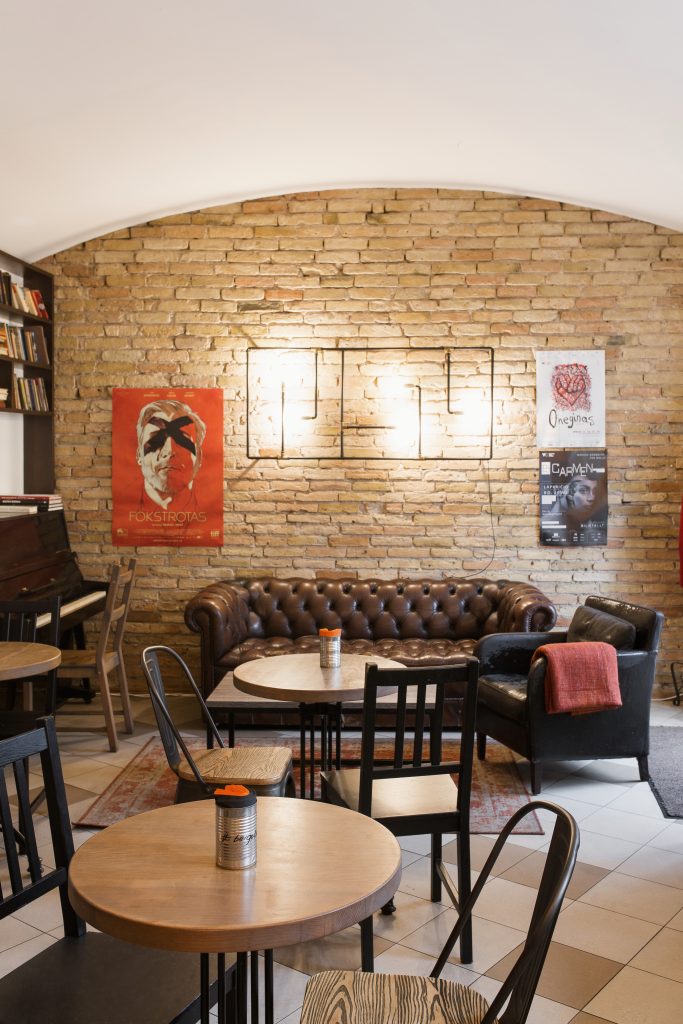 You won't find your typical English breakfast or eggs benedict here. And yet, there's no doubt that the duo of a coffee and a bagel with pulled beef and mayo-mustard sauce at Beigelistai have continuously saved many hangover souls on any given Sunday morning.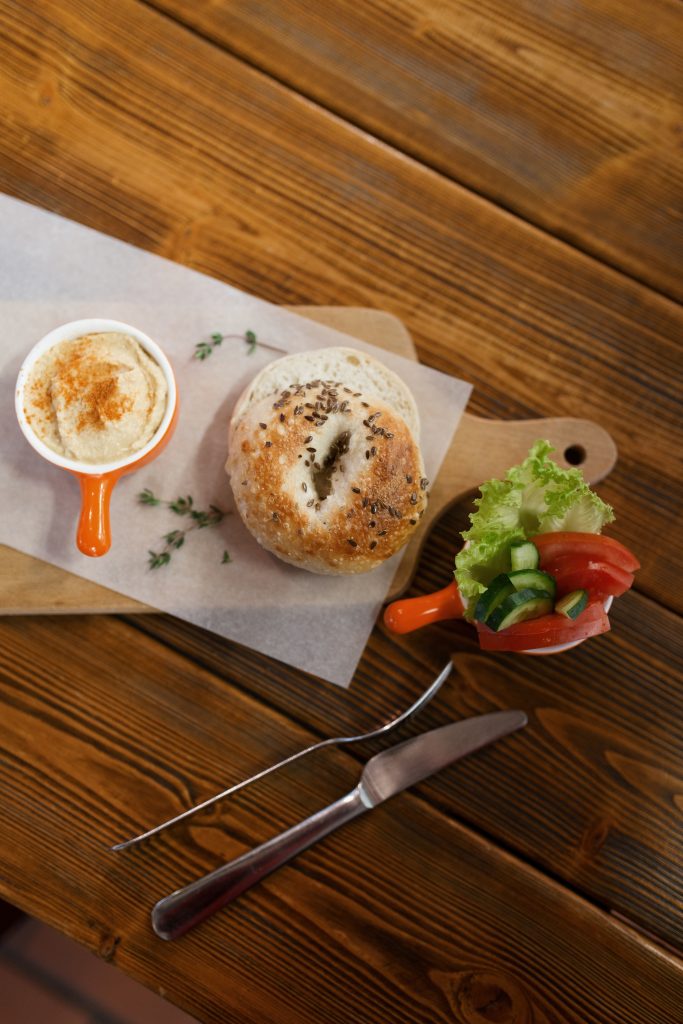 12 Istorijų
Dad and I have a tradition to go for brunch on certain occasions, and 12 Istorijų has become our go-to spot. Naturally, 12 Istorijų holds a special place in my heart.
Not that long ago, they've changed their location to even a cosier one. Whether it's breakfast or brunch, 12 Istorijų offers both light and hearty options to choose from. If you ask me, you can't really go wrong with an omelette that's topped up with goat's cheese, spinach and tomatoes.
Happy brunchin' everyone!