From the most famous sights like Gediminas Tower to cafés and restaurants on Vilnius Street, most of us have a list of our favourite go-to spots that we visit routinely. But the city has been peaking and opening new eateries all over, with some that might be less known.
For more under-the-radar gems for food and drink enthusiasts, discover what Vilnius has to offer since some of the places listed below seem like they've been hiding in plain sight, yet all worth a visit. Whether you're after a tea session, homemade ramen, or exquisite steaks, everyone's likely to find their pick on this list.
The grand name Protėviai (Ancestors) sets the mood from the get-go. The newly-opened restaurant, located on Odminių Street, offers a concentrated menu for those valuing high-quality ingredients and simplicity. With chef D. Kupčinskas leading the kitchen and concept, you'll quickly note that recipes trace back and are inspired by the legends of our ancestors, especially steak lovers won't be disappointed. Fire elements, dark interior tones, and an intimate setting with an overall minimal take help the dining experience be the epitome of an evening without any distractions.
Pamella is an Asian-food fusion home-like temple. Its founder Vilius Kadūnas might seem familiar to you and not without reason. He, together with his team, runs not only this Asian food temple but also the famous Druska Miltai Vanduo bakery. The new version of Pamella opened its doors on the premises of Geležinkelio Street 3. During the day, there is an Asian-inspired brunch, baked goods, and then Ramen broth simmers in the evenings. From smacked cucumber salad to Korean fried chicken, there are quite a few worthy picks, with the top dish: ramen. According to Vilius, its recipe development took over a half year, and they are the only ones in town making it by hand. So Pamella doesn't compromise when it comes to flavours and quality.
The relaunched Japanese restaurant, this time under the name Umi Nami on Subačiaus Street 6A, creates exquisite and Japanese culinary-infused experiences where no detail goes unnoticed. Since the chef, Lauryns Kuprys, loves to experiment and is always looking for new flavors at Umi Nami, and you can also find dishes prepared on the Japanese grill, Robata, and beef dishes are highly appreciated. Often ranked as the best sushis in town, other stand-outs are Hot Makis, tuna tartar, and more delicious options, all elegantly presented and followed by a well-tailored drinks menu.
In Korean, MI [미] means – beautiful, and RANG [랑] – light. Mirang is the creation of Severija, from Lithuania, and Yohan, from Korea – born from the desire to combine the best practices of Lithuanian and South Korean coffee and tea preparation and to create a cozy place where one could enjoy a cup of good quality coffee or tea while flipping through Korean magazines. From personalized and attentive service to stories about Korea, all of it contributes to a unique coffee session.
Whether you're after the perfect cup of coffee or a freshly roasted bag of beans, you can find Depeche Coffee roastery at Halės Market and their cafés on Gediminas Avenue or Visalaukio Street. At Halė, you can see the behind-the-scenes of the coffee roasting and packing process since the venue is open and accessible to everyone's eyes. For the past 15 years, Depeche owner and founder Marija has passionately shared her accumulated coffee expertise with locals. And today, the café offers a wide variety of coffee drinks, reflecting each season, and you'll also get to know the baristas' favourite choices.
Vilnius is known for its selection of coffee shops, yet as the name already indicates, Yugen Tea brings another hot drink to fame. Yugen Tea is a tea bar-studio inspired by modern Japanese aesthetics, located in the heart of Užupis, in the draft of Jonas Mekas. Here you can enjoy teas of exceptional quality from small Japanese tea farms and taste handmade desserts that complement the flavors of the tea.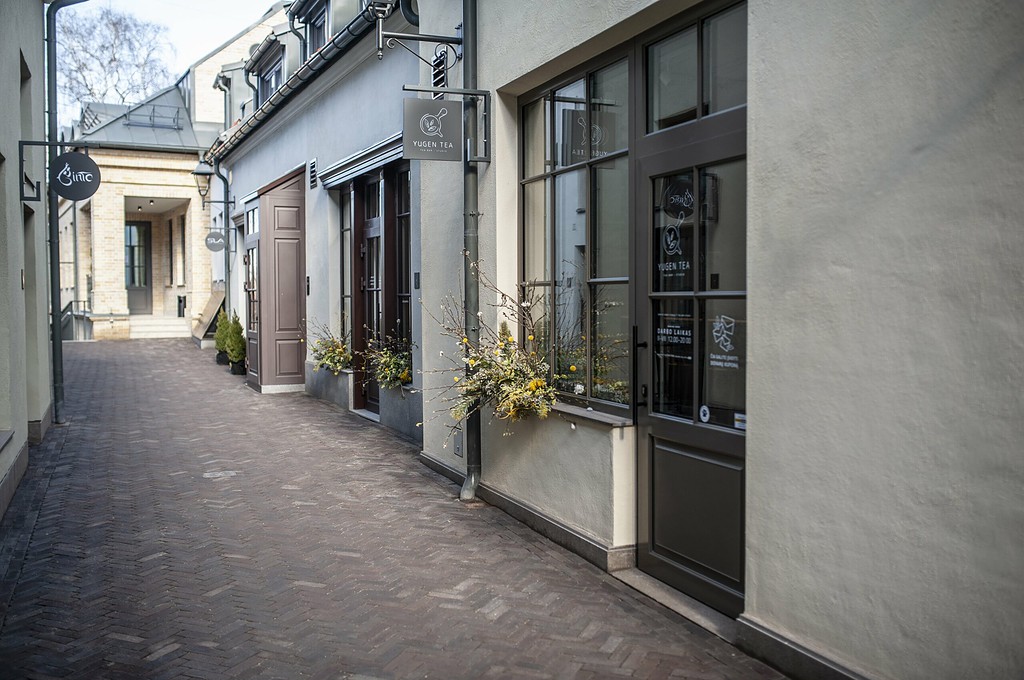 When it's a warm season, it's ideal if a restaurant can offer an outdoor space. Fabrikėlis ranks among the top not only because of its beautiful venue but also for using local produce, developing a seasonal menu, being surrounded by greenery, and having guests served by amicable staff. The place is known as a creative food workshop, where you can also book a private dining experience. My tip? Choose everything from a succinct starter menu, sip on their well-selected wines, and swing in a hammock – a summer afternoon done right.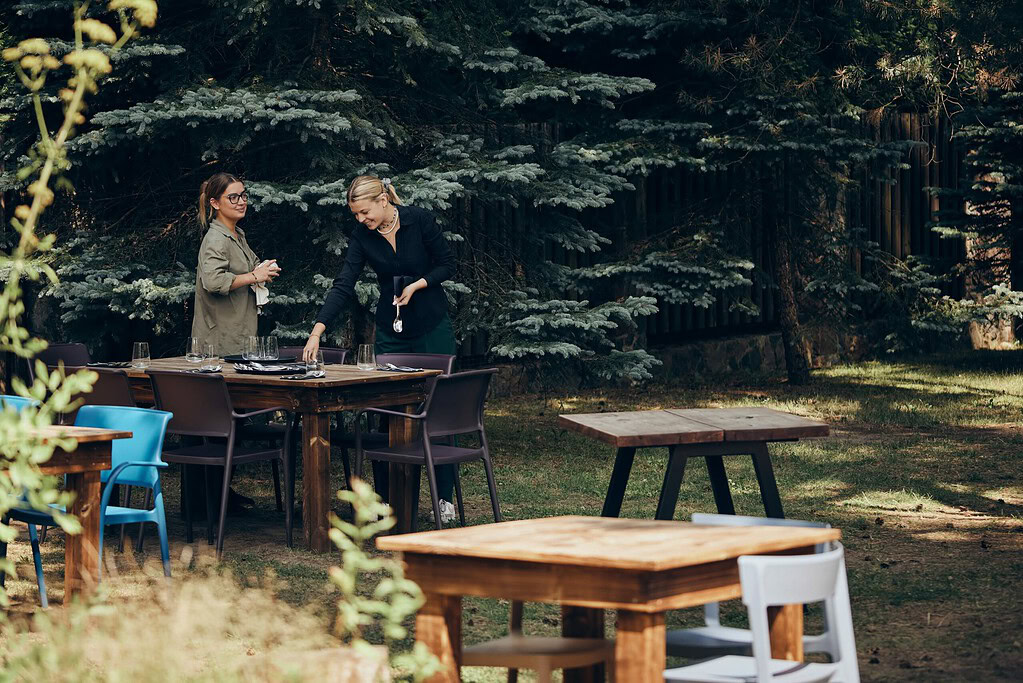 Ryžių Jūra presents itself as an Asian street food-inspired hut tucked away on Šv. Ignoto Street, amid the old town. The small yet welcoming venue is filled with bamboo wood elements, warmly-lit lighting, and personable service, which altogether makes you want to stay just for a bit longer. But that's not all. The menu itself is well-curated, encompassing some epic selections, among which are some of my personal top picks: their salmon and tuna tartar, as well as deep-fried rolls. While you're waiting for your main to be ready, don't forget to try some of the delicious sushi and sashimi made fresh right next to you in an open kitchen.
Justa Pasta is a holy grail for pasta lovers. The place offers a subtle twist on modern Italian cuisine for both dinner and brunch. Natural wines, handmade pasta, and ravioli are their fundamental signature pieces. If you can't decide what your foodie's heart desires, go for Justa Pasta's ravioli with potato cream and meatballs.
With a cuisine inspired by the Levant region of the Middle East, Saduto Tuto is also popular for its organic wine selection. Conveniently located on Trakai Street, you can choose a seating area outdoors for a cocktail session. Alternatively, indoors you can find a cozy yet no-frills venue and enjoy some of their iconic dishes, including a lobster roll and house-made hummus.